Hey everyone!!!
Wow. Thank you so much for all of you wonderful comments, thoughts and prayers regarding the puppy drama <3
I loved reading your comments –which made me feel so much better- and just wanted to say thank you for your friendly reminders that:
Many of you have been in similar situations or at least know what it's like to love a fur baby as your own child
I'm not a robot and you guys don't expect me to act like one
You're all amazing and I'm so lucky to have you all for bloggy friends… but I knew that already 😉
Little Vieserton is back to her normal Shiba self.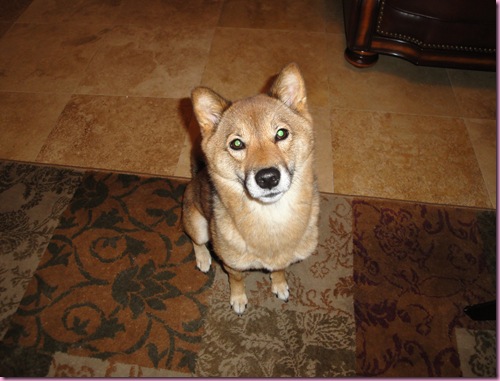 We took her to the vet, who said that it may be one of her quirks when she gets sick as nausea can provoke seizures in dogs. (Many other things can provoke seizures including stress or anxiety). Vies always acts a little weird right before she gets sick, but last night was by far the worst it's ever been. The vet said not to think too much of it, as it can randomly occur, and if it happens again to bring her back so they can run tests. For now, she got an anti-nausea injection (and screamed like the dickens) and some meds. I'm just glad she's ok *sigh of relief*
This afternoon, I found comfort in a giant organic sweet potato with goat cheese and chipotle seasoning and roasted brussel sprouts.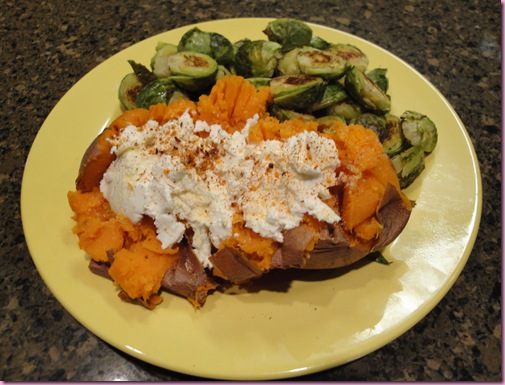 Goat cheese and sweet potato are a match made in sweet and savory heaven 😀
I went in to train a client and put notice in at the gym (today has been a whirlwind, I tell ya). I'm going to go back to being a contracted trainer –not employed by the gym- at the beginning of April so I'll have time to focus on my new job which I'll reveal on Friday. It made me sad to put notice in, because I love everyone at the gym, but I'll still see them around. I'm really ridiculously stoked for my latest endeavor 😀
Here's another hint: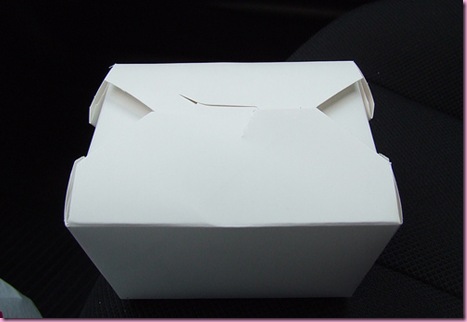 (Source)
😉
Off to pilates and ZUMBA! I'll bring Flip with me 🙂
Have a great night <3
xoxo,
Gina
Today's tip: Change up the speed of your weight lifting routine to challenge your muscles in a different way. For example, instead of performing the "grunt" (hardest part) of the exercise at the same speed as the return, change it up. Like for bicep curls, instead of dropping and lowering the weights at a steady pace, try lowering the weight for 2 seconds and bringing it back up for 1, or vise versa. Remember change create change and anything we can do to keep cruise control from kicking in is a good thing.
PS- If you have any Reader's Request post ideas, please send them my way—a RR post will be up tomorrow 😀