Yesterday I had the honor of helping out at the annual Girls on the Run 5k.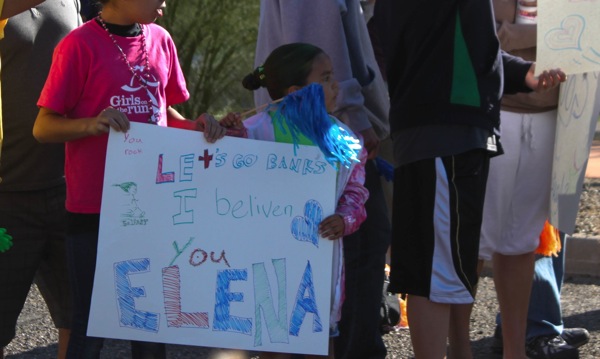 I have Caitlin to thank for introducing me to GOTR, as she was a coach for the organization and frequently posted about their fun lessons and events. It's something that instantly touched my heart as GOTR fosters positive body image, confidence and love for fun fitness among mostly elementary-aged girls (ages 7-13).
Elementary school is a tough time — at least it was for me. I had curly hair, glasses, and pre-braces teeth, was sometimes bullied and left out. I had my core group of great friends, but it was the age when cliques were starting to come into play. Dancing was something that gave me confidence, as well as my family. Even though there were times when I was hurt and cried from events at school -once I was punched in the stomach when I tried to pet a girl's mouse that she snuck into class, haha- having a supportive family and outside activities that I enjoyed made a positive impact in my upbringing. Kids can be REALLY mean, which is something I worry about with Oliv, and I think it's so important to teach them confidence and self worth from a very young age.
Girls on the Run meets twice a week after school with their coach and assistant coach(es) to go over that week's lesson and do a little run. This goes on throughout the year and culminates at the 5k race event. Volunteers or family members run with the girls, and it gives them a huge goal to work towards during the year. I can only imagine the sense of accomplishment they feel when they cross the finish line.
I signed up to coach GOTR when I moved to Tucson, but wasn't offered a spot until I was very pregnant and overwhelmed with the thought of going back to work while raising a newborn. I told them to notify me of any upcoming volunteer opportunities, and this is one that worked out with my schedule.
I got to the race location at 6am, ready to help out at the Happy Hair Booth.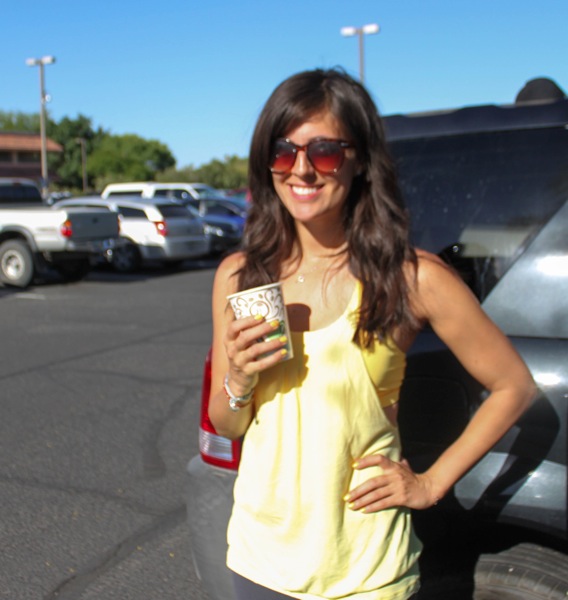 At our booth, we had a spot for family members to make signs for their runners, cheer gear,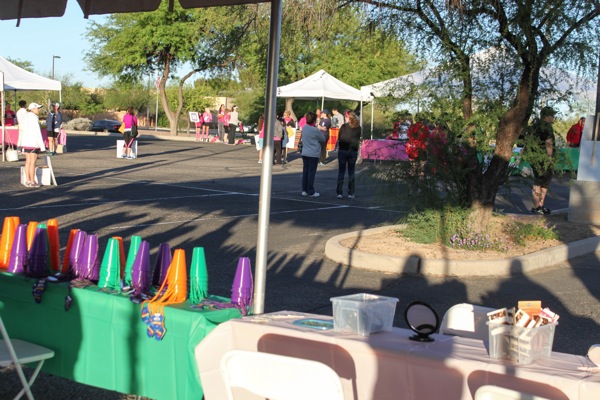 and a hair station set up with mirrors, headbands and hair ties. Then, they sat in our stylist chairs with a smock to be hair spray-painted with bright colors.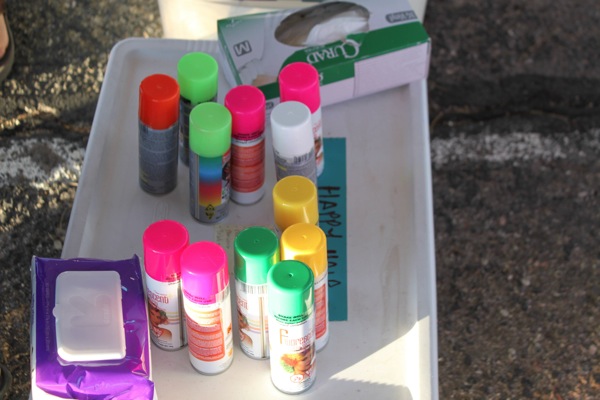 I did a ton of speedy braids and updos, then painted them according to the girls' color preferences.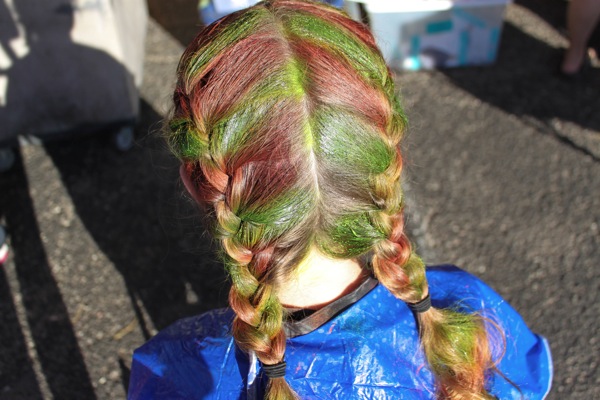 SO much fun!
I also loved talking with each of the girls while I did their hair, trying to calm their nerves and finding out about their favorite books, classes and outside activities.
After everyone had registered, had their hair done, and were ready to race, they started off the party with a Zumba warmup: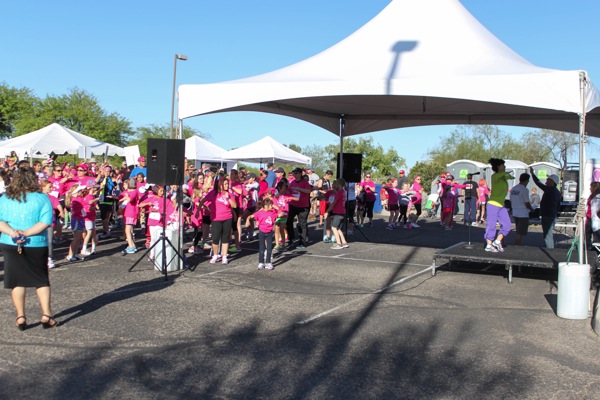 then National Anthem and talk from the mayor,
and they were off!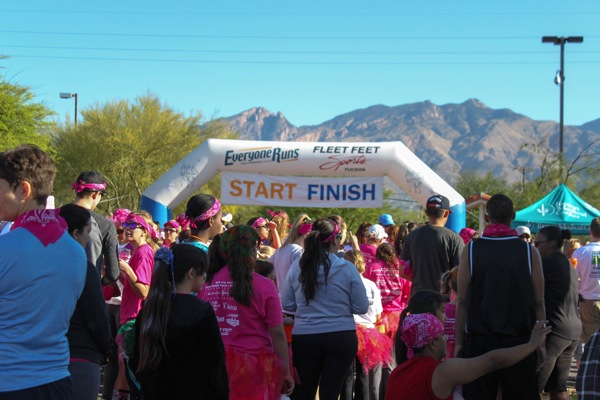 While the girls were running, we took down our booth, and I used my meal coupon to get the BEST Tucson post-race breakfast: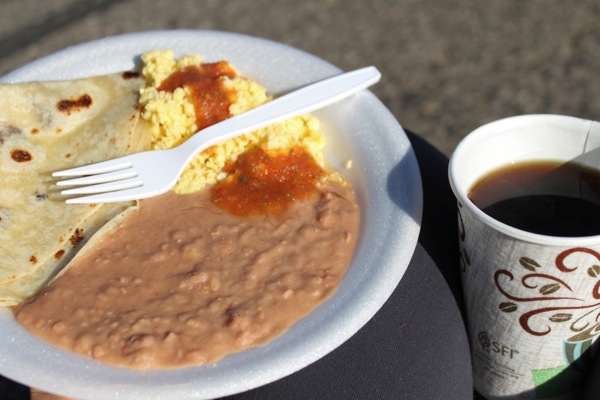 (beans, eggs, salsa and coffee. I had eggs and beans twice yesterday)
Even though we could leave when our booth was packed up, I stayed for a few minutes to watch some of the race, which included a water spray from local firefighters,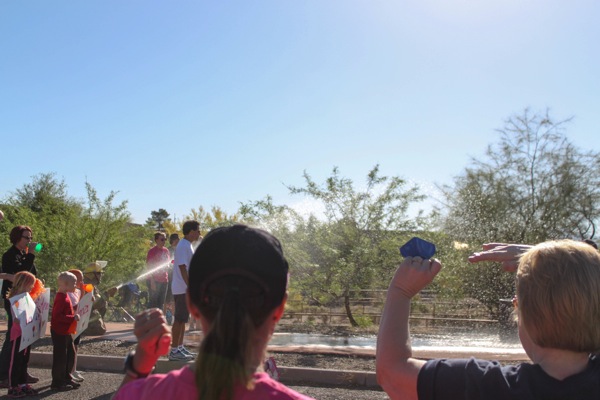 and triumphant little ladies crossing the finish line to retrieve their medals.
It was a lot of fun to participate, and something I'll definitely be involved with next year.
If you love working with youth and enjoy running, check out Girls on the Run volunteer opportunities in your area!
Are there any fun fitness-related causes that you are passionate about? Spread the word in the comments section <3
Have a happy Monday!
xoxo
Gina