The "I don't want to work out" workout
Hi guys! How was the day? So happy to hear you liked the dessert recipe. It's a good one. In fact, it just made the perfect post-Zumba treat 😉
This week. Since I've been under the weather this week, I've received a couple of questions about working out while you're sick.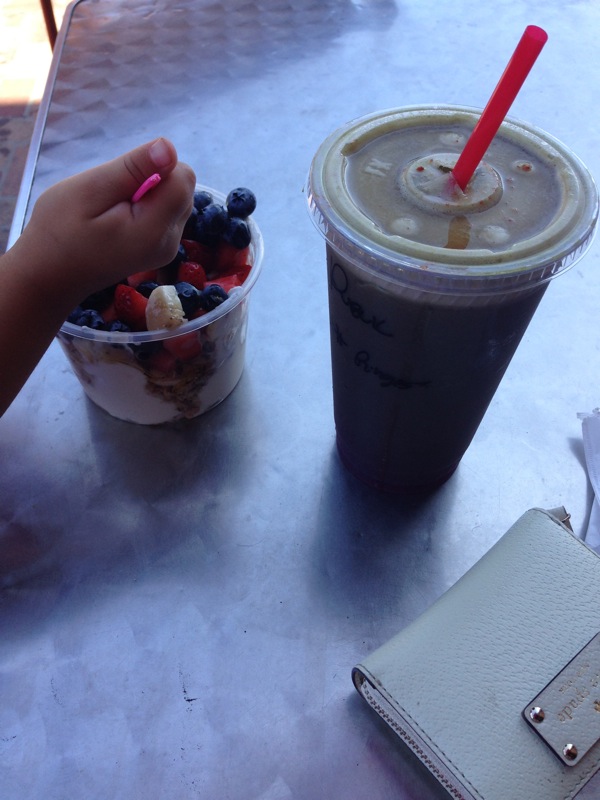 (Today, Liv and I went to the Mad Beet for a juice. The names of the juices, smoothies and fruit bowls always crack me up, as they're plays on bands and musicians. For example, I'll usually get the Green Latifah green juice. Today, I got the Public Lemony with extra-extra ginger and cayenne to burn everything out, and Livi got the ParFaith Hill: a yogurt parfait with fruit, granola and honey.)
I talk about it a little in this post, but I think you know in your heart if you should work out or take a rest day. There are definitely the times when a little movement and sweat will make you feel better; there are also times when you know stepping onto a treadmill would send you into body aches or a coughing fit. A common rule of thumb is if you're sick from the neck up (sore throat, runny nose, etc.), but feel like getting in an low-key workout, go for it knowing you may need to decrease the intensity or duration. Make sure to wash your hands well, disinfect everything you use (which should be done after each workout anyway!), and also be mindful of coughing/hacking. If you have sound affects that accompany your sickness, I'd stay home. 😉 If you're sick from the neck down (body aches, fever, chills), definitely skip your workout. Rest + fluids = magic healing combo.
Now for the grey area: you're healthy, rested, but don't necessarily feel like working out.
This situation needs extra assessment to determine if our body is trying to tell us something. If you're dreading your workout, it can be a symptom of overtraining, and a cue to take some extra R&R to evaluate your routine.
Sometimes, we may be feeling good (rested and ready to work out), and then arrive at the gym realizing our mojo didn't make it there with us.
Here's a workout for those times. It's more low-key -there's nothing more evil than thinking you HAVE to do a set of burpees when you really don't want to burpee- and focuses on one movement at a time. It's just enough to challenge the muscles without going overboard. It's the kind of workout where you feel happily triumphant, instead of defeated from pushing yourself to do something you're not in the mood for.
(As always, check with a doc before making any fitness changes. Honor your body and modify as needed.)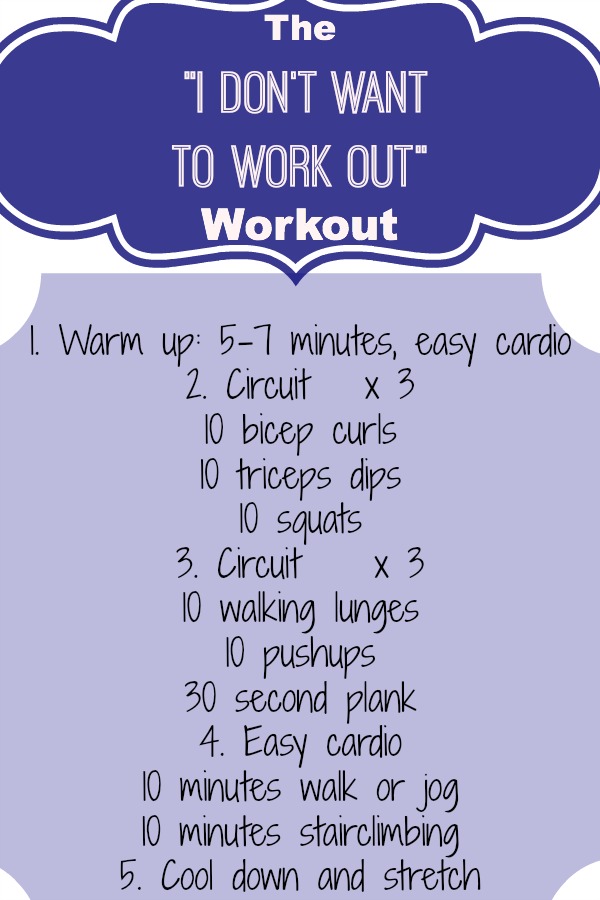 Let me know if you give it a try!
What's something you've done lately to spice up your workouts? If you're ever looking for ideas, there are a ton on the fitness page for ya too 🙂
Have a great night!!
xoxo
Gina