Higher Savings for Fit Ones?
Hey everyone! HAPPY FRIDAY! Hope you have fun plans for the weekend 😀
We're actually heading to Orlando this afternoon to be with family for the weekend. I'm pretty excited to see everyone- my MOM even made the trek from AZ. She hardly ever comes to this side of the world- I can't wait <3
So remember last week when I stirred the controversy pot by discussing Jillian and her weight loss pills?
*Grabs gigantic blog-sized ladle*
Well it's time to stir the pot a little again.. I'm really anxious to see what all of you think.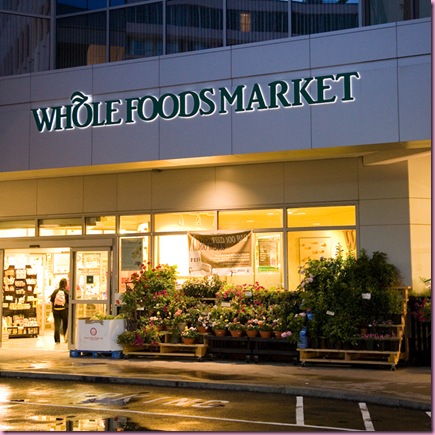 (Source)
So last night, I got an email from a reader (thank you, M T!) directing me to this article.
In an almond-shell, it says that Whole Foods Markets has announced it will offer steep store discounts to employees with healthier lifestyles and smaller Body Mass Indices.
From the article:
Here's the deal: Employees who don't smoke, and also have low blood pressure, low cholesterol, and a low BMI get up to a 30% discount on their purchases. All the slacker employees still get 20% off, and the program is optional; but the whole thing is likely to rub some people the wrong way (much like the uproar over Obesity 101 at Lincoln Univesity). My thoughts: First, Whole Foods is not the first company to go this route, or even the first grocer….
Lower weight, bigger savings??? Come again?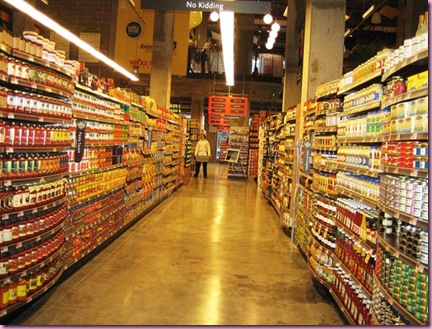 (Source)
So right now, if I had a Whole Foods less that 3 hours from me, I would be racing down there to become employed and get a sweet discount on all of my favorite goodies.
But on the other hand…
I think of myself 40 lbs heavier and how discouraged I might have felt to learn I wouldn't get a sweet discount, had I been employed by heaven on earth (aka Whole Foods).
Maybe some of the employees are working there in an effort to be surrounded by new products and ideas and get healthier in the process?
Also, I believe that BMI is a bunch of mumbo jumbo. Don't get me wrong, blood pressure, cholesterol and not smoking are very important factors, but BMI? BMI says hardly anything about body composition. Muscle weighs more than fat, so a perfectly fit person (with higher muscle density) could actually be considered unhealthy according to the BMI scale.
On one side, it's a great idea. Why not encourage those who are already fit to keep doing what they're doing? Since companies pay for health care, and an employee's health determines the care they need and the amount of money spent, it makes sense that they would do this to reduce health-related costs.
At the same time, why discourage those who need the products the most? Back in the day, I'm pretty sure I wouldn't be encouraged to purchase the same items for a higher price than some of my peers. What about employees with pre-existing health conditions?
I definitely have a mixed opinion about this…
What do ya'll think?
I'm off to pack for Orlando <3
See ya soon!
G