Hey everyone! Hope you're having a wonderful Friday! I LOVED your insightful comments on the Whole Foods discount policy- leave it to ya'll to be such a wonderful group of intelligent and classy ladies <3
We're road-trippin' it to Orlando: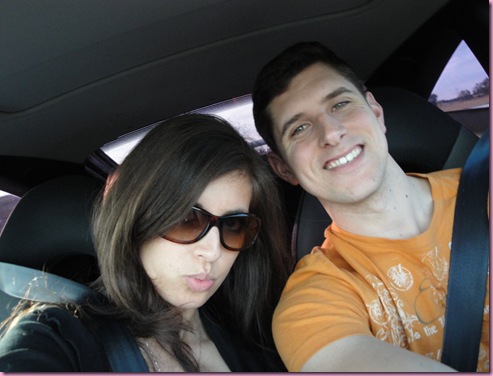 (Pilot = seksi, me = pale)
Earlier this morning, I munched a glorious Fitnessista bfast cookie before hitting up the gym with Ashley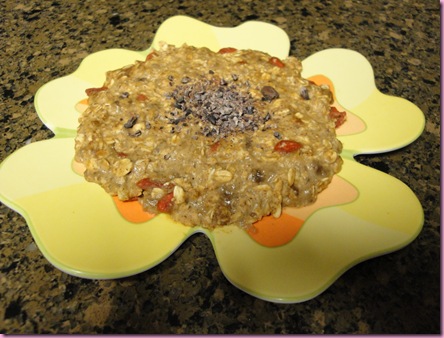 This little gem had:
-1/2 C oats
-1 tiny banana
-1/2 scoop Sun Warrior vanilla
-1 heaping T almond butter
-splash of almond milk
-cinnamon, Stevia and maca
-Goji berries and cacao nibs
Ahhhhmazing 😀
Ashley and I did an hour of biceps, triceps and abs, which I followed with 30 breezy minutes on the elliptical with the new issue of Self. My legs are SORE from yesterday's weight sesh and 6-miler with Meara, but it felt really good to shake them out.
Some recent eats: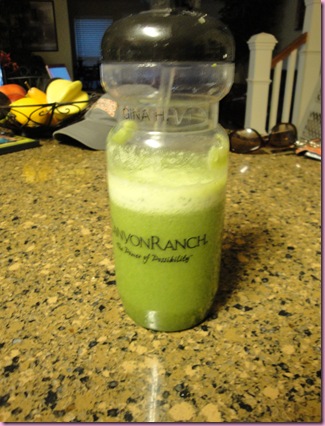 My favorite green juice (apple, pear, cucumber, spinach, parsley and lemon, with spirulina stirred in)
Recipe to come… they came out AMAZING 😀
A bowl of organic veggies (carrot, broccoli and cauliflower with sea salt and red pepper flakes) while I packed up food supplies for the weekend: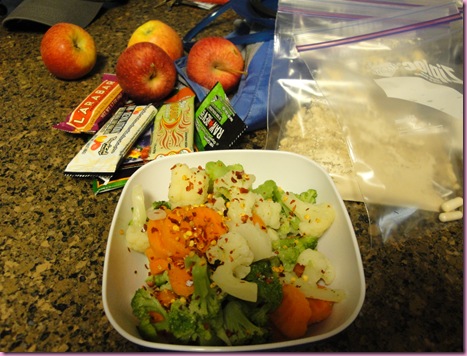 (I always like to pack bars and fruit as well as protein, oats, HEED powder (for long runs) and vitamins in little baggies)
Unpictured roadtrip snacks:
-Larabar (PB&J)
-Apple
I feel like a bad road trip buddy because I spent two-thirds of our car ride fast asleep, mouth open (hot, right?) with Bella on my lap. Sorry pilot 😉
We're almost to my aunt's house, but I'll see you tomorrow after two Zumba classes. I can't wait!
Have a wonderful night <3
Gina
******Stay tuned for Week 3 of the Winter Shape up– will be posted Monday AM 😀