Hey hey hey 🙂 Happy Friday! How's your morning going?
Thanks for the sweet words about Tiffany 🙂 She's a cutie for sure. I already explained to Bella that they'd be meeting today, and to please be friendly to her. Haha.
B-fast this morning was a smoothie in a bowl:
(new bowl from World Market)
-1 C almond milk
-1 scoop vanilla Sun Warrior
-frozen organic blueberries
-raw cacao powder
-nutritional yeast (for the B vitamins- I couldn't really taste it)
-ice
-topped with 1/4 C gluten-free oats
+ peppermint tea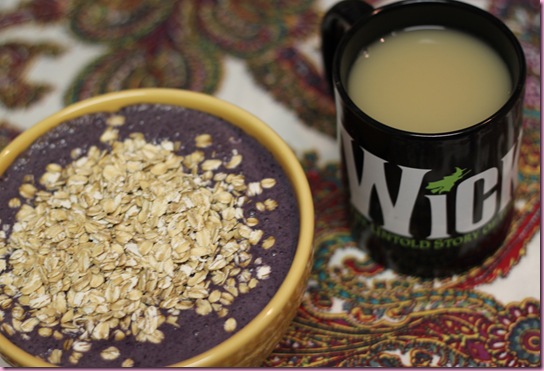 I had a short yoga practice in the living room (20 minute hip opener from YogaDownload.com), and cleaned up a little around here because my tax wizard friend is on the way. [We got an extension since the Pilot was deployed, but I like to get these things done as early as possible]
And now, I have to sort through these receipts before she gets here: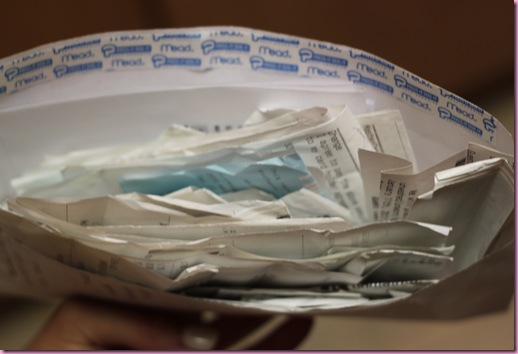 It's a total mess, but a wonder I didn't lose them in the great Orlando move.
Have a wonderful morning and I'll see ya after the puppies meet!
xoxo
Gina
Did anyone see Water for Elephants? I think we'll have to go tonight!!!
Just for fun: My friend Erica sent me this video, and it cracked me up.
Deployment celibacy is no joke though. Haha.
Show Me Your Fit: Thanks so much to everyone who has sent me pics! Keep em coming- I love looking at them. So fun and inspiring 🙂
Julia: I am a 20-year old German girl, currently studying abroad in Warsaw, Poland.
As your blog helps me to stay motivated and upbeat on a daily basis, I thought I'd share with you the beautiful palace that I get to see each day on my morning walk. Especially if the sun is shining, my day starts off right and I am ready to tackle any tasks I have planned…Just like you, I'm really digging to-do lists…
Jessica: The attached photo shows me and and my boyfriend doing Acro Yoga. If you don't know what it is, look it up! It's SO MUCH FUN! And it is an amazing way to bond with your significant other, friend or complete stranger… it's all about trust!

Gina, if you and the Pilot ever get a chance to something like this, DO IT! If he's quite a bit taller/bigger than you (like my bf is) then you won't be able to hold him up very often, but typically partners change a lot and it's fun! He'll pretty much always be able to hold you up, and it's just so cool!
Alia: This is me and my two friends after we completed the Irvine Lake Mud Run.  We called our team "Triple Threat"!!!
Sky: I was doing a few yoga moves in my sister's back yard when my niece asked me to do a few with her :). Backbends on the trampoline? Don't mind if I do!
Alison: Here's one of my friends and I, Jayne and Kathleen (I'm on the far left) after a 14.38km fun run in Melbourne, Australia! We were 3 of 33,000 to compete! It was so much fun!
Jenny: A chilly Sunday morning VersaStick workout with my friend Leighton.  Hurry up spring!  We'd much rather be outside!

Totally rocking the Fitnessista Twisty Bangs…thanks Gina!
Kate: My puppy and I stay fit by running together! She's an amazing athlete and motivates me every day 🙂