Heyyyy 😀 Happy humpday! Hope you're having a wonderful day.
I had a fueling and filling bfast before starting the day's insanity.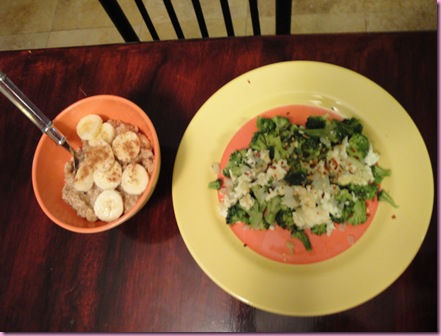 2 egg whites with a package of organic steamed broccoli, sautéed with onions, garlic and topped with red chili pepper flakes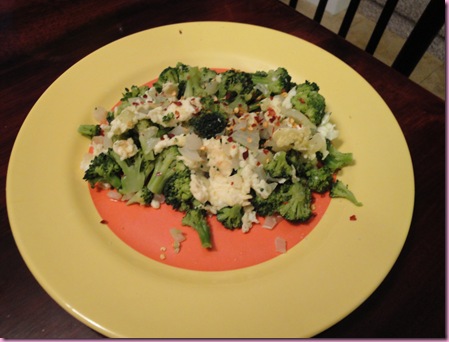 And 1/2 cup oats cooked in water with banana, vanilla and lots of cinnamon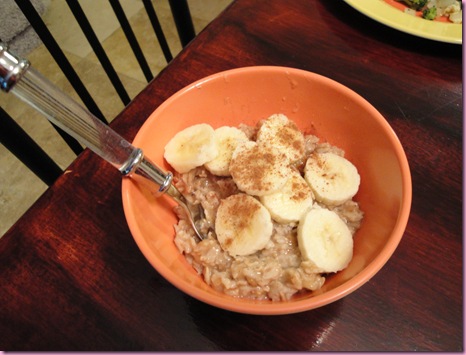 It was pretty face-rocking and felt super satisfied and ready to clean the casa, since I *haaaaate* leaving for vacay with a less-than-sparkling house.
Pandora's Don't Stop Believlin' channel gave me some sweet 80s classics to rock out to 😉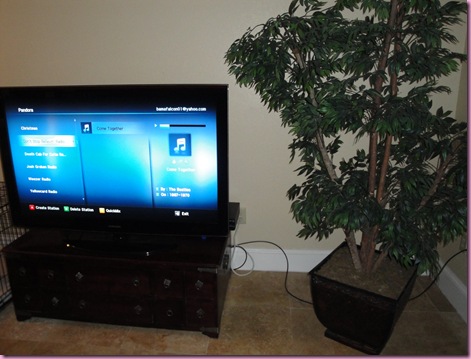 Lurve. I may or may not have busted out some dance moves 😉
I met Jeni at the gym for some legs (we did about 45 minutes of lunges, hamstring curls, calf raises, weighted plie squats and leg extensions) and then came home for a light green protein smoothie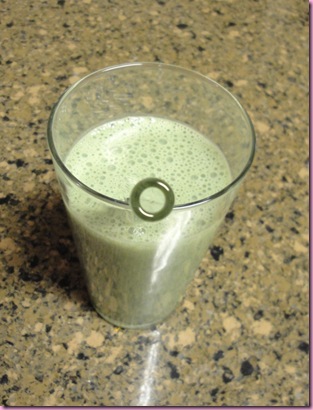 1 cup almond milk, 1 scoop vanilla Sun Warrior and 1/2 t of spirulina
I took the puppers on a walk, did some laundry, trained a client and then it was lonchi time.
Enter the beast: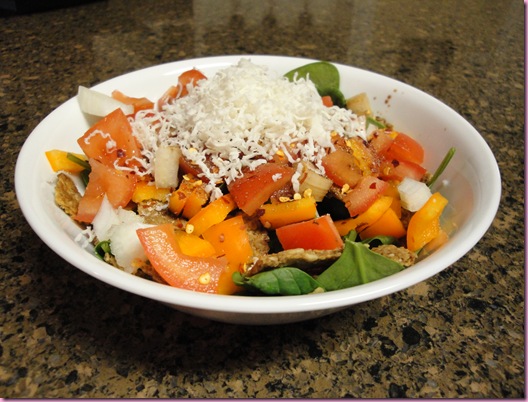 This salad beast was my dream come true.
-spinach
-tomatoes
-bell pepper
-raw bloomin' onion bread
-onions
-balsamic
-raw goat cheddar
-sea salt
-pepper
-chili flakes
-foodgasms
Ahhhhhmazing!
I went back to the gym for another training appointment and am about to get ready for Zumba and pilates. Flight medicine called back with my blood test results from yesterday- everything is excellent 8) I got the blood tests taken because I wanted to make sure I wasn't deficient in anything and to check my blood type, cholesterol and all that mumbo jumbo. They said I wasn't deficient in anything (which didn't surprise me because I stuff my face with fruits and veggies all the livelong day) and that my triglycerides, LDL, HDL, CDC were all above the "good" ranges (my bad cholesterol was 60, when below 130 is good and triglycerides were 45 when below 150 is good). Wahooo! I feel triumphant, like I got a good health report card or something, haha.
Well I'm out like sauerkraut!
-Pilates
-Zumba
-Training sesh
-Targizzle for my beloved eyeliner
Praying the pilot surprises me with Indian takeout, since I'm not cooking tonight 😉
Have a great day <3
xoxo,
Gina
Something to talk about: Are you more of a weights lover or cardio fanatic?? I used to be a cardio-only girl (back in the hardcore dancing days), but fell in love with weight training once I started to get into it. It fascinated me that weight training helped to change the appearance of my body, but also made me a stronger and better dancer. Now, I love both, but I could still do cardio all day 🙂 Days like today (legs day!), I still need a little push to weight train instead of sticking to cardio, but the results are way worth it.