How to Take a Break from Working Out, Without Going Crazy
Does anyone know the answer to this?
Please kindly respond in the comments below.
The end.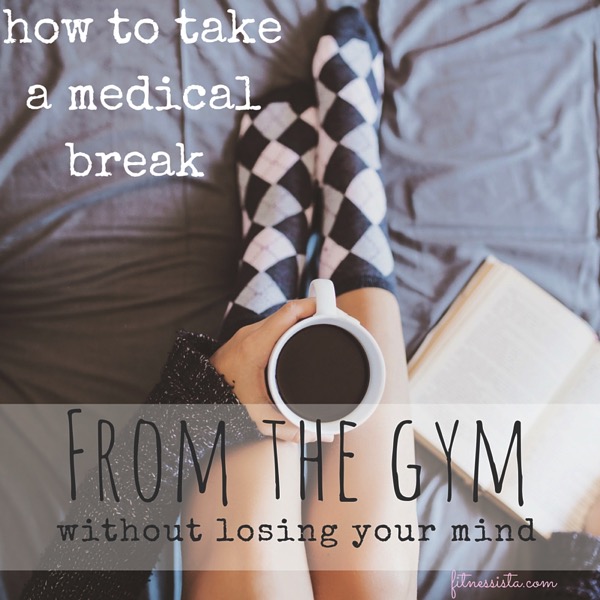 Just kidding. But not really. 😉
Taking a break from the gym, especially when you're finally feeling good/better and want to move, IS HARD. It's hard when you have a baby and would love the endorphins and time for yourself. It's hard when you're injured, because you can't move the way you're used to. And it's hard when you're healing from an illness or procedure, because you're itching and fantasizing about feeling good and being able to get back into your life and routine. I hear ya! Oh man. Do I hear ya. I'm sending hugs and empathy to everyone who is going through this because it's tough, especially when you enjoy living an active life.
I've received so many questions about this one, especially since I recently had to take 6 weeks off following P's birth, and am in the beginning of another 6 weeks off following my surgery. (PS every day, I'm like YES. One day closer to working out!!)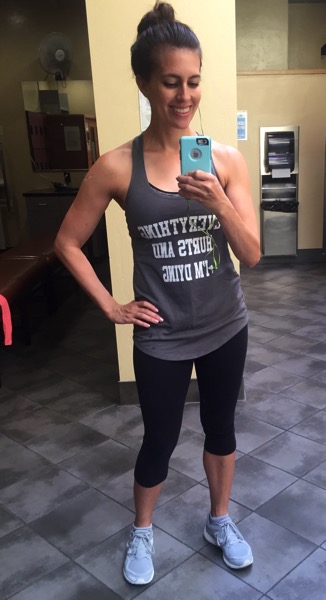 Here's one of the questions I received:
I have a stress fracture at the moment, which means 4-6 weeks in a cast and crutches. I noticed you said you are on 6 weeks rest as well – any tips on how NOT to go crazy and kill your happily-exercising-endorphined husband? (mine is training for a marathon). I just want to sink into bed with cupcakes and wine and say byeeee till mid-May. How do I keep my eats clean? My mind engaged? And the jealous monster at bay?
(Gabrielle, come on over. We can watch TV, eat cupcakes and drink wine .)
Some of my tips are below, including how I've managed to maintain my (partial?) sanity, and (have tried) to keep my jealousy of the Pilot at bay
How to Take a Medical Break from the Gym
Use the energy for something else. Each week, I've had something major to distract me, which has been wonderful. Last week my mom was here, and this week we're focusing on putting Livi's new room together. We are majorly clearing it out to make room for her new bed, and storing a lot of toys. While I can't do a lot of the physical work, I can certainly organize smaller items, and pick out cute things from Land of Nod. 😉 During the 6-week break, we also have friends visiting from out of town, a Tucson trip, my brother's 21st birthday, and 2 weddings, so there are lots of things to keep me engaged. It's when I don't have anything to do that I start to feel sad and blah.
I've also used the 45 minutes to an hour each day that I'd usually spend working out for something else I truly enjoy. I've tackled some projects around the house (like Livi's photo albums that I ordered photos for, but never actually put away), random crafts (one coming to the blog soon! It involves a thousand wine corks haha), and READING. I have really enjoyed getting sucked into good books lately, and it's a nice distraction from my lack of sweat and activity.
Focus on what you CAN do. My doctor said she wanted me up and living my life as soon as I felt better, and that I could go on neighborhood walks (just to watch my pace and keep it slow). I'm going to start this later this week since walking feels completely normal. I'll start with short walks and increase from there. Usually doctors will tell you what you can do within your specified limitations. For example, if you have a joint injury, you may still be able to do low-impact exercise like walking, swimming, or Pilates/yoga. If you have a hand or arm injury, you may be able to lift lower body weights and do cardio. If one or both legs are injured, you may be able to do upper body strength. Or, you may really need to take time off from everything. Talk to your doctor, and see what they recommend based on your unique situation.
Wear a Fitbit ONLY if seeing lower numbers will not bother you. I've been wearing my Fitbit since my surgery, not because I want to crush my 10k goal (spoiler: I won't get close), but because it helps me remain mindful of my calorie burn. I know it's taboo to talk about calories/weight/etc, but I feel like in scenarios like this, it's very common to consider potential weight gain. When you go from extremely active to sedentary, and you're consuming the same amount of calories, this will lead to weight gain.
While Fitbit numbers aren't completely accurate, they're a good comparison number, so you can see about how much less you're burning on average and adjust from there. I find that I'm not quite as hungry when I'm not working out, so my body naturally does this for me. But, I do keep this in mind during breaks from the gym so that when I return, I'm not focused on losing weight, just building back muscle, strength, and endurance. (And trying to keep myself from running around high-fiving everyone because I'm so.dang.happy to be back.)
Also, I think it's worth mentioning that you need fuel to heal. So just because you're burning less, this don't not mean that you should drastically reduce your intake. It just helps me to stay mindful and make smarter choices because I'm not burning as much. Fresh fruits, veggies, healthy fats, smart carbs, and lots of protein will help you heal! (And cupcakes are good for the soul, so I'll just have one, or will eat a few bites and really enjoy it.)
Remember that it's a small amount of time in the grand scheme of things. It's SO important to take the time to rest and recover properly, or you could end up right back where you are, or even worse. While it sucks to take a break, remember that 6 weeks (or however long), is small potatoes when you think about the months and years you'll continue to be active. I like to tell myself that I'll come back even stronger than before, and can really crush it since I'll be fully recovered and feeling better. It's not worth it to push your limitations. Use this time to rest and send healing love to your body. Continue to think positively, even when it's hard, because I really think it can have a positive effect on healing.
Know that it's ok and normal to feel a little jealous and sad. Yes, I feel sad when the Pilot comes home from the gym, crushing a Shakeology smoothie and covered in sweat. At the same time, it makes me happy because he's taking great care of himself. At least one of us can still work out and give each other the details on our usual gym friends. (There is a guy at the gym who wears a tiny dog like a baby while he strength trains. It's adorable, weird and amazing.)
To all of my friends out there also taking a break: hang in there! Before we know it, this time will be over and we'll be back better than ever, k?
If you have any more tips or insight to share, I would love to hear them!!
xoxo
Gina