and the coconut won :/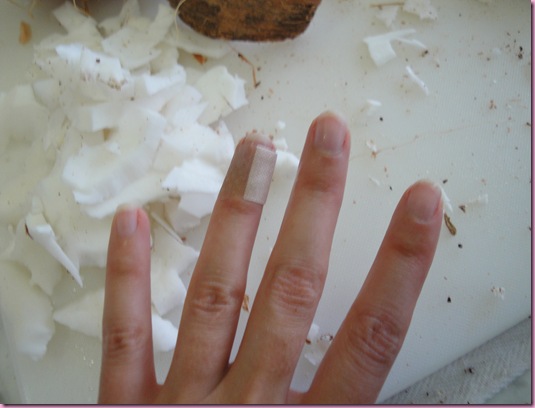 (more on that in a second!)
Hellooooo! How is your almost-Friday going?? Mine has been a doozy, but a blast as usual 😀
The super exciting this we got to do this morning was show up at the restaurant/academy at 5:45am, watch the sun rise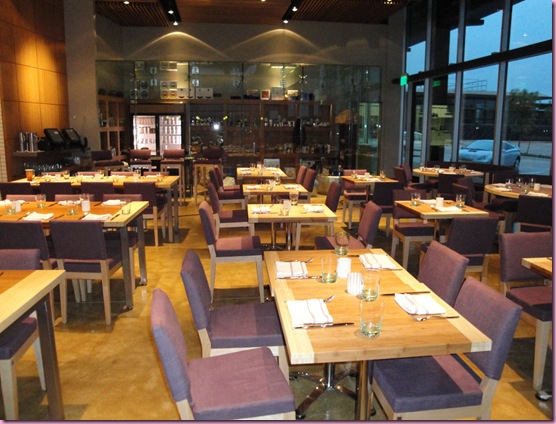 (how gorgeous is this place?! I can't help but swoon everytime I walk in the door)
and be on FOX News!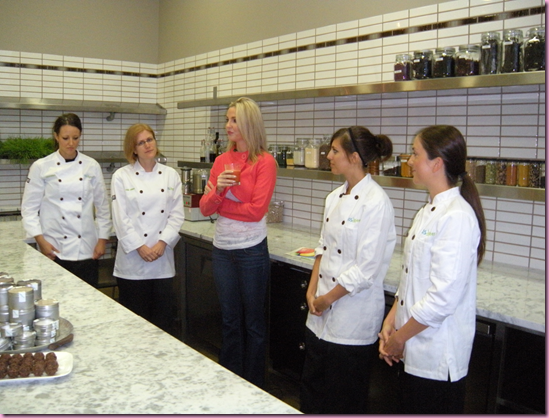 They did a segment on 105degrees which included a piece on raw foods, the company background, and tools that are beneficial to have in a raw kitchen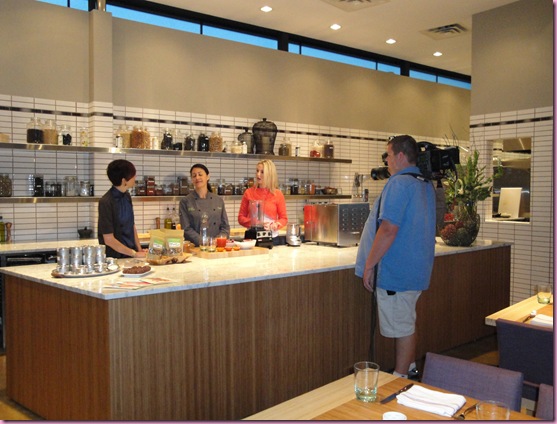 And then a segment with a few of the academy students, including Megan, Michelle and myself. It was a lot of fun and the bonus was that I didn't have to talk a lot—just a few words here and there 😉 When the segment is posted online, I'll definitely give ya the link. I have to admit I had a near panic attack last night when I was thinking it was the national FOX News, but Megan let me know this morning that it was the local Okie FOX News. Thank you 8lb 6oz baby Jesus.
After the news piece, we had about 40 minutes before class started, so the girls and I made some green smoothies to have for bfast.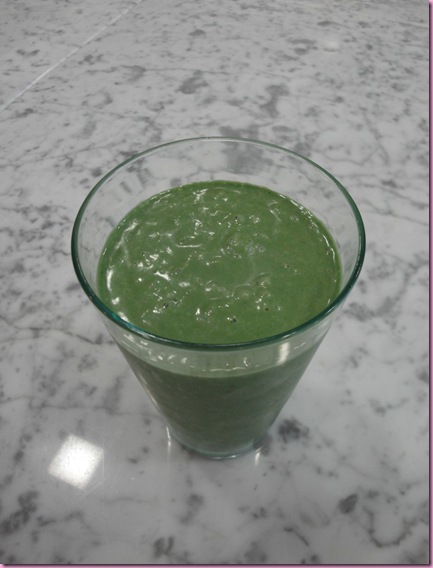 This baby had brazil nut milk, banana, Thai coconut meat, spinach, frozen banana, spirulina, maca, sea salt, mesquite, cinnamon and a date. It was everything I could ever want 🙂
We started class and got our first assignment: we each had to crack open an entire case of young Thai coconuts
I've wrestled with these before, but it was the first time using a machete to hack them open. I was a little scared.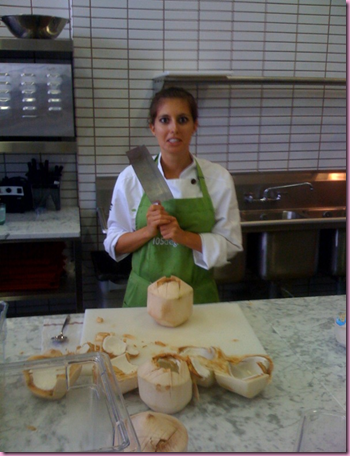 Creeper! Haha
And mangled the first one: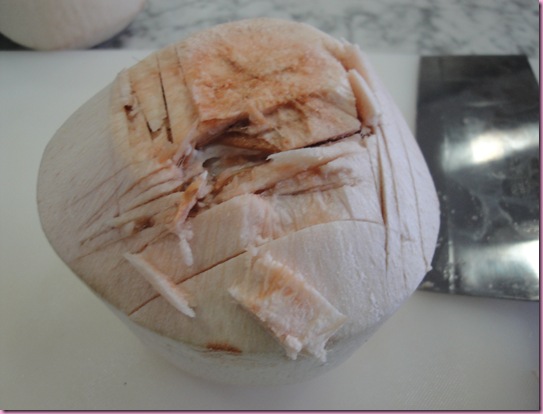 But before ya know it, I was hacking them up pretty quickly.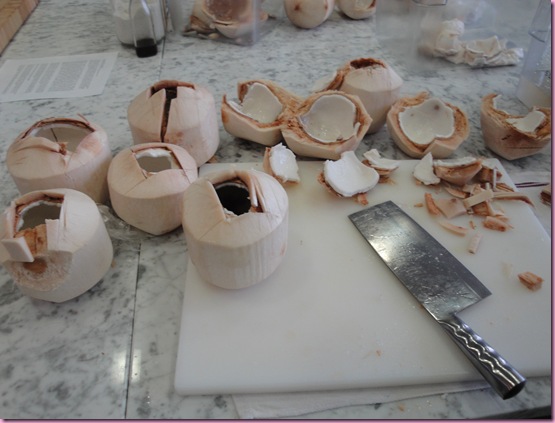 Action shot: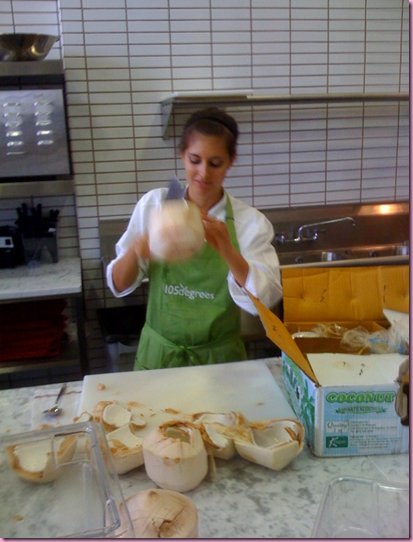 We also had to crack open one mature brown coconut (which is what the young Thai coconut eventually grows into). Let me tell you, these things are a BEAST to get into. I may or may have not asked the sous chef in the kitchen to help a girl out with cracking it open 😉 The meat does not want to separate from the shell.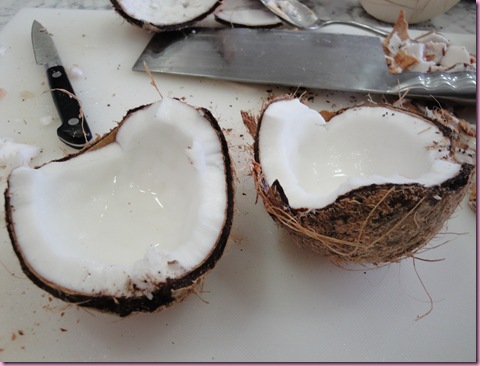 In a nutshell (coconut shell), I was using the paring knife to slice the meat away, slipped and gashed my finger open. So did at least 4 other people. It was that kinda day and I'm pretty shocked it took me this long to cut myself- it was bound to happen sooner or later.
We combined all of the meat and coconut water together: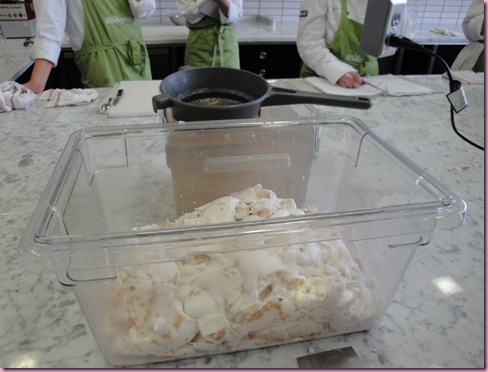 And made some Curious George smoothies using banana, coconut meat, coconut milk (that we made fresh out of juiced mature coconut pulp and coconut water), date, and cinnamon.. Megan and I shared ours since we had our green smoothies a couple of hours before, and also threw some maca and mesquite in our Curious Georgia smoothies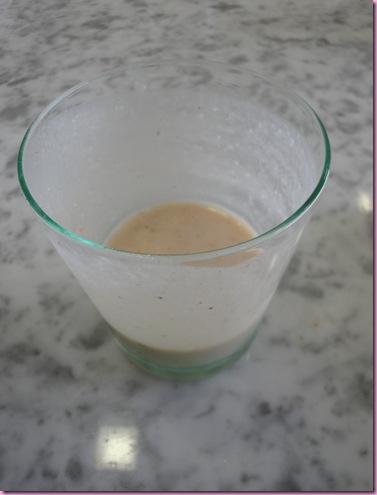 We made some coconut wrappers and red pepper wrappers (which are kind of like wonton wrappers) and put them into the dehydrator for tomorrow's lunch: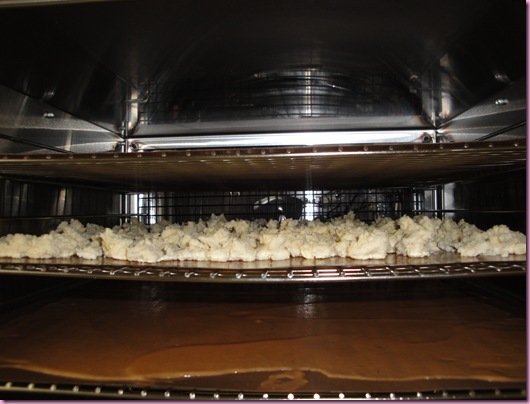 (I also had macadamia nut flour in there)
and got working on today's lunch, which I have to say has been my favorite meal so far…
SALAD BEAST!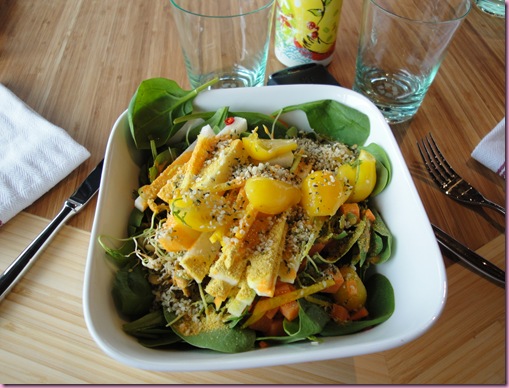 We were each asked to grab a different veggie and chop it up to put into the salads.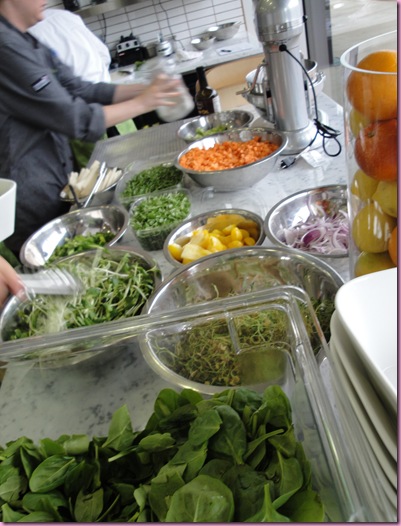 (I took this pic before everyone was done setting their ingredients out)
Here's what we had to choose from: spinach, micro greens, 3 kinds of sprouts, yellow grape tomatoes, red onion, purple onion, mint, cucumber, bell pepper, carrots, jicama, golden beet and red pepper dressing that the academy director made with the red pepper juice from earlier. I have no clue what else she put into it, but it was glorious.
I also topped mine with nutritional yeast, 1/2 avocado and hemp seeds. A-freaking-mazing.
I've been feeling a lack of greens in my life lately –which is hilarious because I'm surrounded with them all day!- but I feel like I caught up a little today 😉
We went back in from lunch and made a mango custard: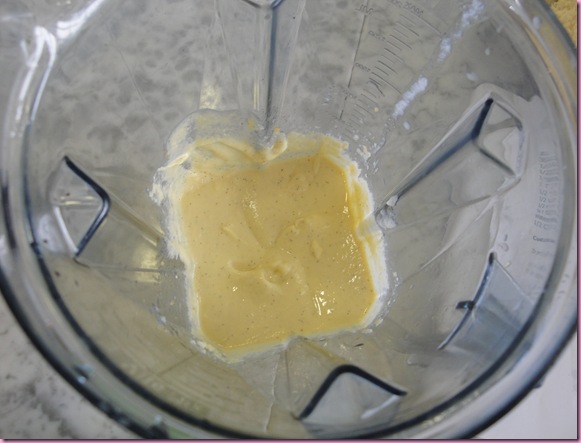 And filled vanilla macaroon tart shells (made yesterday) with said custard and they're sitting in the fridge to set overnight.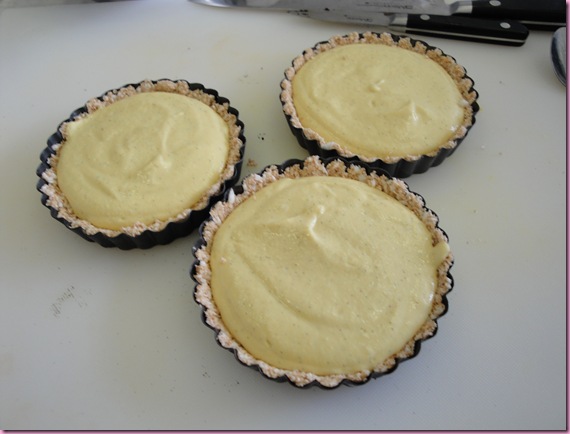 So as you can tell, it's been a busy day! I'm about to head into work because we're having a dinner for the investors tonight 😀
Okie locals, I hope to see you at the restaurant grand opening Saturday night!
Have a lovely evening and I'll see ya when I get back.
xoxo,
G