"I love your donut holes"
Hi everyone! Happy Sunday! Thank you so very much for all of your lovely comments on the graduation post– ya'll definitely know how to make a girl smile! Also, I added the recipes for my final to the Raw Recipes page for those of you who'd like to start (un)cooking 🙂
Yesterday morning, I had my last vinyasa class at The Yoga Room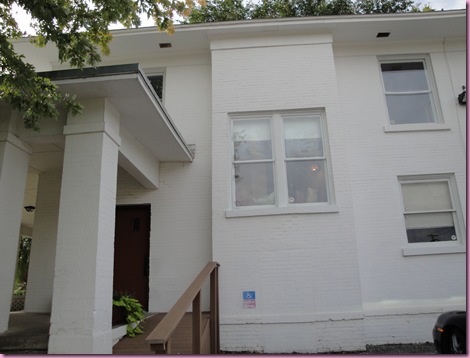 I can't even explain how much I'm going to miss this place and my yoga friends. Thank you again Laura, for teaching me to stop, breathe and be in the present and for taking Michelle and I under your wing. We loved your classes and would be so happy if you did podcasts one of these days 😀 Thank you <3
After yoga, the pilot and I went to IHOP so he could get his french toast fix.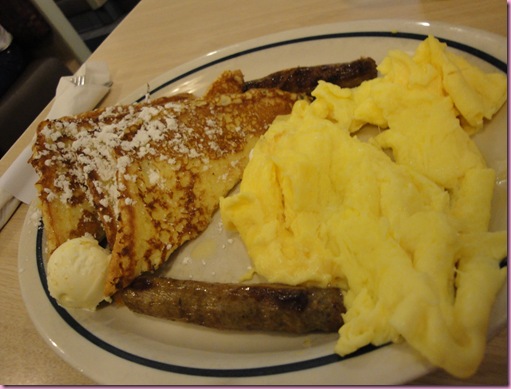 And I had a bowl of fruit that came in a package that had some type of chemical coating.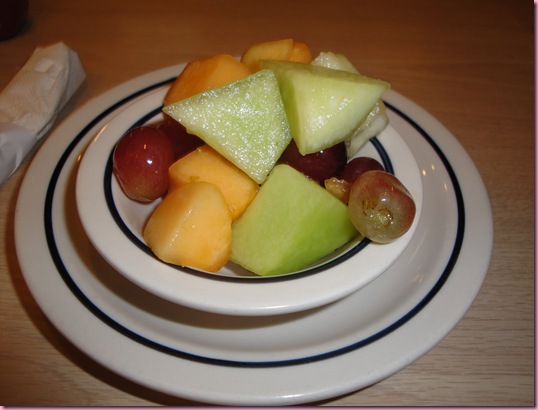 I didn't eat very much of it. Eating only organic produce for the last month has made my taste buds a little more keen when it comes to foreign food substances.
I met one of my raw food heroes yesterday…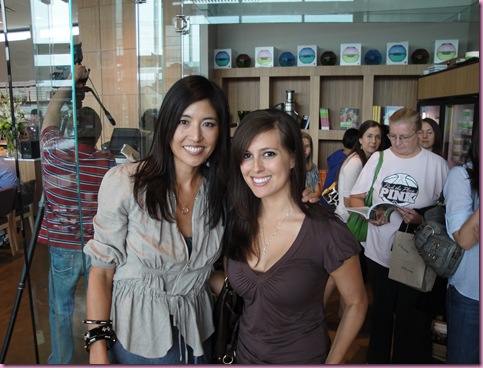 ANI PHYO!!! Isn't she so gorgeous?!? In all honesty, I had no clue what to say to her as I walked up to get my two cookbooks signed. What do you say?!? I felt like an awkward goober but she was so kind, bubbly and wonderful. We talked about school and what I made for my final, and about her upcoming cookbook –Spring 2010 and it's supposed to be HUGE, I can't wait- and my love for her raw donut hole recipe 😀 My life is complete.
She had just done a demo in the Academy in which she prepared a raw chocolate cake and a blueberry crumble: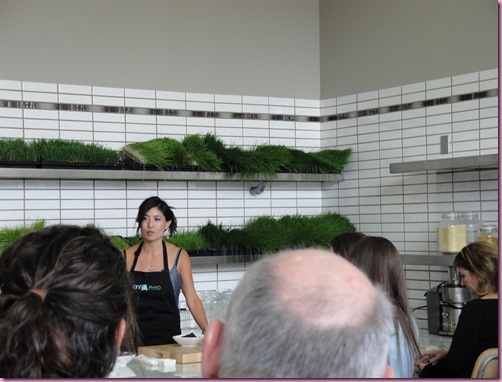 I got to taste some of the crumble, and it was glorious: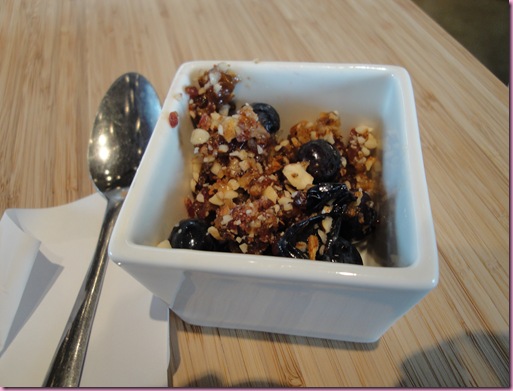 I'll definitely be re-creating that little joy at home 😀
Next, we watched The Raw Model speak about eating for optimal health and beauty.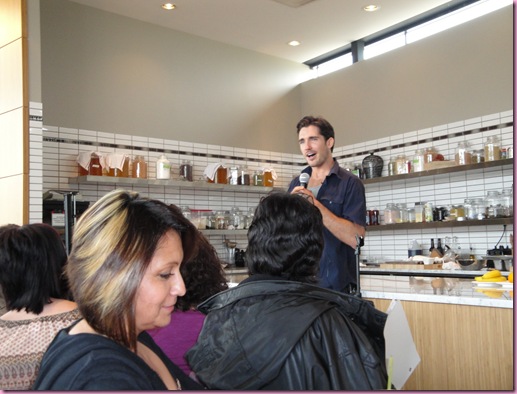 I really enjoy looking at him listening to him speak about how nutrition can have such an impact on how you look and feel. An interesting story he had was about how he started to get into eating more greens and the raw lifestyle: one of his friends owned a restaurant and had to get rid of the slightly-icky produce each day. Since Anthony was living on a low income in NYC –as huge modeling gigs don't happen overnight and it takes a while to build your portfolio- he started taking the produce since it was free and throwing it into the blender as it was the only way he could manage to eat it all. It sparked his love for smoothies, enabled him to intake high quality nutrients and he felt amazing.
The pilot thoroughly enjoyed Anthony's talk as well… he spent it by slyly watching football on his iPhone. Classic 😀
After enriching our minds, I enriched my belly with my favorite Spice-C smoothie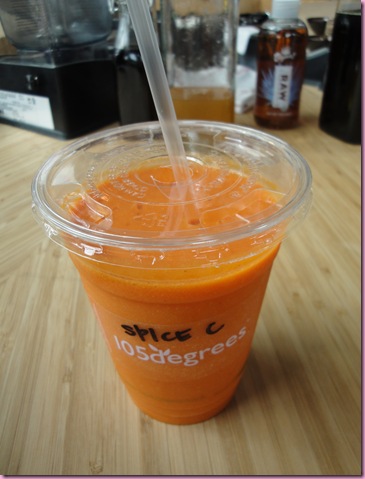 and some Summer Rolls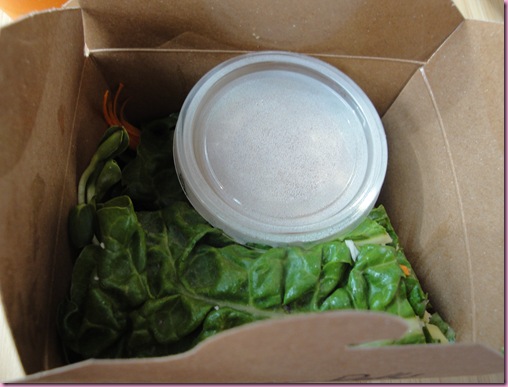 Not an interesting pic, but here's one of the un-boxed version that I've frequently feasted on: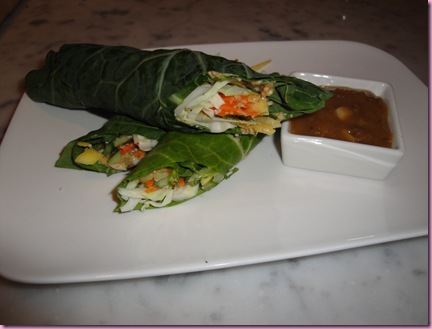 So delicious.
Yesterday's event at 105degrees was seriously amazing. The collection of people with so much knowledge to share, the way it was set up (one speaker in the Academy and one in the restaurant, pre-made smoothies, sushi and meals that you could easily grab and pay for, book signing in the shop), everything was flawless. I also couldn't believe how PACKED it was. When we got to the event, we had to wait for someone to leave so we could get a parking spot. It makes me so happy to know that people want to learn more about raw foods and nutrition, they just need an avenue to learn about these subjects. Events such as this one are a great way to get the word out about healthy living! Thank you so much to Matthew and Dara for organizing such a fun and successful event.
After our day at 105degrees the pilot and I lounged at the hotel-casa before hitting up Sushi Neko for dinner.
I started with the obligatory glass of red 🙂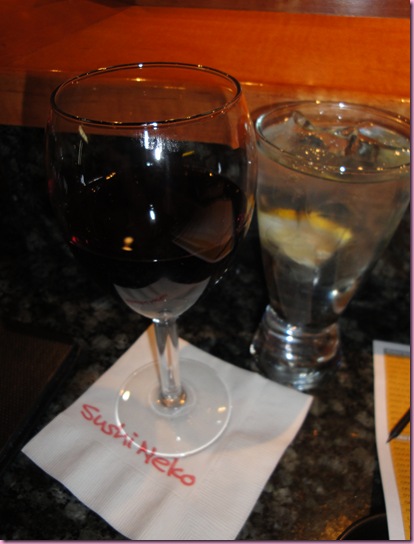 And we shared some edamame: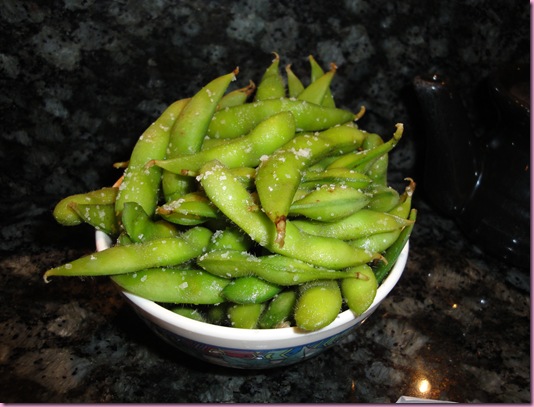 Next, I proceeded to end my month-long vegan streak by sharing a plate of raw fish with my love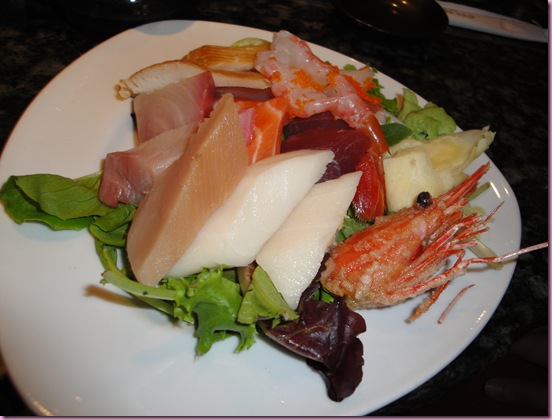 Is the fried shrimp head really necessary??
And the pilot got two additional rolls, because he's a machine 😀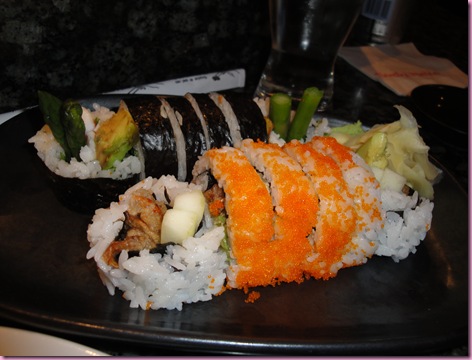 What a scrumptious dinner—everything was so fresh and wonderful.
The thing is, I didn't feel so bueno with a belly full of raw fish. I didn't get sick or anything, but I could definitely tell I ate something out of the ordinary. Guess I didn't feel too bad though, because at about midnight the pilot at I were at On The Border drinking and eating chips and salsa 😀 Back to our usual shenanigans 😉
Time for one last Sunday breakfast with Michelle and Lori and then we're hitting the road for the drive back to Valdizzy. See you from Little Rock!
xoxo,
G