I'd like to thank the curry
Hi guys! How's your day going? I JUST woke up… and feel a thousand times better! 😀 The pilot had it way worse than I did, so hopefully by tomorrow he'll be back to semi-normal 🙂
Last night, I really wanted to make soup for dinner since we were both feeling so sicky. I'm not really a "soup" person. I LOVE vegan chili, but that's pretty much where it ends. I'd rather chew my food than slurp it from a spoon 😉
Anyway, last night was the first time I've made soup in the three years we've lived here.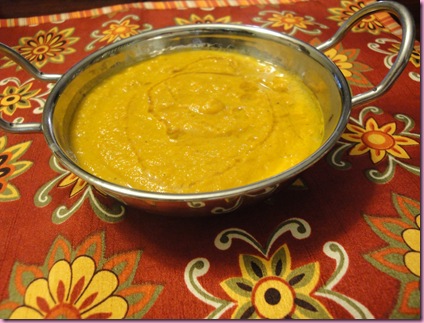 Carrot Curry Soup
Adapted from my brain
I sweat out 1/2 a large onion and 1 bag (16oz) of rough-chopped organic carrots in a little olive oil, on medium-high heat for 7 minutes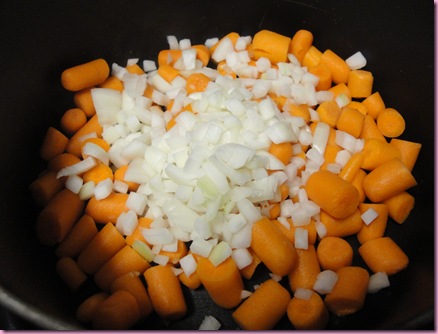 To that I added a generous amount of sea salt and pepper, 1 T curry powder, 1/4 t cumin, 1/4 t garam masala, 1/4 t garlic powder, pinch of coriander and stirred well to combine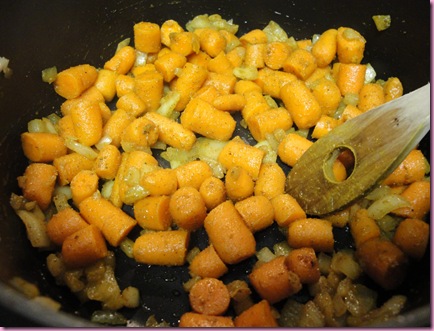 Then the liquid went in: 2 C organic veggie broth and 1/2 C almond milk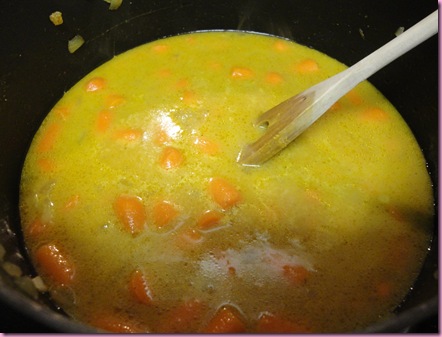 I brought it up to a boil, reduced to simmer, covered and let it simmer for 45 minutes.
Next, I used my handy hand blender that Mara sent me -speaking of Mara, she's having a goat cheese giveaway if any of ya'll are interested!- to blend the soup (or you could blend in batches in the blender)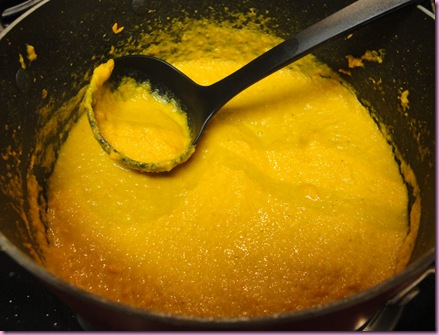 Taste and adjust seasonings as necessary- mine needed more sea salt and a pinch of Stevia
Drizzle with olive oil to serve (I used Garlic Gold)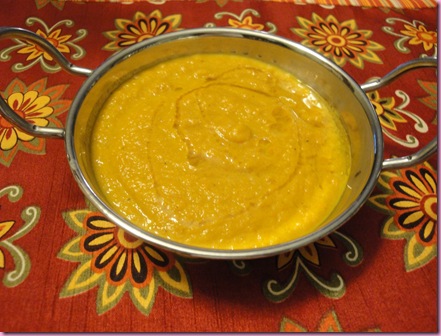 It was so. good. and made our house smell heavenly 🙂
I devoured my bowl of soup… the pilot ate about half of his and that's why I think I feel so much better today 😉 Drink your soup, yo.
B-fast was bfast cookie dough cereal: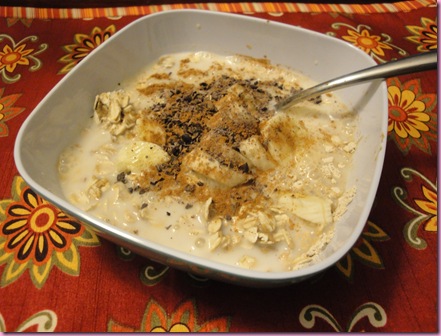 (Bfast cookie minus the smashed banana, + more milk, sliced banana, cacao nibs, maca and cinnamon)
Yeahhhhhh 😀
The plan for the day:
-Make some tea and bfast for the pilot
-WORKOUT! I feel recovered from the fitness conference and well enough to get my sweat on
-Deep mushy feely-feely blog post (in honor of Operation Beautiful's release) 😀
-Train a client
-Dinner with the girls
Have a wonderful day! <3
Gina