Hiiiii 🙂 Happy almost-Friday! (Just wrote "almond Friday" haha)  😀 It's almost the weekend!!!
How was your Cinco de Drinko Mayo??
I celebrated by teaching classes and then ended it with this….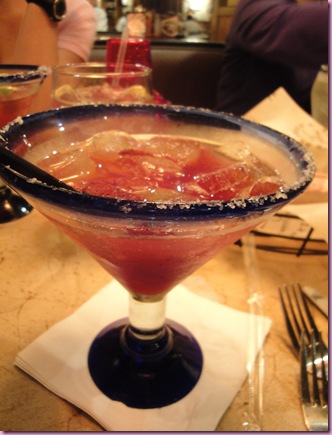 A Pomegranate margarita 🙂
And THIS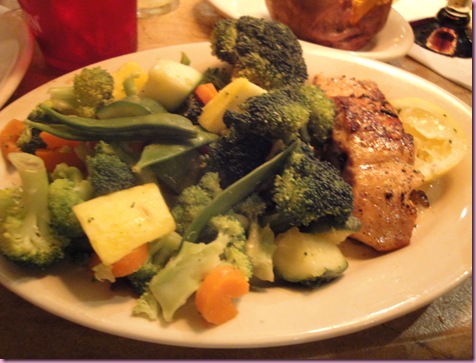 Yes, we went to Longhorn on Cinco de Mayo. *Hides face in shame*
We REALLY wanted Mexican food, but Valdosta has about three Mexican restaurants and all three were madhouses last night, so Longhorn it was. I got the usual salmon with double veggies and a plain baked sweet potato.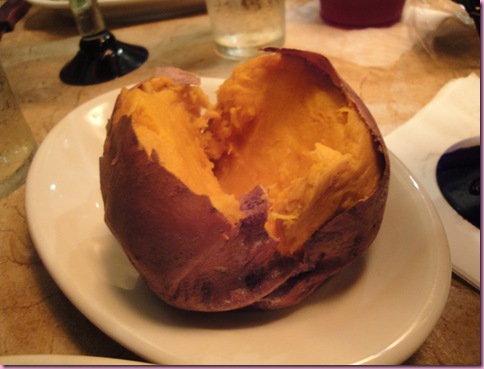 + one thousand pieces of wheaty bread. I was starvin'!
Dinner was pretty face-rocking, and as always, I love chilling with the girls.
Holler to Maya from American Gourmande who made a lovely Indian Food Wednesday / Cinco de Mayo hybrid: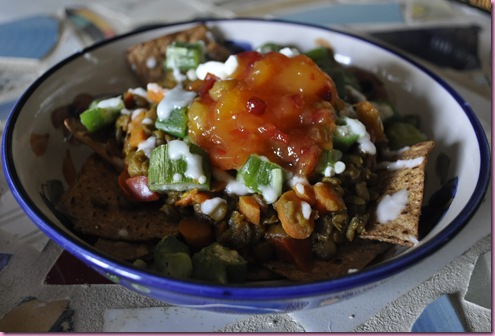 She made INDIAN NACHOS with curry spiced lentils, red pepper, carrots, and okra adorning cinnamon flavored tortilla chips with coconut butter drizzles, Greek yogurt, and mango ginger chutney
FOODGASM 😀
This morning, I awoke to a breakfast beauty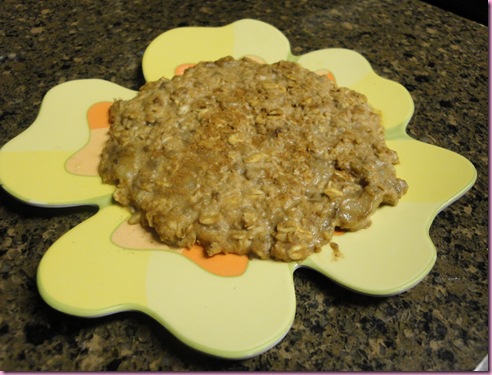 A Fitnessista bfast cookie with:
-1/3 C oats
-2 T of Jarrow brown rice protein
-almond milk
-1/2 bananner
-1 T mesquite
-cinnamon and vanilla
-1 T almond butter
Ahhhhhmazing 🙂
Well I'm off to walk the puppers, interview a new instructor for the base gym, CLEAN and make some delicious food, because
THE PILOT IS COMING HOME TONIGHT!
I didn't write about it on the blog for safety purposes, but remember when I went to visit the pilot in Vegas? Well he's been there for 5 weeks!! AHHHHHHH. Not gonna lie, this TDY was no picnic. Whatever, though.. I get to see my pilot love tonight and I CAN'T WAIT 😀
See ya this afternoon with a reader's request post (not sure what yet! Send any ideas my way at fitnessista at gmail dot com or tweet it up!)
xoxo
Gina