Intimidating Fitness Moves
Ok, so have you ever wanted to try a training plan, saw a certain move and thought: ehhhhh, I think I'm gonna go ahead and skip that?
That was an initial hurdle for me when I first started to get into fitness and weight training. I checked out a few plans online, was pretty stoked to try one from Oxygen mag, and decided to a modify a little bit.. ok, a lot… when I saw my strength training nemeses: the deadlift and a Smith machine squat. For deadlifts, I had no idea what I was doing. Instead of keeping my spine straight, I'd look from side to side to make sure no one was watching my form disaster (even though everyone was way too worried about their own workout), and for the Smith machine, I had visions of raising the bar up overhead to have it slam down on top of me as I crashed through a crack in the ground, cartoon-style.
After I put the call out on Facebook, here are some of the moves many of you said are the most intimidating, along with some form cues and methods to work up to the actual exercises: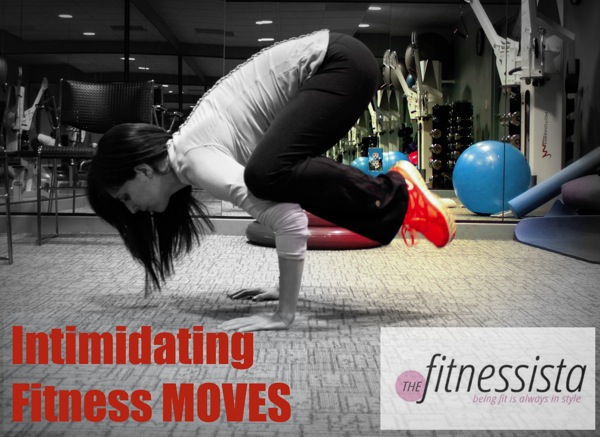 Burpees:

The idea: you start standing, place your hands on the ground, pop back into a plank, add an optional pushup, jump your feet back in, then jump up into the air before repeating. Burpees are the move pretty much everyone loves to hate. They're fantastic cardio, but also high impact, so definitely exercise caution if you have any joint/knee considerations.
Form cues: When you jump back into your plank, make sure to keep your hips in line with the rest of your body- no sagging hips and no booty in the air.
Work into it:
1) If you're just getting started with burpees, first practice jumping up (vertical jump), then touch the floor, with a deep bend in your knees.
2) After you get the hang of that, plant your hands on the floor, then step each foot back in the plank position (instead of jumping back).
3) Once you're a pro, just practice jumping back into plank, then back into your deep squat. Jump back and forth to build the strength required in the entire movement.
4) Then, you're ready for a full burpee!
Pull-ups: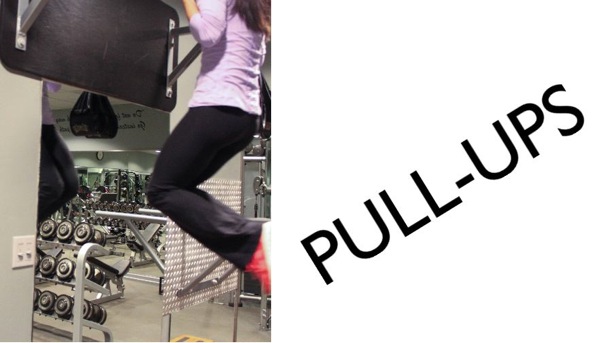 (Word to the world: it's pretty impossible to take a good self-timed pull-up pic)
Here's the first one, while I silently prayed to the camera gods that nothing shattered….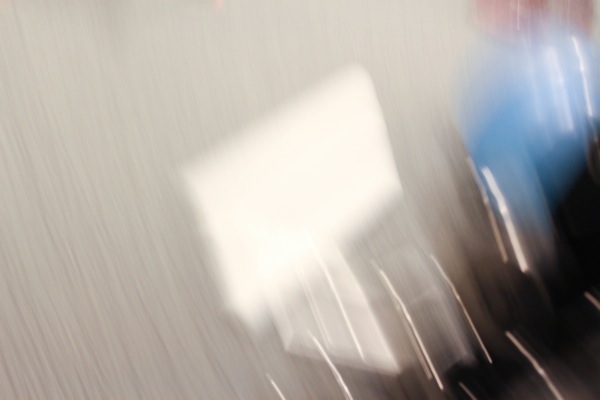 Form cues: Ok, so I can't stand seeing people "snake" up into a pull-up. It makes me want to throw things. Focus on keeping your spine fairly straight and depend on your arm strength, not momentum, to get up to the bar. Try it with different grips to see what you prefer.
Work into it:
1) Start with an assisted pull-up machine. I prefer this than trying to do regular pull-ups with bad form. Start with a heavy weight (it's a counterweight, so the heavier it is, the easier it will be) and gradually decrease the weight each time.
2) Once you get to the point where you're hardly using any weight, try to do a regular pull-up, standing on a large box. There are a few methods you can use from here, like using straps to help pull you up, or jumping up to your pull-up position and slowly lowering down, but I'm not well-versed in either- I'd probably just use the assisted pull-up machine until I'm ready to try it without any weight.
For common mistakes and more form cues, check out this post. 
Lunges: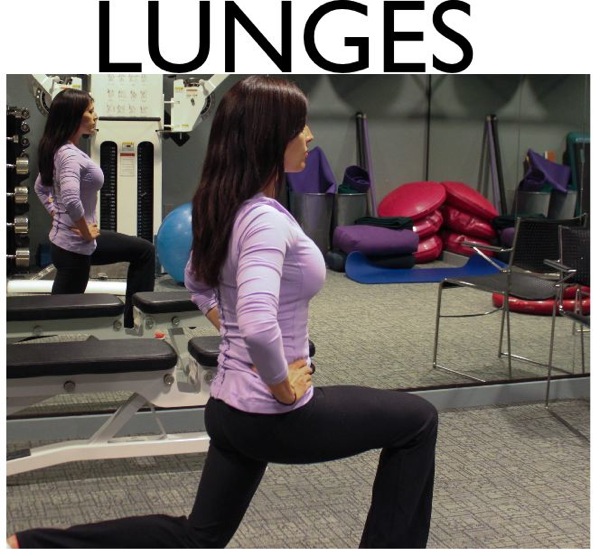 Form cues: Think of your stance like standing on a railroad track, not a balance beam- so your hips are hip-width apart. As you lower down, think about sinking STRAIGHT down instead of forward and down, watching your front knee to keep it above your ankle. Keep your spine straight, core tight and shoulders away from your ears.
Some tips:
-For knee or balance concerns, try baby lunges or holding onto a counter or bar for balance.
-If you have difficulty lunging, like you feel like you can't go down very far (not due to pain, but rather inflexibility) try foam rolling your calves down towards your ankles. Tight calves can inhibit dorsiflexion range of motion, which can hinder the ability to squat and lunge effectively.
Crow pose: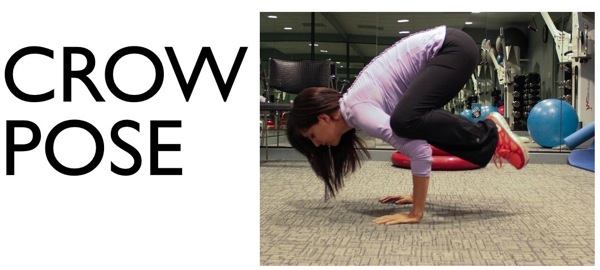 Form cues: Remember to keep your entire hand (including the space of your index finger) pressing into the floor. Keep your gaze straight in front of your hands. I like to think of crow as a shift of balance from your body to your hands- it's just a matter of finding the "sweet spot."
Work into it: (I am not a certified yoga instructor, but have been practicing for quite a while- just some things I've found helpful)
1) Start in a low frog squat with hands in prayer.
2) One that feels pretty good.. ish… haha, place your hands on the floor in front of you. Shift your knees and bend your elbows, so your knees are resting on your triceps.
3) Once you're there, take your gaze about 6 inches in front of your hands and start to slowly shift your weight forward.
4) Eventually, try to pick up one toe, then both and balance.
This pose takes a little practice, but once you get it, it sticks.
Squats: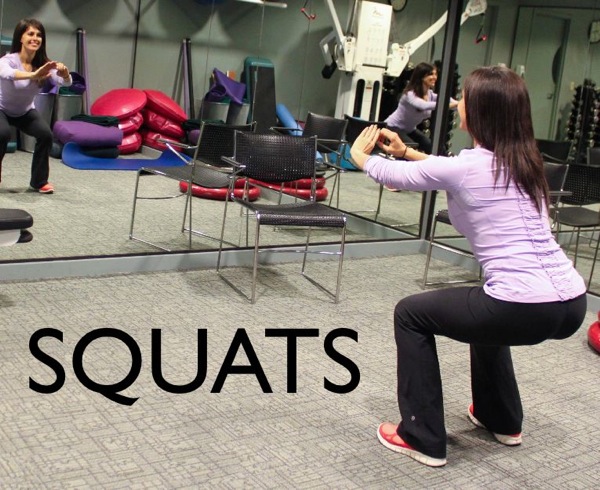 For ideas on how to switch it up, and form cues, check out this post.
Work into it:
-Try a wall squat first, to build up your leg strength. You can place a small ball behind your low back and roll up and down into the squat (keep a 90* angle with your legs, feet hip-width apart) or come down to the squat position and hold it.
Mountain climbers: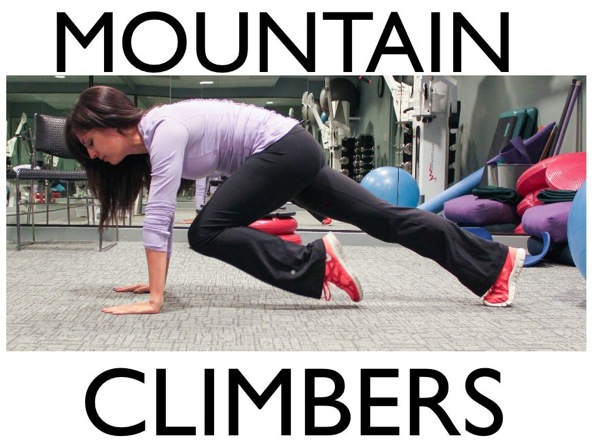 Form cues: There are a couple of different ways to do mountain climbers, but no matter what you decide to do, you want your body in a straight plank position. You will bring one knee in towards your chest, hop and switch, but as you do this, remember to keep your body in alignment (with hips down!). You can either place your foot down on the floor, jump and switch, or keep your foot lifted (which I prefer)
Work into it:
1) Practice your plank first. If it's too much for you to hold the plank for an extended amount of time, work on doing rounds: 10 seconds on, 3 seconds rest, repeat.
2) Next, bring one knee into your chest, then step back and switch.
3) Once you get the hang of that, practice jumping and switching- you've got it! 🙂
Side planks:

Form cues: I've had yoga instructors tell me two different ways- keep your hand under your shoulder, or move your hand away from your shoulder. My thoughts: do what feels best for you. I prefer my hand directly under my shoulder, as it gives a little more stability. Keep your top shoulder lifted (don't let it collapse) and core tight. The top arm can either be on your hip, or raised, with your gaze up towards to the ceiling.
Work into it:
1) Start on your knee first. Extend the top leg and really focus on keeping your body lifted and your top shoulder back.
2) Once you have the hang of it, try stacking your feet on top of each other. Really pull in through your low hip and keep your core tight.
Deadlifts:
Form cues and tips: check out this post.
Are there any fitness moves that intimidate you? Any that you've recently rocked and mastered??
Hope you're having a great day <3
xoxo
Gina