Hey everyone! How's your day going?? Mine has been bueno—it started out with a lovely 5.25 mile run on the revolving apparatus of death treadmill.
Michelle and I keep trying to run outside, but it keeps raining, and we keep getting destined to the ghetto gym. I have to be careful which treadmill I choose because some don't change speeds– kind of a critical component of a treadmill 😉 I ran the first 4 miles at 6.2 mph, then did 1 mile of intervals (1 min at 6.5, 20 seconds at 7.5) then cooled down for .25 miles. It was glorious and that little run made me feel good all day today 😀
I had a tropical sludge before leaving to school: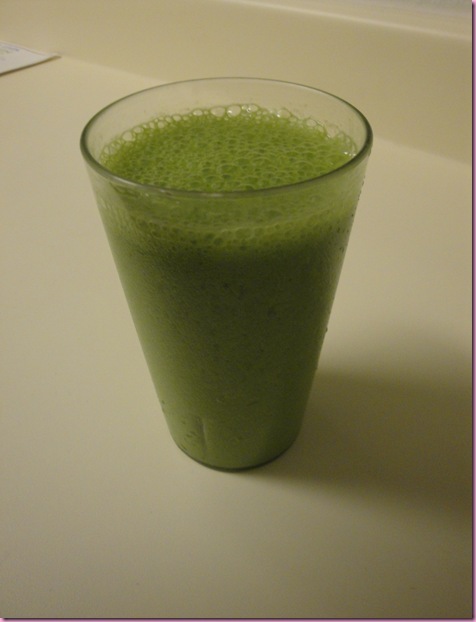 When we got to class, a gigantic thingie (technical term) of wheatgrass was on the counter and we learned about the benefits of wheatgrass (click if you are interested in all of the crazy awesome things it can do). I knew it was good for you, I knew it tasted a lot like GRASS, but had no idea that it can do so much for your body. Amazing. I'll definitely be drinking it more often.
We made a green juice (mine had 1/2 apple, lots of kale, spinach, 1/2 lemon, 1/2 cucumber)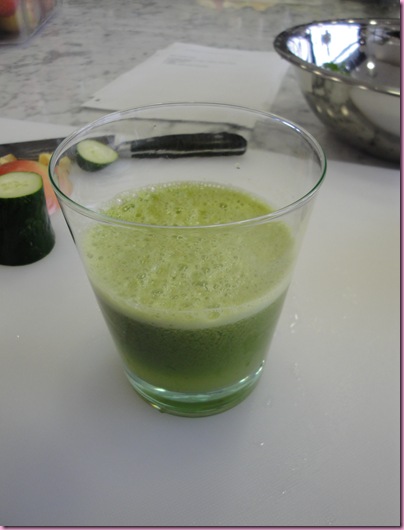 And an apple grass juice (with 1/2 apple, ginger and a shot of wheatgrass)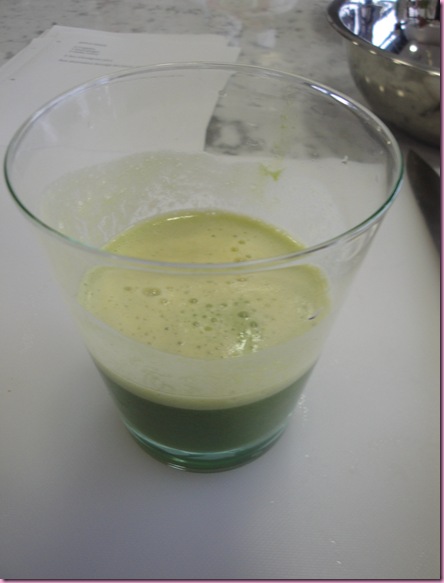 Next, we got working on some pistachio cacao biscotti which I have to say was the first culinary abomination of my experience at 105degrees. I think there was a typo in the recipe, because it was dry, crumbly and might be destined for compost city. We'll see what happens when they come out of the dehydrators:
We checked on our sprouts (mine were done! Ready to munch)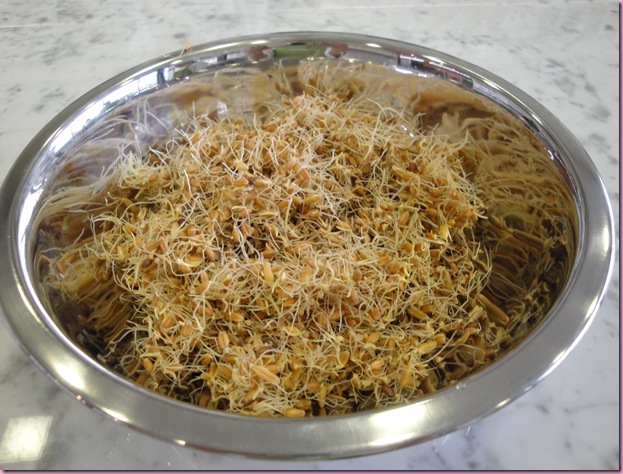 (Wheat, millet, amaranth, barley)
And got our raw pizza crusts (from Friday) out of the fridge along with our pine nut cheese, marinated mushrooms and grape tomatoes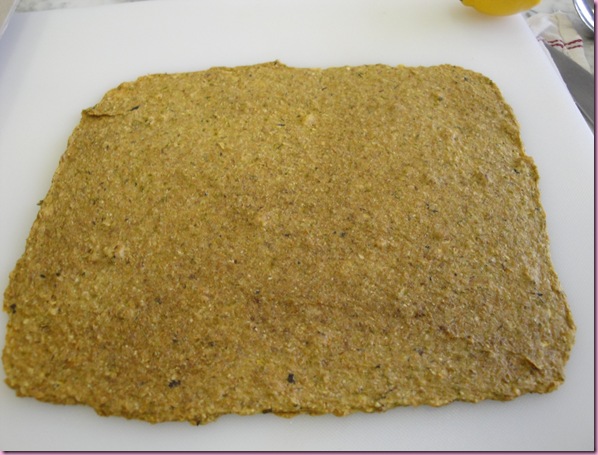 Topped our pizzas with the cheese and veggies (then put back into the dehydrator to warm up)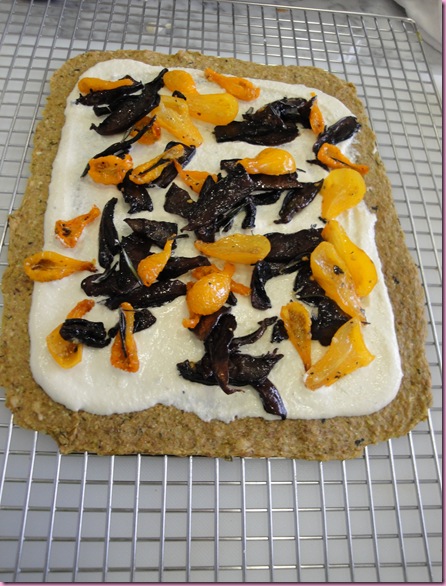 And made a simple green salad to go with: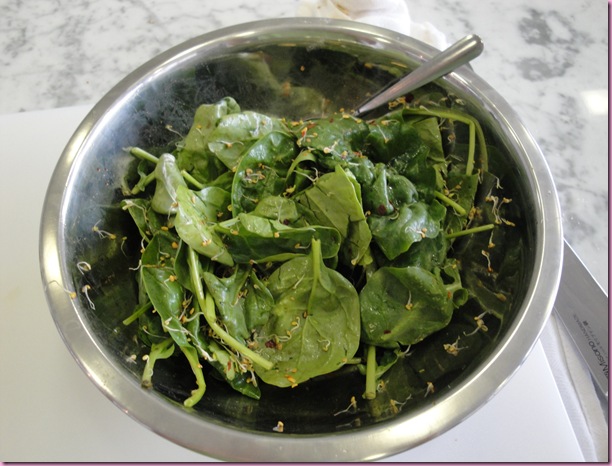 I de-simplified my salad by adding hemp seeds, 1/2 avocado, chili pepper flakes, sprouts, wine vinegar and a teeny bit of olive oil.
Plopped said salad beast atop my pizza: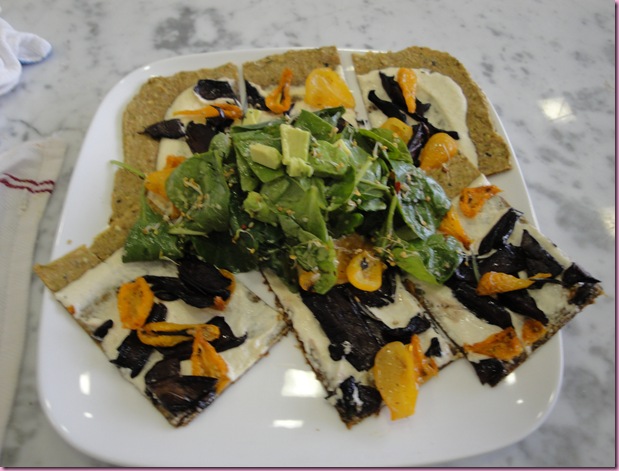 And DEVOURED 😀
When we got back in from lunch, we had a coconut-hacking assignment.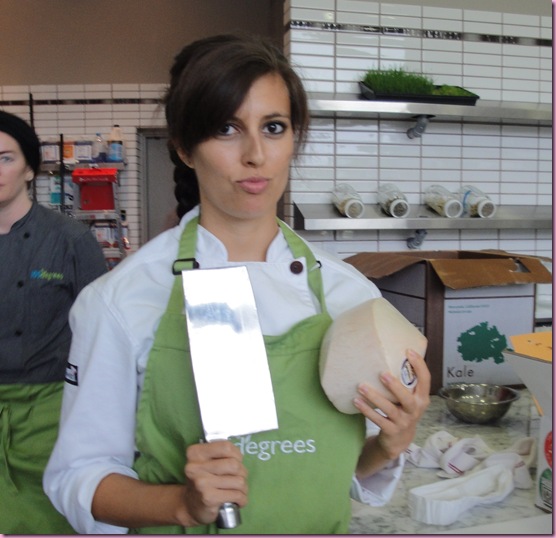 You know what happened last time, so I was a little apprehensive about cracking another case of Young Thai coconuts open with my culinary machete.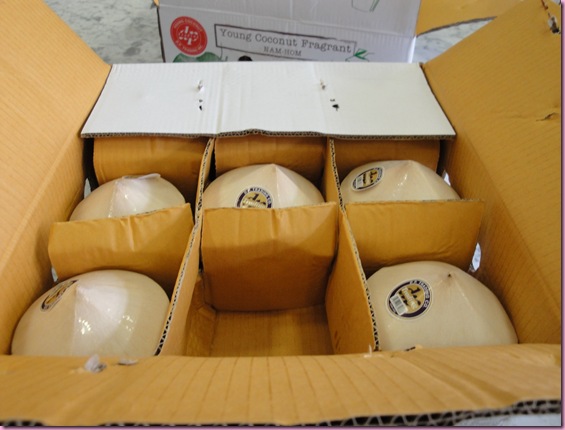 And (shocker), I cut myself: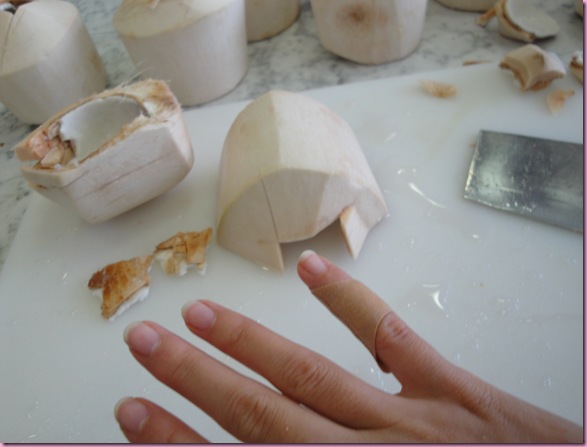 It wasn't nearly as bad as last time though. New goal: open coconuts without drawing blood.
We made a couple of other awesome goodies (snack food!!!) but I'll tell ya about that next time I see you—I've gotta run to work because Kelly got an insane order of raw ice cream and tiramisu. Guess what I'll be making tonight??? 😉
I just wanted to thank all of you for continuing to read my little bloggy while I'm off at school, because things have been way to frantic for me to catch up on the blog world as much as I would like to. You know I love each and every one of you, and I'm thinking about you as my Google reader continues to explode. I can read blogs on the crackberry during breaks, but I just want to say thank you for sticking with me even though I've had to be a little distanced from the blogosphere.
Have a great night and I'll talk to ya later.
Much love,
G$
Does anyone else who's on their feet all day have any tips from keeping my back from feeling like someone punched me??? I thought I was invincible, but it's starting to get a little achy back there!