Jackfruit Carnitas Tacos (vegan, gluten-free)
This recipe uses jackfruit, which is an awesome vegan substitution for shredded meat. It has bold Mexican flavors, and is an easy and healthy dinner option!
Hi friends! How are you? Hope you're recovering from the long weekend and enjoying the day so far.
Yesterday was a great day. The Pilot was off work, so we all got to hang out. I like when we plan little road trips on longer weekends, because we have a day buffer to catch up on life before it's into the usual insanity.
Birdie's, our favorite breakfast restaurant, has been closed for over a month! Thankfully they re-opened yesterday with a new menu, and a totally freshened-up interior. It's always been an adorable spot, but it looks even more amazing now.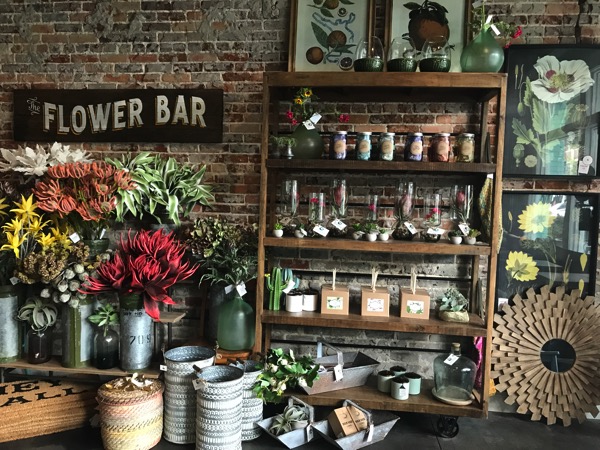 We enjoyed a delicious breakfast together, then I came home to put P down for nap and work while the Pilot and Liv went to see the new My Little Ponies movie. I taught a sweaty and fun barre class, and the Pilot grilled out on the patio for dinner.
Jackfruit Carnitas Tacos
For today, I have a new recipe for you! For this one, I was excited to try a new-to-me ingredient: jackfruit! I'd seen it floating around the internets for a while now, and it certainly piqued my curiosity as a plant-based *meat* option. (I'm not vegan, but I love vegan food.) When I saw that you could use it like shredded meat, carnitas tacos immediately came to mind.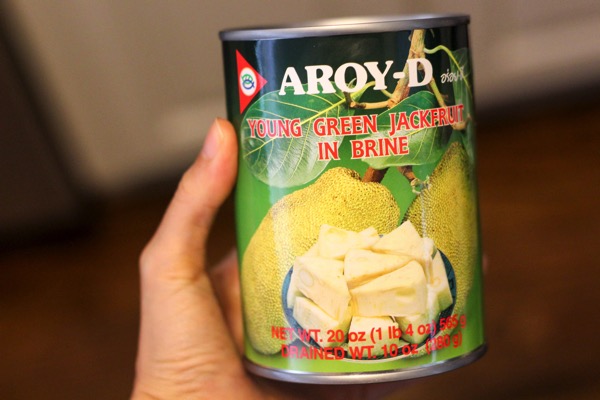 I opened up the jackfruit and gave it a little bite to see what I was working with. I picked up the brined version in water, and it reminded me of hearts of palm (but a little less salty).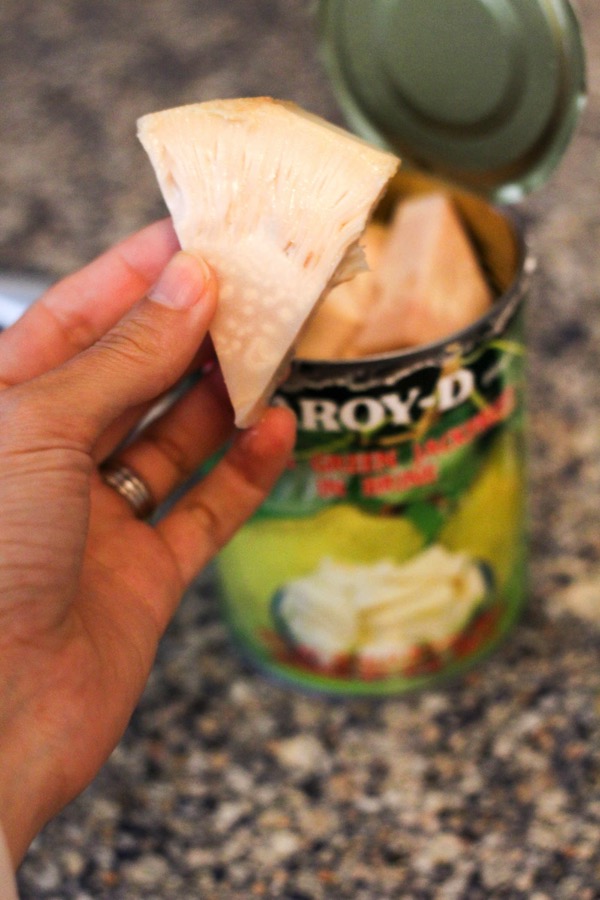 I tried to shred it with a fork and knife, but it didn't quite work. It was way easier to shred with my hands. I was shocked to see that it did indeed look like shredded meat. Kinda creepy, right?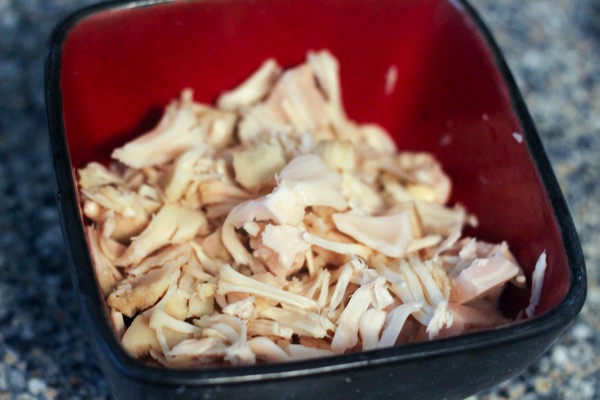 I sautéed it up with the usual carnitas taco seasonings: oregano, onion, garlic, orange zest and orange juice, and it tasted amazing.
It was super easy to spoon the mixture onto corn tortillas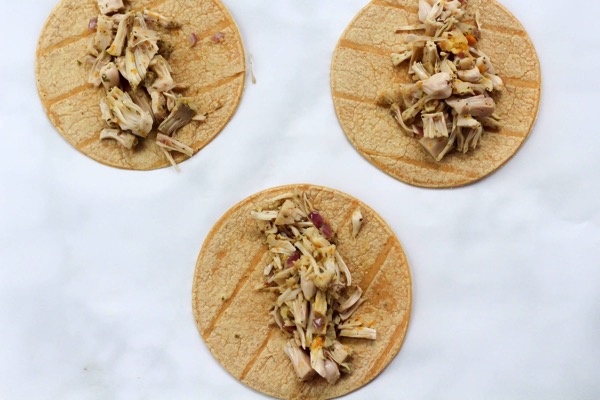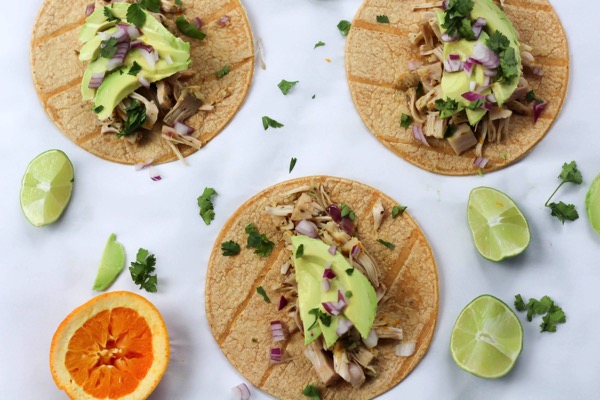 and top with some sliced avocado, chopped red onion and cilantro.
Here's the recipe for ya!
Shredded Jackfruit Carnitas Tacos
Shredded jackfruit carnitas tacos! These are an easy, healthy weeknight dinner recipe.
Prep Time:

10

Cook Time:

5

Total Time:

15 minutes

Yield:

6

1

x
20 oz

jackfruit (brined in water), drained and shredded

1/4

red onion, small diced

2

cloves of garlic, minced

1 teaspoon

oregano

1 tablespoon

orange zest
Juice of

1/2

orange
For serving
6

corn tortillas
Minced red onion
Chopped fresh cilantro
Sliced avocado
Lime wedges
Instructions
1. Heat a large saucepan to medium heat and add a little olive oil to the pan. Add the onion and garlic, and sauté for 2-3 minutes, until fragrant.
2. Add the jackfruit, oregano, and orange zest. Season well with salt and pepper.
3. Cook on medium for about 3 minutes, until heated through.
4. Remove from the heat and stir in the orange juice. Season with extra salt and pepper as needed.
5. Divide the mixture among the corn tortillas, and top with avocado, cilantro and onion. Plate with lime wedges.
Notes
For a meaty version, you can use this same recipe with cooked shredded pork or cooked shredded chicken.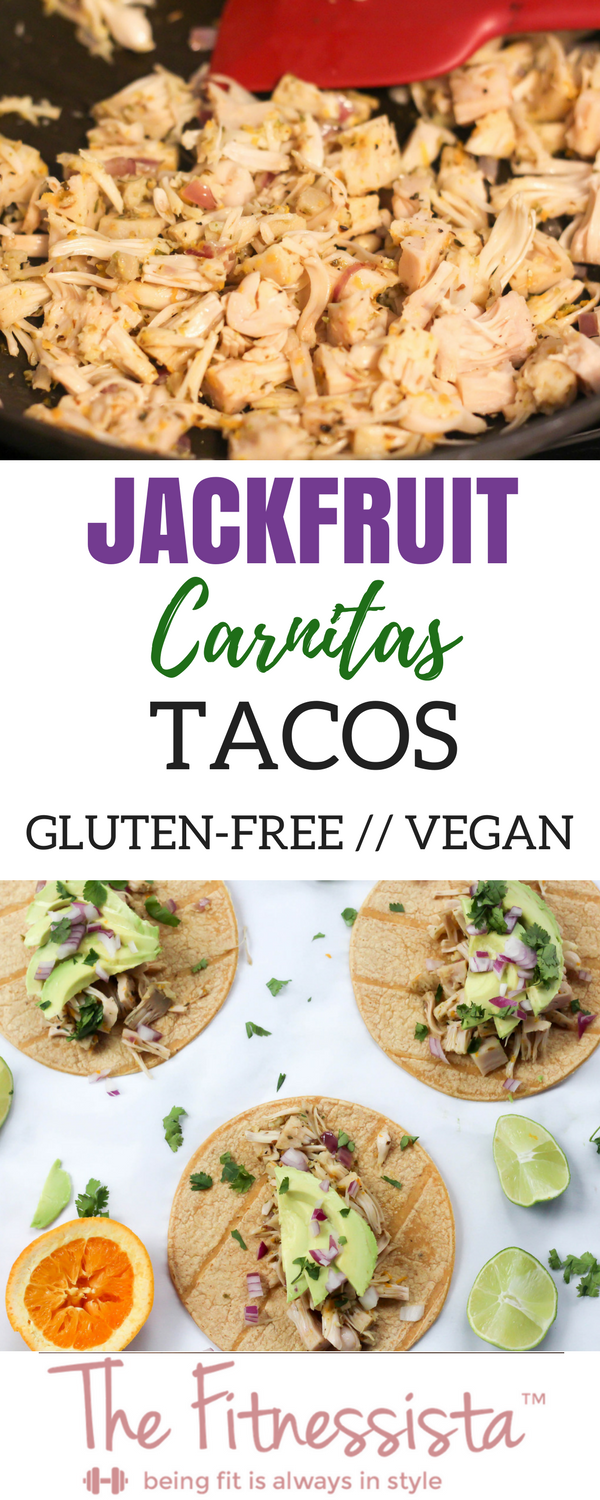 You should definitely make this for your next Meatless Monday or Taco Tuesday, and let me know how it turns out!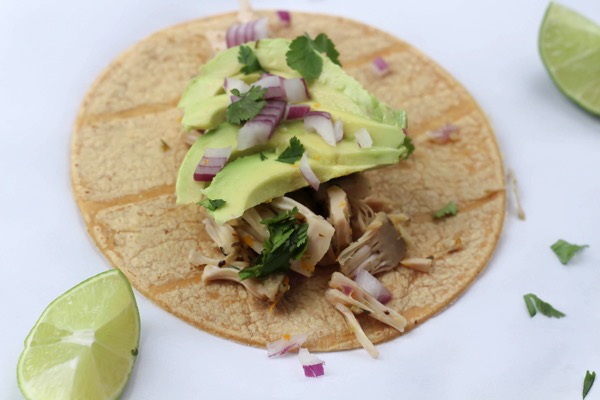 The only downside about jackfruit is that it's not super filling. (One serving only has about 150 calories.) I'd definitely serve these with avocado and a side of beans (try my slow cooker recipe for the best black beans), to amp up the nutrient value and make them more satisfying.
So tell me friends: have you tried jackfruit before? What'd you think? Any awesome foodie finds lately?
xoxo
Gina
Looking for a workout? Try last week's pumpkin workout! I'll have a new one up this week, too.