The Pilot's Stitch Fix for Men Review
Hi friends! How's the day going? I hope you're enjoying the morning. I'm blasting through some work stuff and hoping to catch a barre pop-up class later today.
For this morning, I wanted to share a review of Stitch Fix (<— referral code)…for men! When they released the men's service, I jumped on board immediately to sign up the Pilot. I thought it would be a fun surprise and way for him to try out some new things.
Shopping for him is SO HARD.
When we go to the mall together, he basically follows me the entire time and doesn't look at anything. I'm always like, "Hey, don't you want to check out those shirts/jeans/whatever over there?" For this reason, I usually shop alone for myself, and also will just pick up clothes for him online or when I'm out. He's really easygoing about fashion and will wear whatever. When he's not in his work uniform, he's either wearing lululemon, or something I picked up for him at J. Crew or Banana Republic.
I thought Stitch Fix for men would be a fun way for him to try out new brands, and also get an outside eye on things that he might like. I'm such a huge fan of Stitch Fix, and have been using it for years, so I was stoked for him to give it a whirl.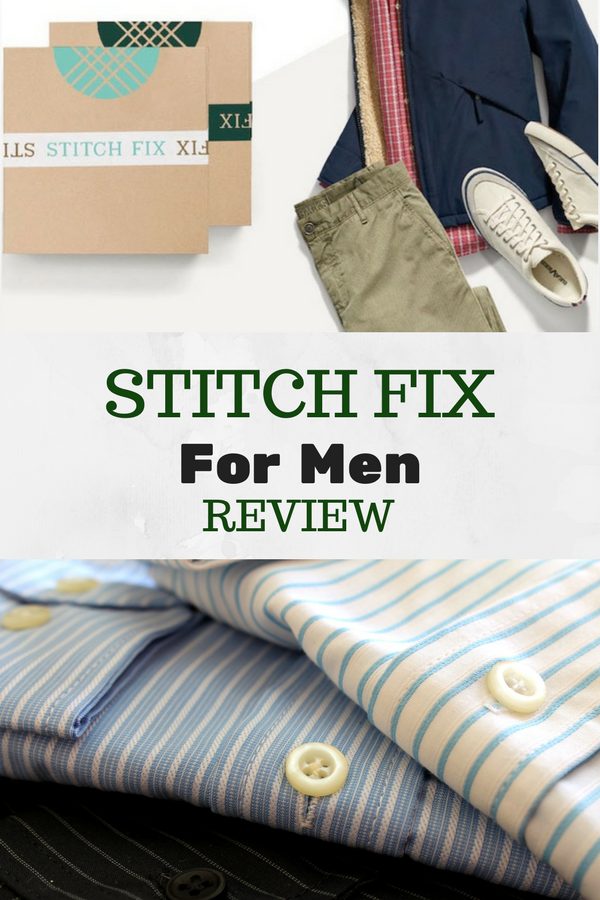 When his first box arrived, it was a huge letdown.
I was like "YAY, it's here! You're going to love it!" and we unwrapped a box fit for an 80-year-old golfer.
The first fix isn't always a home run, so he left detailed feedback on his fix (even though at this point, he was like, "Why are we doing this again?"), and we waited for the next one.
The second box was so much better, and since then, they've continued to improve. It takes a little while for Stitch Fix to get to know you and your preferences, and I've found that with detailed feedback (and even specific requests for items or types of items you like), they're great at choosing items to fit your style.
Since his first box, he's kept a lot of pieces and has worn them often. I was joking that he has more casual-nice clothes than I do now! (I feel like my closet is in a weird phase of either super casual or fancy.)
Some of the best arrivals lately:
Hawker Rye shirt // pants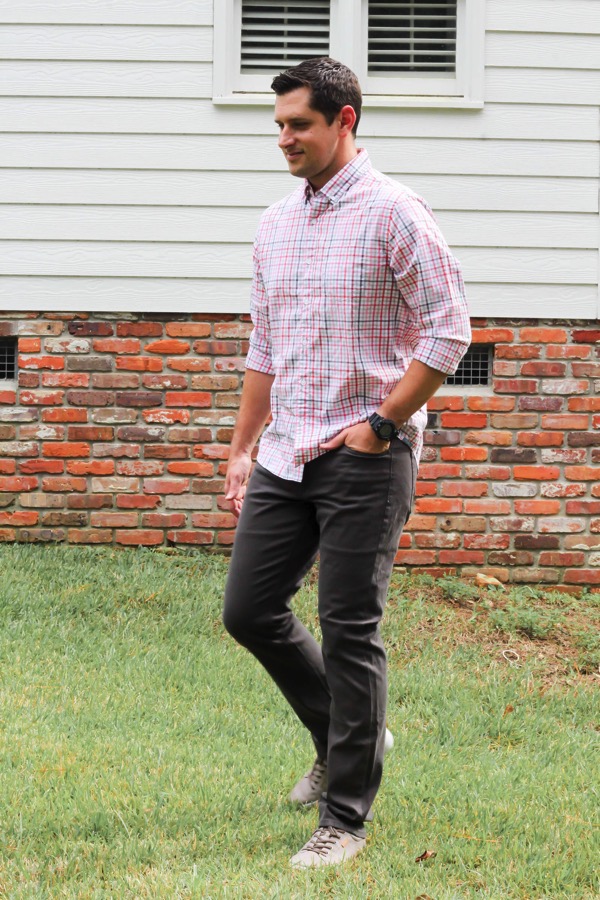 (I had wayyyy too much fun taking these pics. It was oddly fun to turn the tables and play Instagram wife.)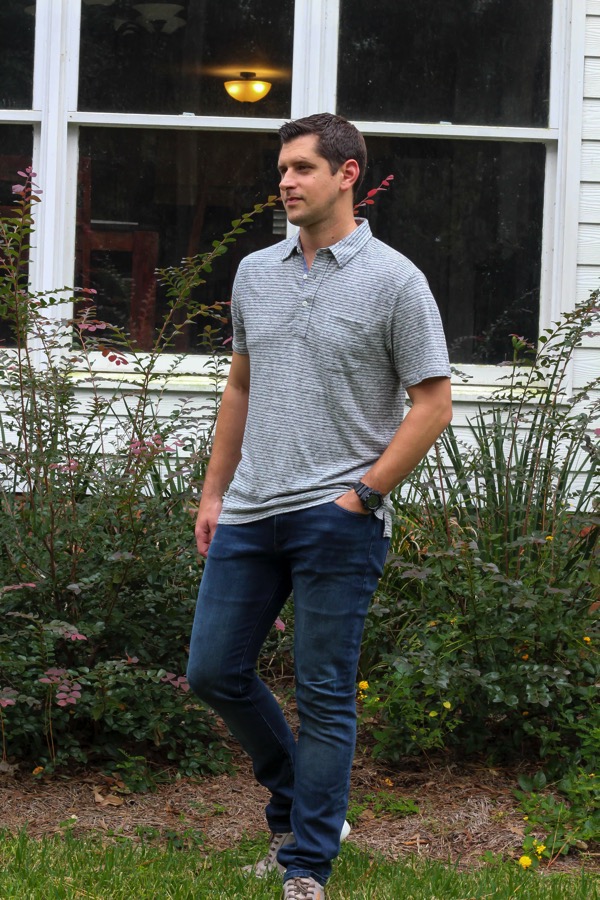 ("Yeah, WERK IT.")
Hawker Rye shirt // pants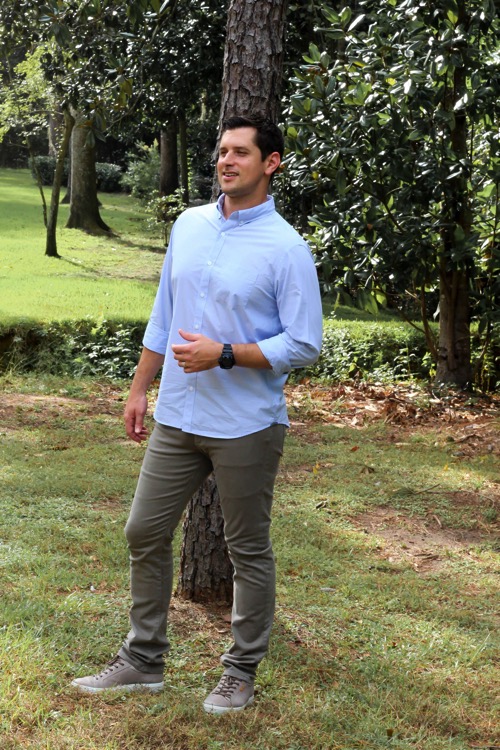 ("Smile at the tree over there. Laugh at the tree. Silly tree.")
I asked him to write a little bit about his experience. Here's what he had to say:
Gina's eye for fashion is definitely the driving force of my wardrobe. It's probably for the best. I've dedicated very little time to understanding what's trendy now. Besides, I prefer a more classic style anyway. So, when we go shopping, I'm happy to hang out and browse because it means I'm spending time with my wife, but it's not number one on my list of things I love to do. That's why Stitch Fix has worked for me. It takes very little time away from the other things I'd rather be doing. And don't worry, I still accompany Gina occasionally on her shopping trips, but it's nice to not have to worry about my stuff. The clothes that have come definitely aren't all my style. In fact, it took a few "fixes" to narrow down my style (if I have one). It was nice to be able to send the "not so great" items back. By the time Gina asked me to take a few pics of some of the outfits I liked, I was surprised to see how much clothes I were in the closet that I really liked.
If you've been curious about Stitch Fix, here's how it works:
-You fill out an extensive style questionnaire with your preferences, in addition to the sizes you typically wear.
-Your box arrives with curated items, picked out by your own virtual personal stylist. This feels like Christmas every.single.time.
-You try on everything in your own time -which is amazing if you have kiddos or a super busy schedule- and keep the things you love, while sending back the rest. You're only charged a $20 styling fee (<— this goes towards anything you end up purchasing) + the price of any items you decide to keep. If you keep everything in your box, you get a 25% discount. This is a great deal if you end up loving everything!
-After you receive your fix, you can leave detailed feedback on everything you received, and either request the same stylist or a new one.
If you decide to sign up your man, or yourself, here's the Pilot's referral code. It will give you each $25!
Have you tried Stitch Fix? What did you think? Where's your favorite place to shop?
xo
Gina
More Stitch Fix reviews here, here, here, here and here.