Leave with a hug and a kiss
Hi friends 😀 How's your Friday treating ya?
Things are bueno over here 🙂
Before we left for my doctor's appointment, I was presented with a plate of fluffy egg whites, with garlic, sea salt, pepper and goat cheese.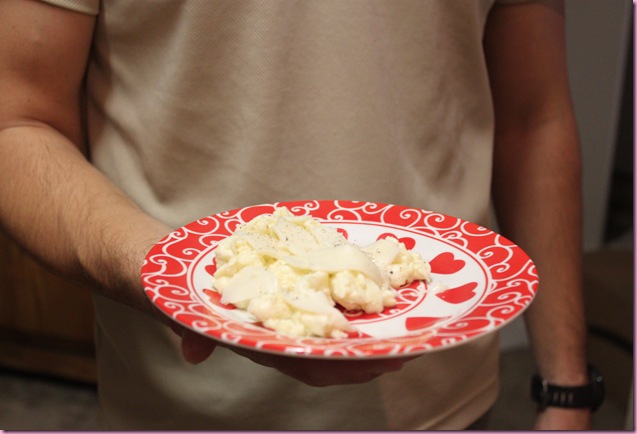 Why does food taste so much better when other people make it? More specifically, why does food taste so much better when a seksi Pilot makes it? 🙂
Doc's appt was good (considering that it was my annual appt. Bleh!) Since we were downtown, we stopped at a Tucson treasure for lunch 😉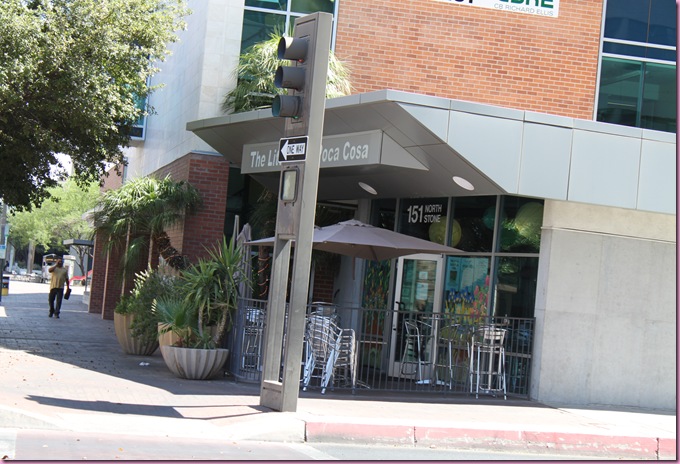 I've already blogged quite a few times about my deep, undying love for Cafe Poca Cosa. Well, today we dined at the Little Cafe Poca Cosa, which is more casual and serves incredible breakfast and lunch.
Unlike the dark, chic decor of the big Cafe Poca Cosa, Little Poca Cosa is warm, inviting and feels like eating at nana's house. Mexican music is blasting and the staff treat you like family members.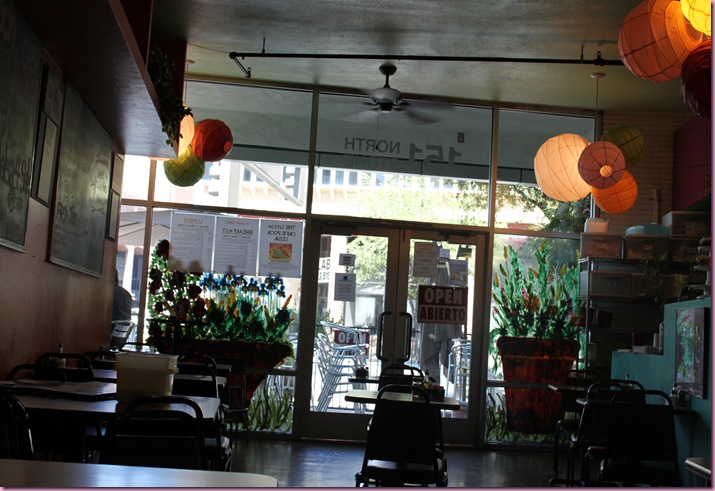 (We were there for the end of lunch, so the crowd had already cleared out)
They have a printed menu  –the big restaurant's changes daily, so servers walk around with chalkboards- and they offer daily juice and entree specials.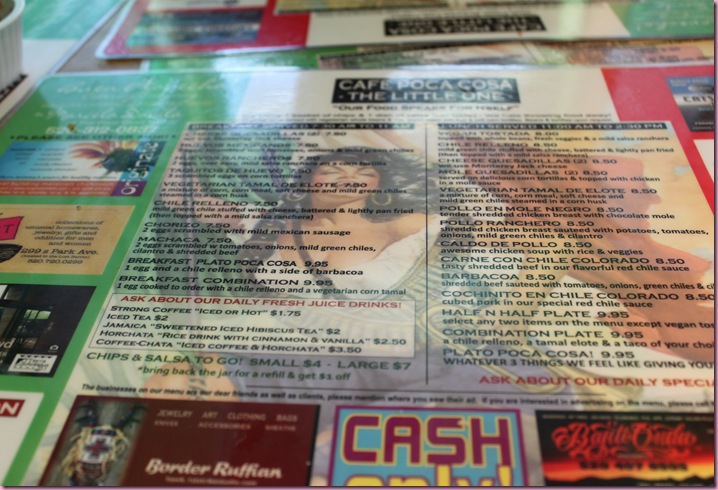 Fresh chips and salsa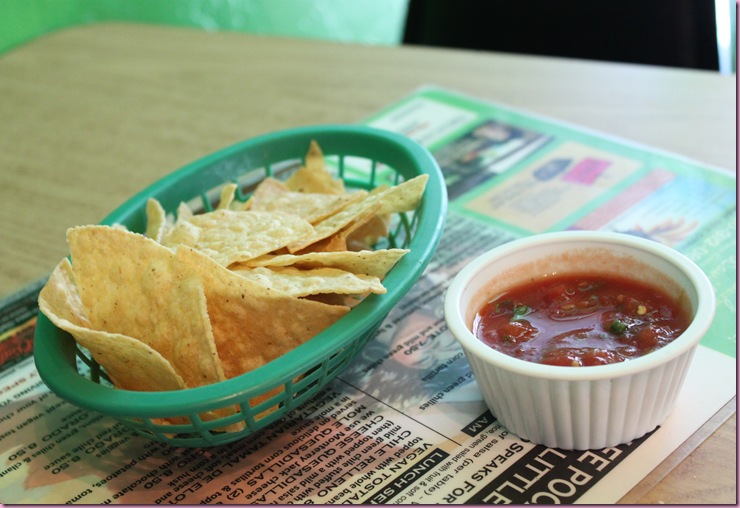 Today, we decided to try the juice special… wait until you hear this:
Honeydew cucumber lemonade with fresh basil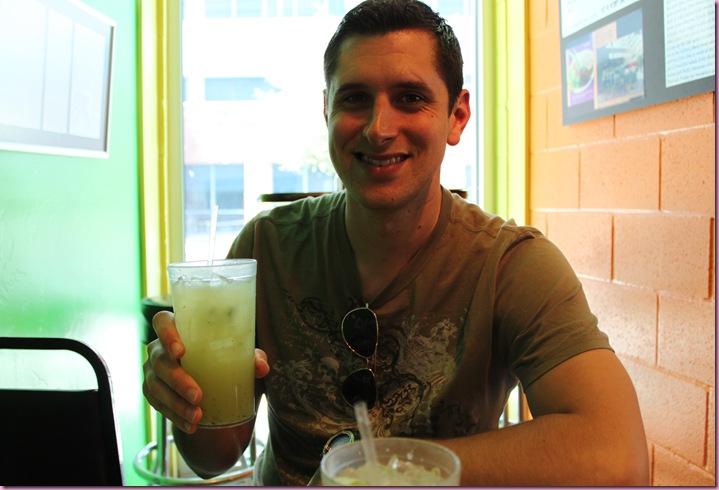 It was so refreshing and not overly sweet… can't wait to re-create it at home 🙂
For my meal, I rolled with the Vegan Tostada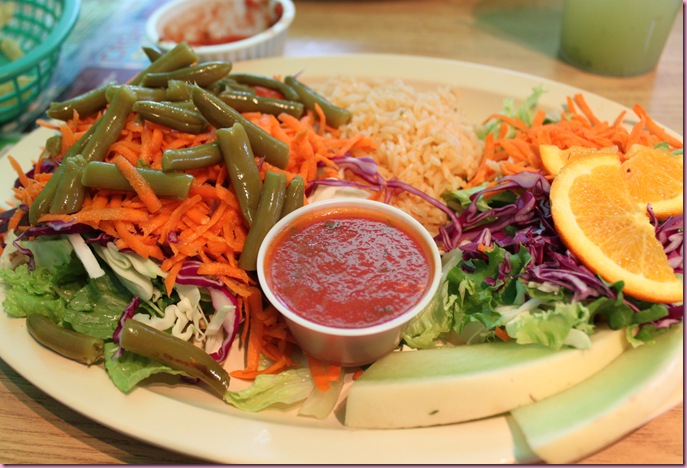 Which came with slices of honeydew and my favorite Poca Cosa salad, fluffy Mexican rice
And the Pilot ordered the Plato Poca Cosa– the chef picks 3 different things for you to try 🙂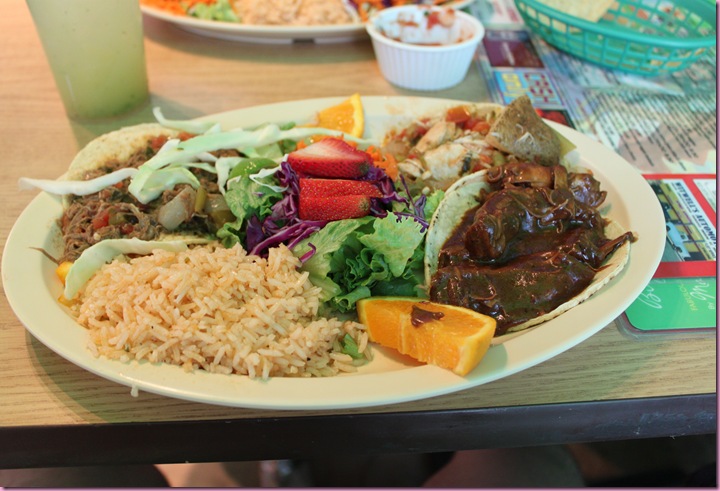 It ended up being 3 soft tacos: chicken mole, chicken picadillo and chicken asado, with rice and salad, with sliced strawberries
Happy kids indeed 😀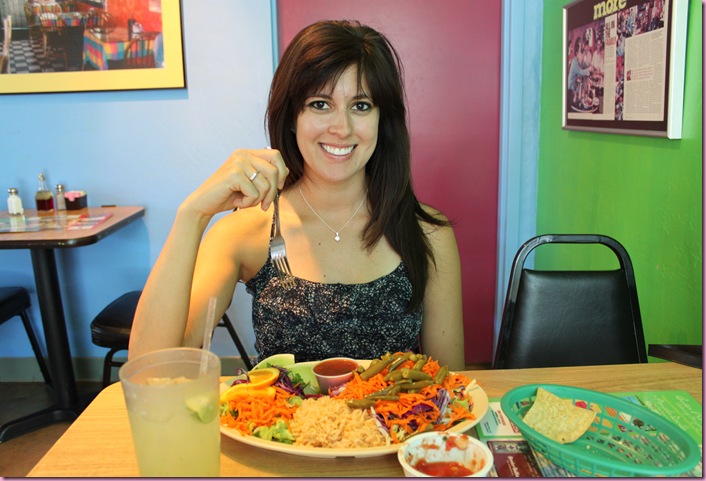 It was funny because we didn't speak almost the entire time. It was totally silent, and totally ok. We just exchanged knowing glances as we ate our lunchtime feast 🙂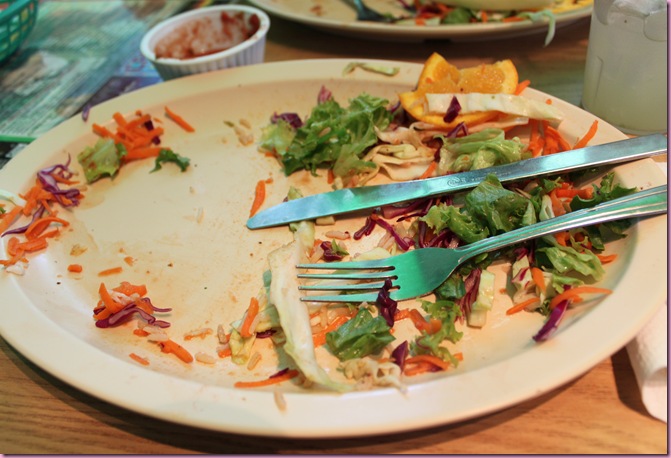 The best part? Hugs and kisses from the owner when we left 🙂
It was an incredible meal with incredible, silent company. Haha.
We're back at the casa and are going to chill for a sec before it's gym time.
Enjoy your night!
xoxo
Gina
Zumba song of the day: "Fotografia" Juanes y Nelly Furtado – awesome for cool down. It's on the playlist for tomorrow's class.