I think I'd like to stay here a couple more days.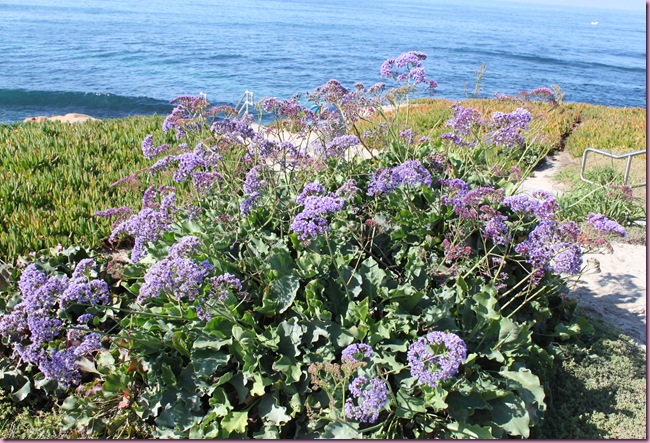 Ocean,
wildlife,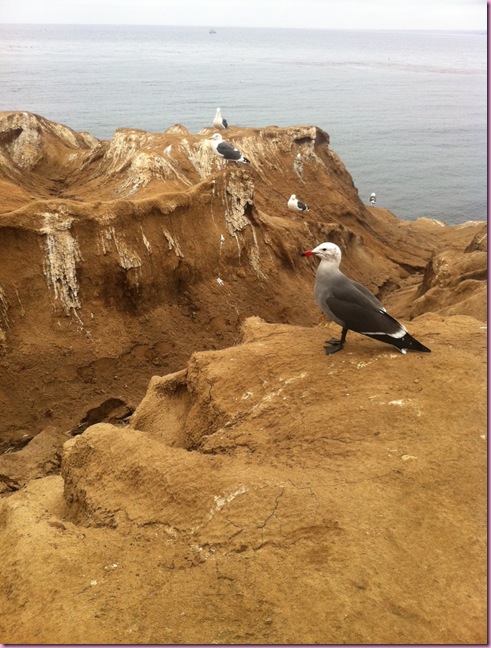 shopping,
amazing restaurants and yoga,
not much more that a girl could ask for 😉
But I can't help but wonder, does the novelty wear off? Friends that live in exotic or beachy locales, does it still feel as magical as it did when you first moved there?
I'm glad that we have another full day of adventures before we hit the road back home tomorrow. I can't wait to kiss Bella's furry face!
Last night, we went to Nine-Ten restaurant for dinner.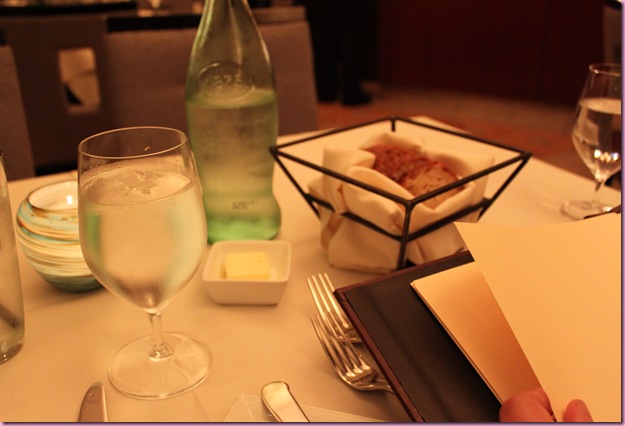 We dined fairly late –since I ended up taking a random hour nighttime nap- so it was very quiet in there. I felt like I had to whisper to the Pilot.
The food was excellent and the service was amazing, too.
A surprise amuse-bouche from the chef: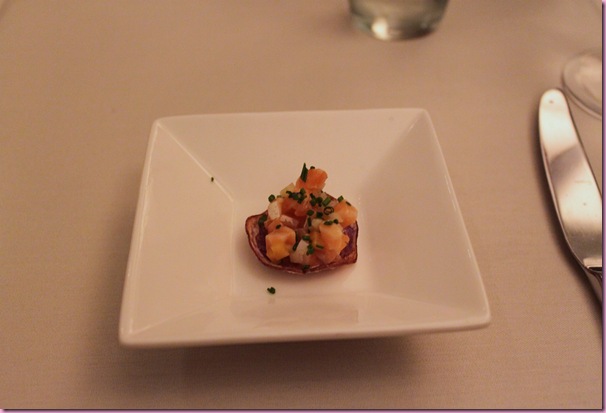 Salmon with persimmon and chives on a purple potato crisp. The salmon was raw, and I still ate it… and savored every smooth and salty bite.
Appetizer was a fall fruit salad, with apple puree (my favorite part), celery root, pomegranate arils, mandolin-sliced apple and persimmon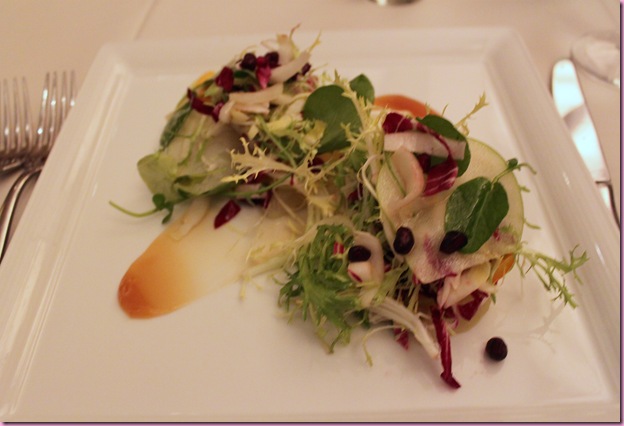 and the type of lettuce (frisee) that I always leave in the salad container at home- it pretty much tastes like biting into a tree.
The Pilot's tuna sashimi: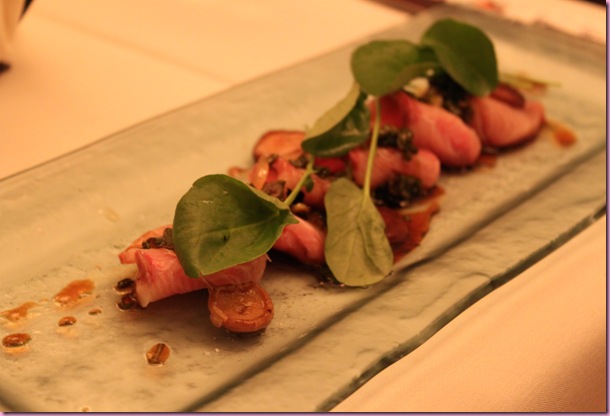 and short ribs, which he had a gram of shaved truffles from Italy added to: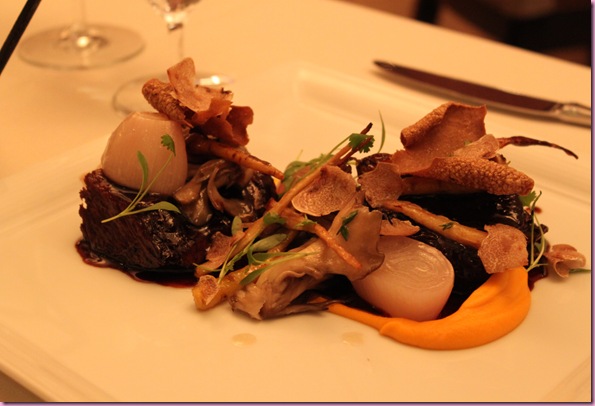 [I stole one, and it was glorious]
and my perfectly-cooked salmon, with shaved fennel and celery root puree: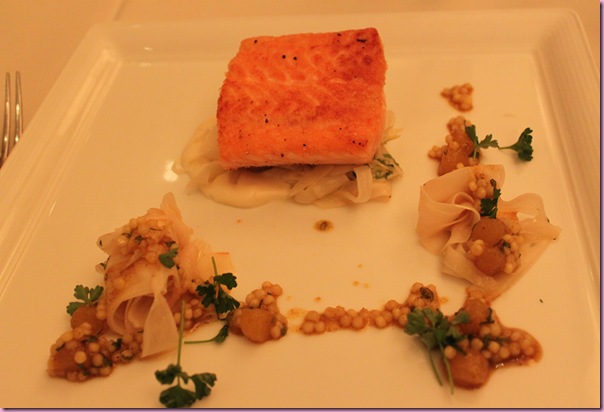 It was a lovely little dinner date – we'd definitely go back <3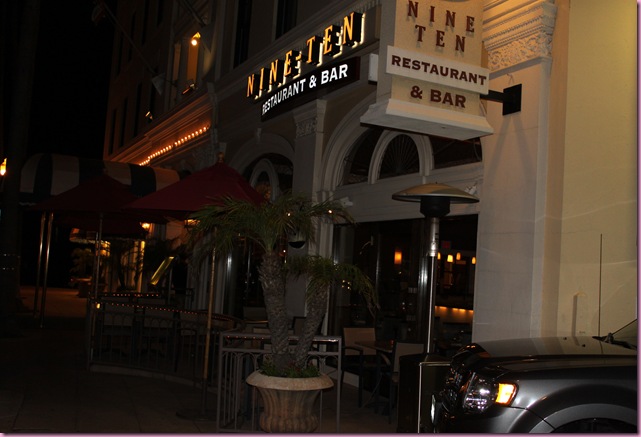 This morning, I woke up extra early to hit up another vinyasa class at La Jolla Yoga Center.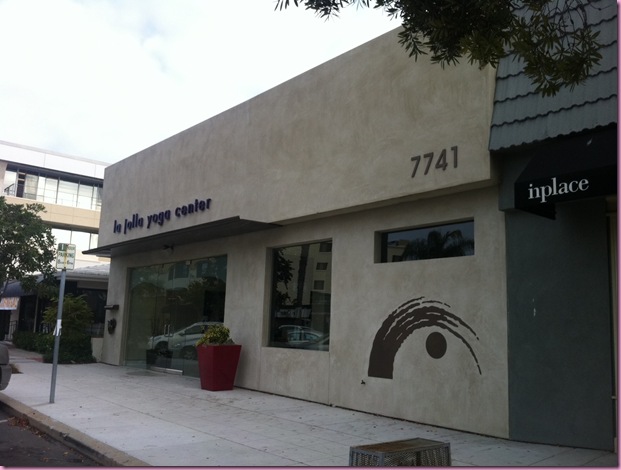 The Pilot likes to sleep in extra late on vacay –especially since he wakes up balls early when we're at home- so instead of sitting around being antsy, I'll workout in the morning while he's snoozing. This way, by the time I get back to the hotel, he's barely waking up and ready for breakfast.
Practice this morning was just as noodly as yesterday's- I really love the beautiful facility and both instructors I've had so far. If you're ever in the La Jolla area, I highly recommend it. I bought the first-timer weeklong unlimited pass for $30- a great deal since single classes are $20 ($17 for military).
This morning, we're off to grab some bfast and then….? We shall see!
See ya later today <3
xoxo
Gina
Something to think:
"Be content with what you have; rejoice in the way things are. When you realize there is nothing lacking, the whole world belongs to you."
Lao Tzu
Today's tip: Stand up a little straighter! Better posture is positively correlated with better sleep and brain function.