Livi's 7th Birthday Party
Hey hey! Happy Monday! How was the weekend? I hope that it was a fun and relaxing one. Ours started off with a bang by celebrating Livi's birthday at Get Air (the local trampoline park) with all of her friends.
Friday while Liv was at school, P, madre, and I put the finishing touches on everything. We packed the treat bags, I made a last-minute run to Whole Foods, and loaded the car. I feel like when you're getting ready for a party or event, time flies at warp speed. No matter how much prep and planning I do, I feel like I'm always scrambling until the last minute. Before I knew it, it was time to pick up Liv from school and we had just enough time to stop at home to change clothes, head to eegee's to pick up the food, and drop the girls off at madre's house. (I went straight to Get Air to set up everything and madre brought the girls right as the party was beginning.)
I like to think I'm getting the hang of decorating jump-jump places for birthdays. 😉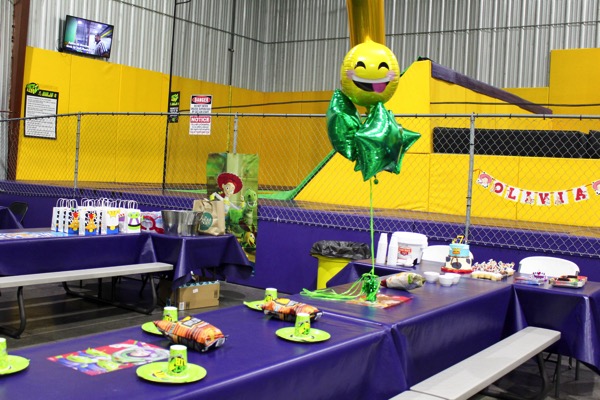 When I asked Liv what she wanted her theme to be this year, I was surprised when she said Toy Story. I know she loves the cowgirl Jessie and that they have a new movie coming out next year, but I totally thought she'd pick something like LOL Dolls or one of her other latest obsessions. She always surprises me with her choices (like last year when she didn't want a party and asked to go to Disney instead), and it's fun to scope out decor and party fare online.
I ordered these treat bags from Etsy and filled them with Toy Story-esque prizes: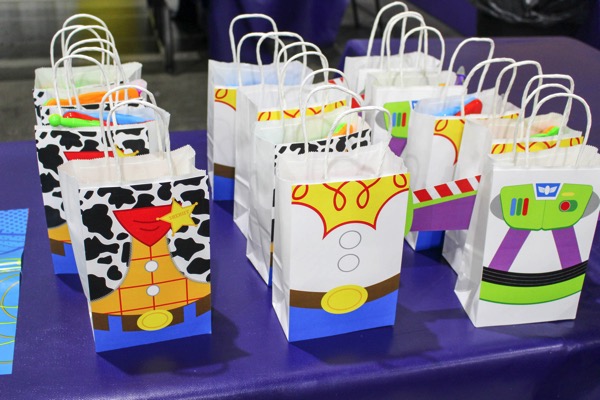 (original slinkies, squishy stress balls, and these magnetic doodle pads that were a HUGE hit)
Our friend Ashley who usually does our bday cakes was unavailable, so I asked another friend from the squadron if she'd mind helping us out. Amy does wedding cakes and I'd seen pictures of her creations online, so I knew she'd create something amazing for the party. We were blown away when we saw the finished product!! It was SO beautiful and the cake inside was light, fluffy, and tasted like a dream.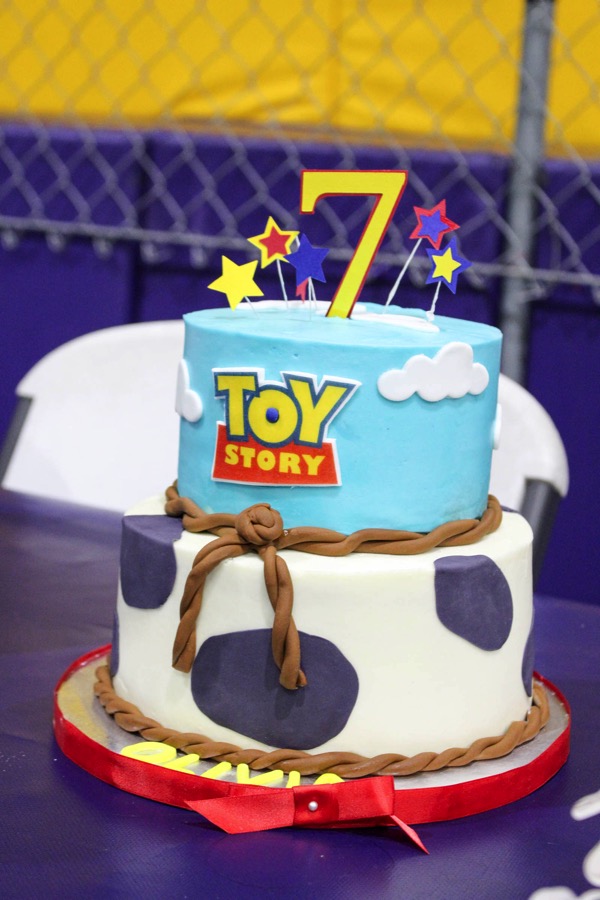 For the food, I ordered two 3-ft subs from eegee's, a party pack of lemon and strawberry eegee (it's like a slushy but the ice is really fine. It's a Tucson thing and if you ever visit, you must get an eegee, fries and Ranch for fries dipping). The trampoline party package came with two large pizzas, and I also set out mini cupcakes form Whole Foods + bags of chips (BBQ and Siete nacho chips).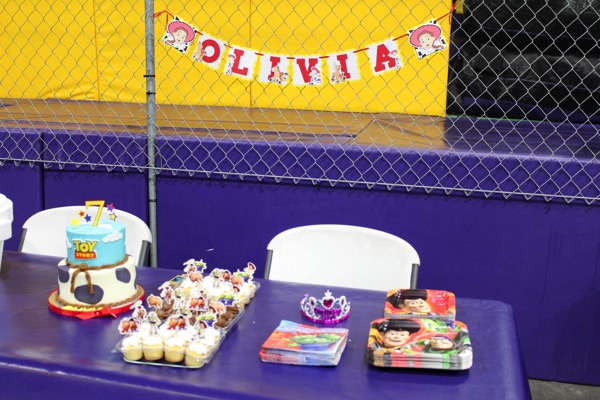 Liv was so pumped when her friends started to arrive, and P's little best friend was able to make it, too. Her best buddy is literally a blonde version of herself and they had a blast in the little kids' area, jumping their little hearts out and cheering for each other to run back and forth.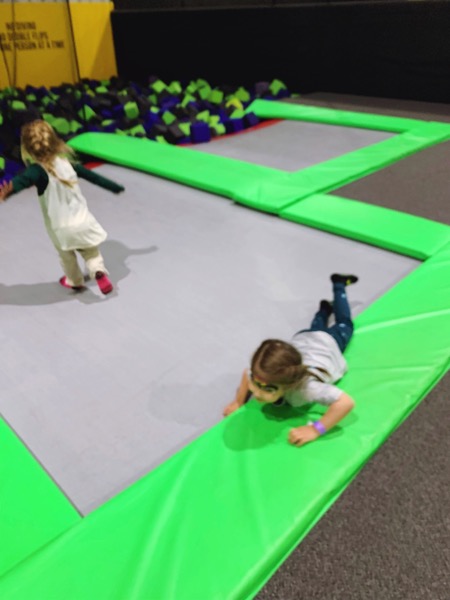 (Every single action shot I have is blurry)
Liv and 12 of her friends were all over the place: doing flips in the big kids' area, completing the obstacle course, and jumping into the foam pits. I love parties like this because the kiddos can all run free and have fun, then eat food/cake, and call it a night. (I feel like if I had to organize a constant flow of activities, it would stress me out haha.)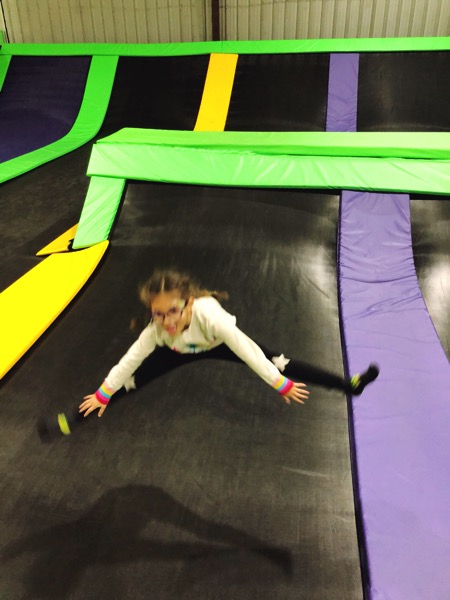 I was brainstorming ideas to add something else to the party, and a face painter popped into my mind since Liv and P always love getting their faces painted. I hired Meg from Meg's Mugs and the kids loved it so much! She was wonderful with them and worked insanely fast. If you're local, definitely hit her up! She did such a beautiful job and it was a fun little activity to add to the festivities.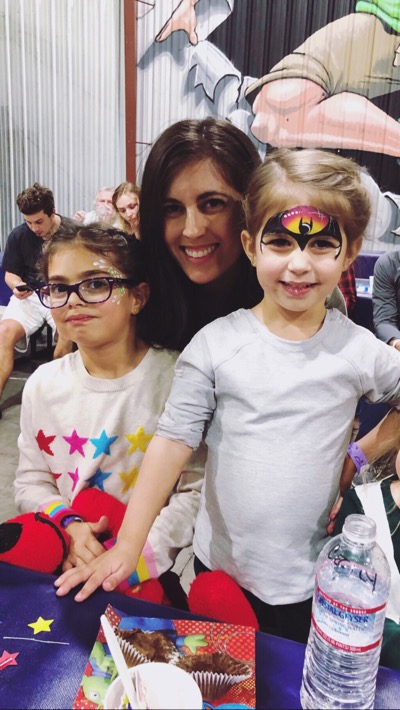 After the kids jumped like crazy and ate, we sang "Happy Birthday" to the bday girl, and headed home with full bellies of cake, a car full of balloons and gifts, and two wired and happy little nuggets. It was a perfect celebration for an amazing girl. <3
The rest of the weekend ended up being pretty low-key. I had to change some travel arrangements on Saturday that ended up taking up most of the morning, and then we ran a couple of errands, chilled at home (I did BODYPUMP while P napped and Liv played with her bday toys), then met up with friends for dinner at Pita Jungle.
Sunday, I put on my arts and crafts pants. Livi is student of the week and we had to make an "All About Me" board for her to share with the class. I'm not crafty at all, but I enjoyed reminiscing and gluing the photos onto sparkly paper.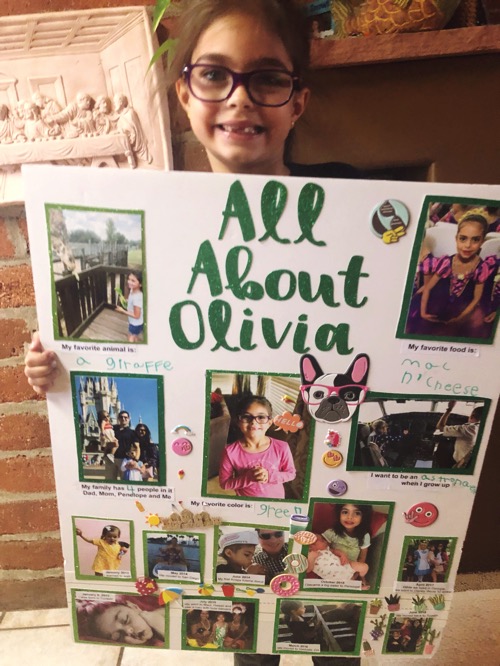 This week, we're back into the routine! It feels nice to be back in the swing of things since Miss P missed a few days of school last week. I'm looking forward to getting some work deadlines finished and getting the podcast ready to post this week! It's been a few weeks since I've been to Orangetheory, so I'm hoping to sneak in a class later today.
I hope you have a very happy Monday!
What was your favorite part of the weekend? Any fun workout plans this week?
xo
Gina