Thank you all SO much for the sweet words about my new haircut! I'm rocking it with confidence thanks to your compliments 🙂
Every so often I will attempt to get dressed and end up hating everything I try on. This is when I know it's either time to do laundry, or hit up the mall to jazz up my collection. Since retail always has its toes dipped into the upcoming season, fall styles have begun popping up everywhere. I had a return to make at Gap the other day, which was the perfect excuse to browse the mall.
I rarely buy full-priced items when I shop, and I was so happy to see sale signs posted in some of my favorite stores. I didn't buy all of the below items in one trip, these are just some of my most recent purchases!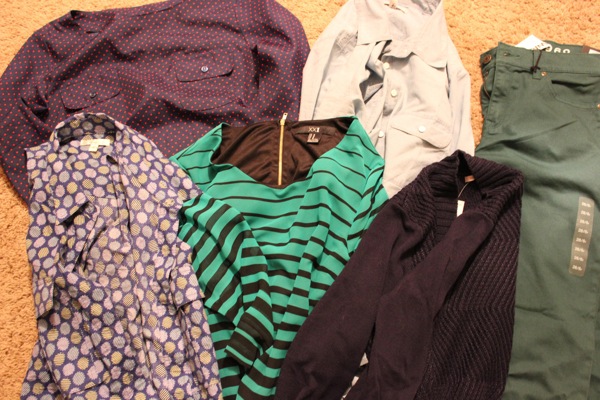 Thrifted Polka dot top (I paid $1 for it…and I'm proud of myself), Chambray Button up (Gap), Dark Green Skinnies (Gap), Blue button up tank (Anthropologie), Green striped top (Forever 21), and a blue knit cardigan (Gap).
Another recent purchase that I can't get enough of…
Pssssst! is one of the best dry shampoos I have ever used. It comes in this original formula, or a formula specifically created for curly hair. Use it to freshen up bangs or to add volume during the day. I purchased my bottle at Ulta, though I'm sure it can be found other places. If you have any other dry shampoo recs, I'd love to hear them!
Have a lovely day!
Xo-Meg