the Mickey-est surprise ever
Hi friends! How are you? I hope you enjoyed the long holiday weekend. We took advantage of the Pilot being off work, and everyone feeling better – everyone in our house except yours truly was hit with the 24-hr stomach bug early last week- and took a trip to Orlando. I LOVE that it's so close to us and we're able to get away for little trips. Orlando has so many amazing spots and I'm definitely looking forward to some quality time there over the next couple of years. 😉 If anything new has opened up that we have to check out, please let me know!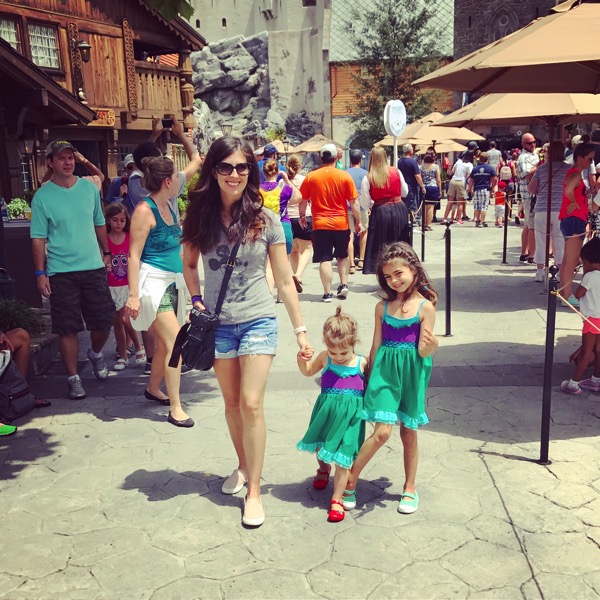 We woke the girls up at 6am on Saturday morning to get into the car for our little adventure. We'd already packed up and loaded the car Friday night -we are definitely doing it this way whenever possible for now on- and all we had to do was wake up the girls and buckle them up in their jammies. When we told them we were headed to Orlando, they both started clapping and cheering. I knew they'd be excited, but the reaction was 100x better than I was expected.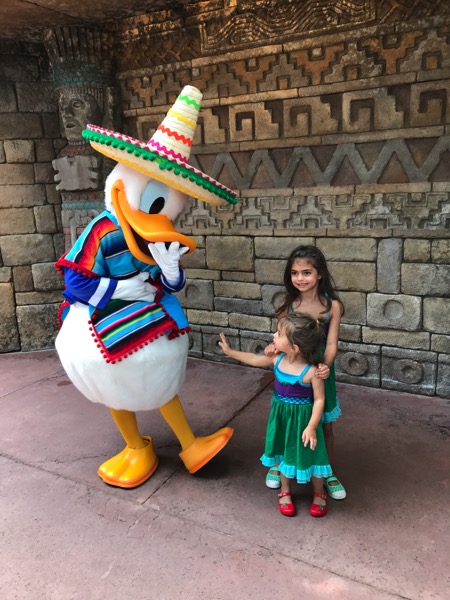 As you guys know, I'm a serious packing procrastinator. I tend to wait until the last minute, and the girls are usually climbing around me asking for snacks while I pack, and we ended up forgetting things. It's kind of a mess. Packing Friday night was CLUTCH. We were ready so much faster! Since I'd already booked the hotel, dining reservations, and Fast Passes online, the rest of the trip was pure enjoyment. We got into town, headed to the hotel to drop off our luggage, and were on the boat headed to Epcot before 11am. WHAT.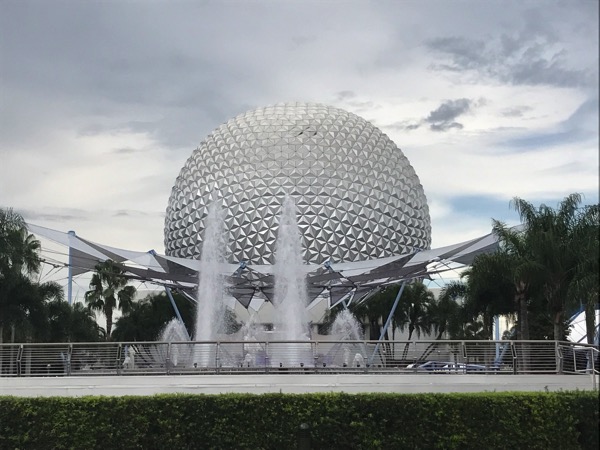 We rode the Finding Nemo ride and headed to lunch at Akershus, in Norway. When I was researching for our last trip to Orlando, Akershus had the best reviews and seemed to be the fan favorite for character dining. Reservations were totally booked for last time, so I was pumped to snag a noon spot for lunch on our recent trip.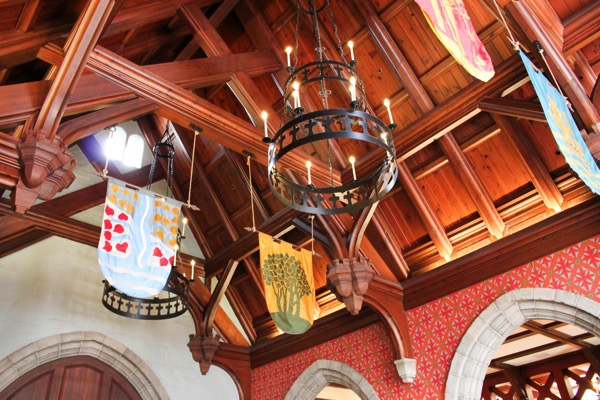 The meal includes interactions with five princesses, plus a photo op with a princess at the entrance. The girls were in heaven.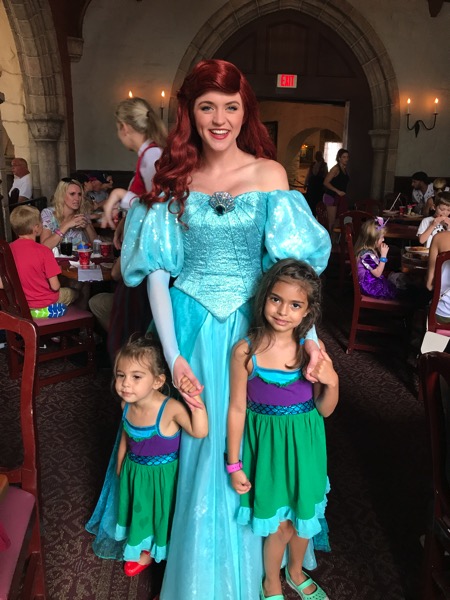 The Pilot and I were pretty stoked, too. They had an awesome cocktail and wine menu, and the food was amazing.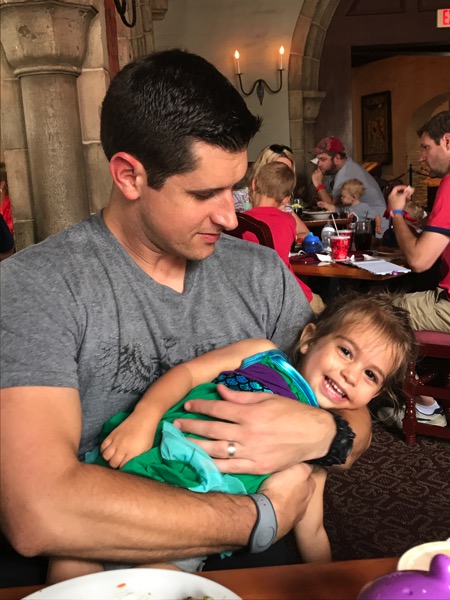 (The only time P will let you hold her like a baby: when you're eating through naptime)
The meal started off with appetizers: cheese, meats, fruit, salad, smoked fish, shrimp, roasted veggies, and bread.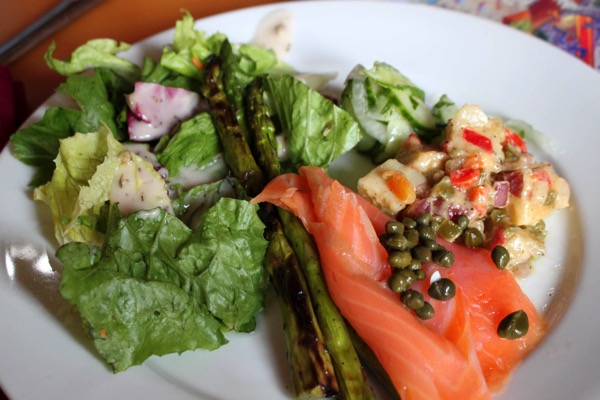 And for my entree, I chose the salmon, which came with fluffy mashed potatoes and roasted broccolini. It was perfect.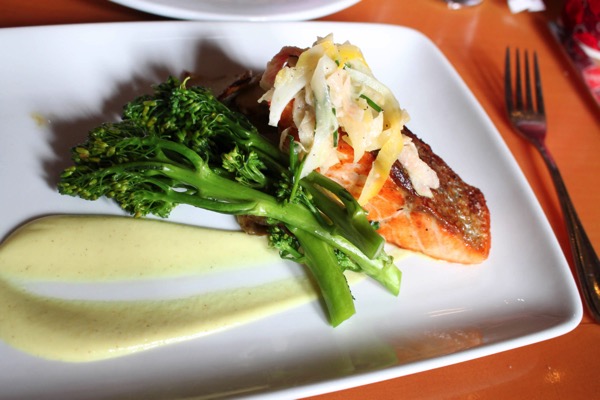 For dessert, they brought out a tray of delicious options: chocolate mousse, apple cake, and a traditional Norwegian rice pudding. The ride pudding was our fave.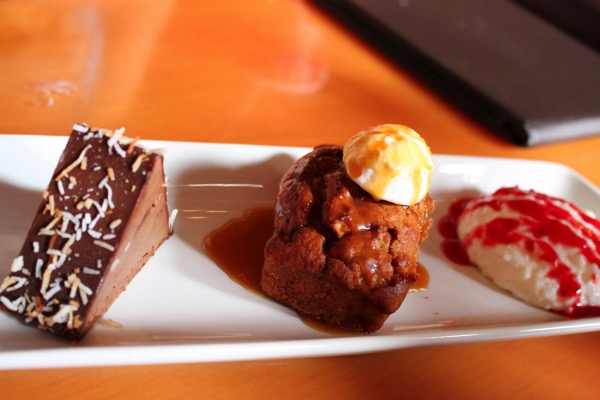 While we were eating, Snow White, Cinderella, Ariel, and Sleeping Beauty all came over to say hello and take photos. The highlight of the meal was when the princesses led the children around the room in a Princess Procession. It was pretty much the cutest thing ever. We will definitely be back.
After lunch, P crashed out in the stroller, so the Pilot hung out with her while Livi and I went to Turtle Talk with Crush, and then we all went to meet Mickey, Pluto, Goofy, and Minnie.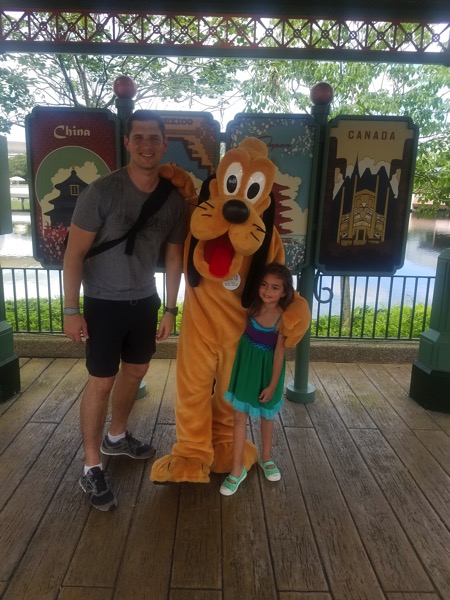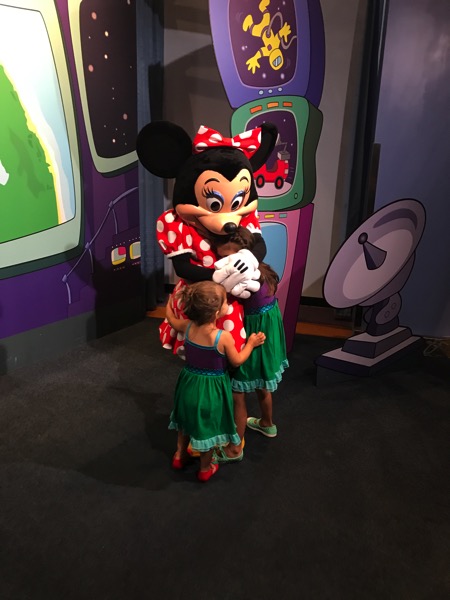 We rode a couple more rides (<– the new Frozen ride is amazing), watched (and danced to) the mariachis,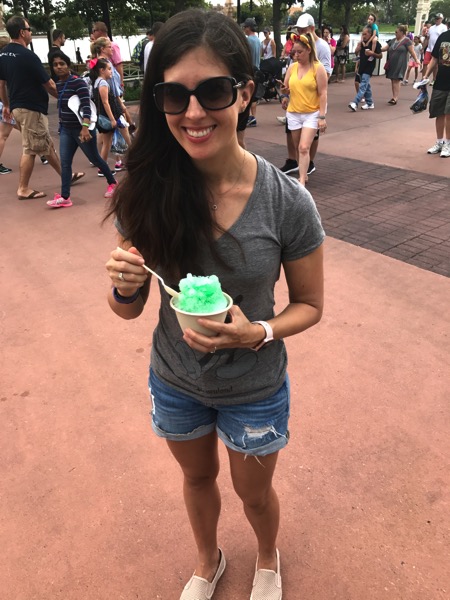 and ate shaved ice from Japan. (If you go to Epcot, this is my absolute favorite thing there. Get the melon flavor! It was just as wonderful as I remembered.)
Food & Wine Festival is going on right now, but we didn't end up taking advantage of all of the booths since we were so full from lunch. We'll definitely be back before it's over, fully prepared with empty stomachs. 😉
By early evening I was pretty tired -it was definitely the most walking I'd done since my surgery– so we headed back to the hotel for a quick dinner before bed.
Sunday morning, we slept in (YES) and got brunch at the hotel before heading out for the day. They had PALEO CEREAL on the menu. Disney is a magical place, indeed.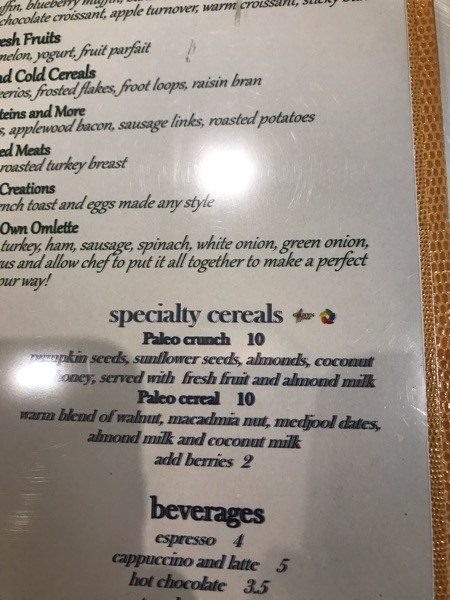 They had fresh green juice, eggs, pastries, oatmeal, omelets, waffles, pancakes, potatoes, bacon… something for everyone in the fam. We looooove a good breakfast buffet.
We had a great day together, and then headed out for an early dinner at T-Rex before hitting the road back to Valdosta.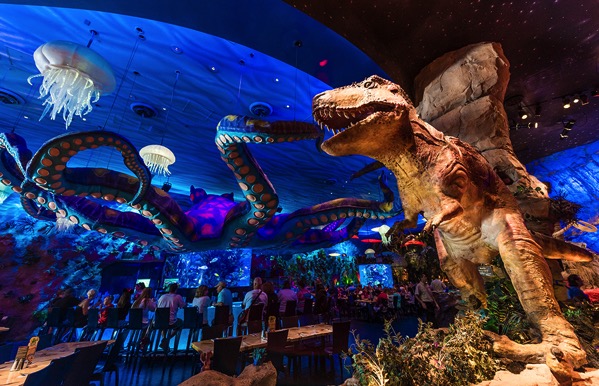 This is where I talk about the fact that I'm afraid of dinosaurs. It's probably not the most common fear, but it's akin to how some people are afraid of clowns. Imagine if you're afraid of clowns, and you're in a giant restaurant of ANIMATRONIC CLOWNS.
The girls loved it, and it was actually a really cool place. The food was surprisingly good, too. I got the Omnivore salad with grilled chicken, goat cheese, pecans, dried cranberries, and balsamic dressing.
+ a prickly pear margarita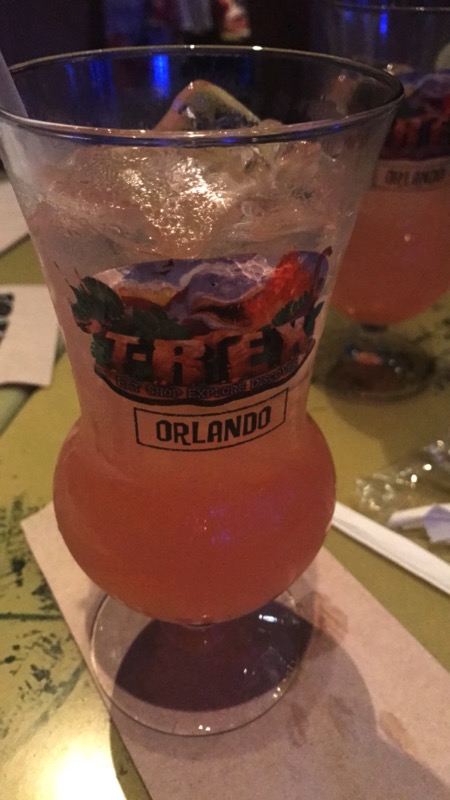 And we shared the crazy chocolate dessert with dry ice in the center, because that's what you have to do in a place like this.
Now we're back in V-town, and enjoying the rest of our long weekend since the Pilot is off work for one more day. 😉
How was your weekend? What was the highlight?
Any random phobias?
Have a happy Tuesday and I'll see ya soon.
xoxo
Gina
Tips for Disney World are here!