Stitch Fix Tips for Your Best Fix Ever!
Hi friends! Happy humpday! Hope that you're enjoying the week. Last night I made some mediterranean chicken for dinner (from the bonus preorder ebook!) and we enjoyed a family walk. Today I've got some Stitch Fix tips to help you get your best fix yet!
When we returned from our Vegas adventures, we had some packages waiting for us. Even though this was my 50th fix (!), seeing the Stitch Fix brand on one of the boxes still made my heart flutter. I've been getting them for three years now, and it still feels like Christmas each time. This is magnified with little ones in the house. There's no way I'm toting both of the noodles to the mall to try on clothes. If we head to the mall, we're on a mission.
Since I usually sort through the goodies and send back what I don't need fairly quickly, I've been mostly posting the "hits" and whatever I've been keeping.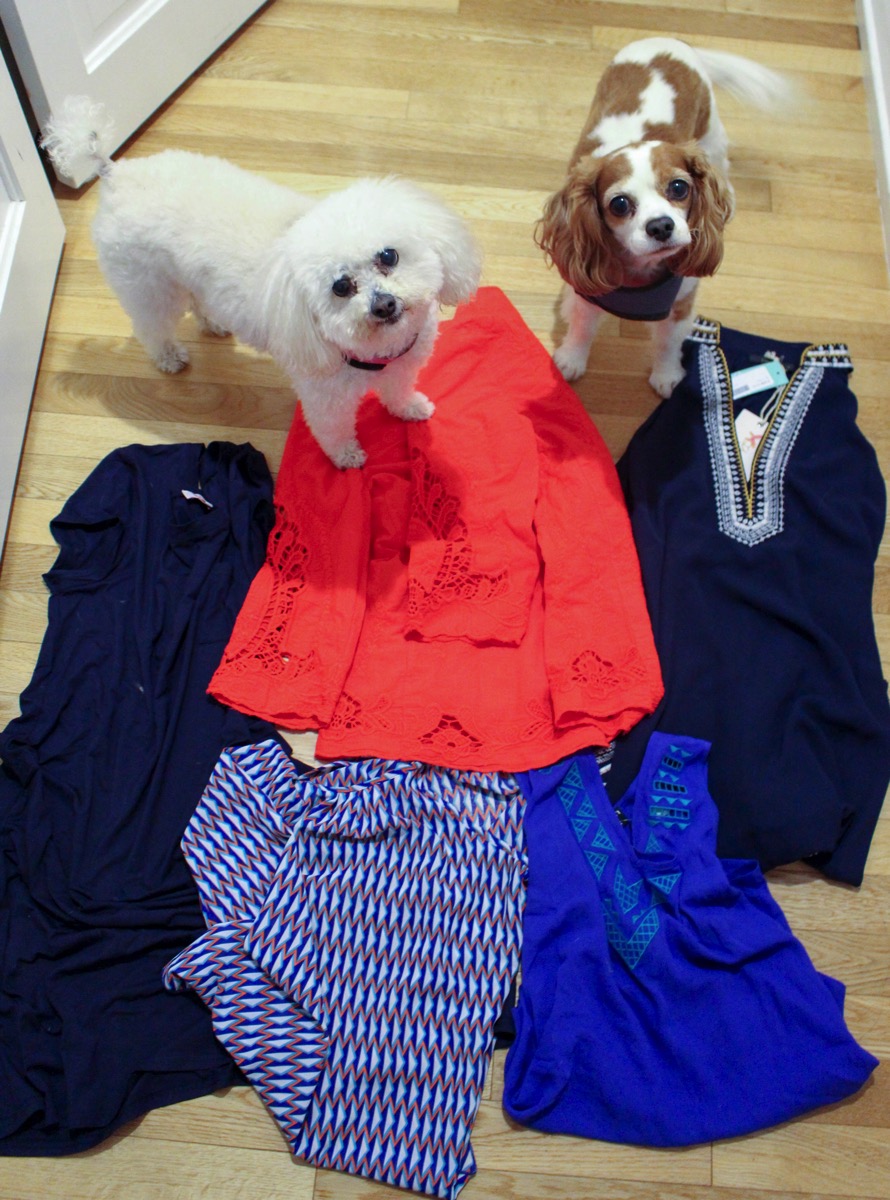 This time, I'm posting the whole box, including what I'm thinking of sending back. (If you're curious to learn more about how Stitch Fix works, check out my first post ever here. So much has changed since then!) Plus, I've got some Stitch Fix tips at the bottom so you can get a great fix too!
Skies Are Blue Isley Crochet Detail Top (similar here, here and here)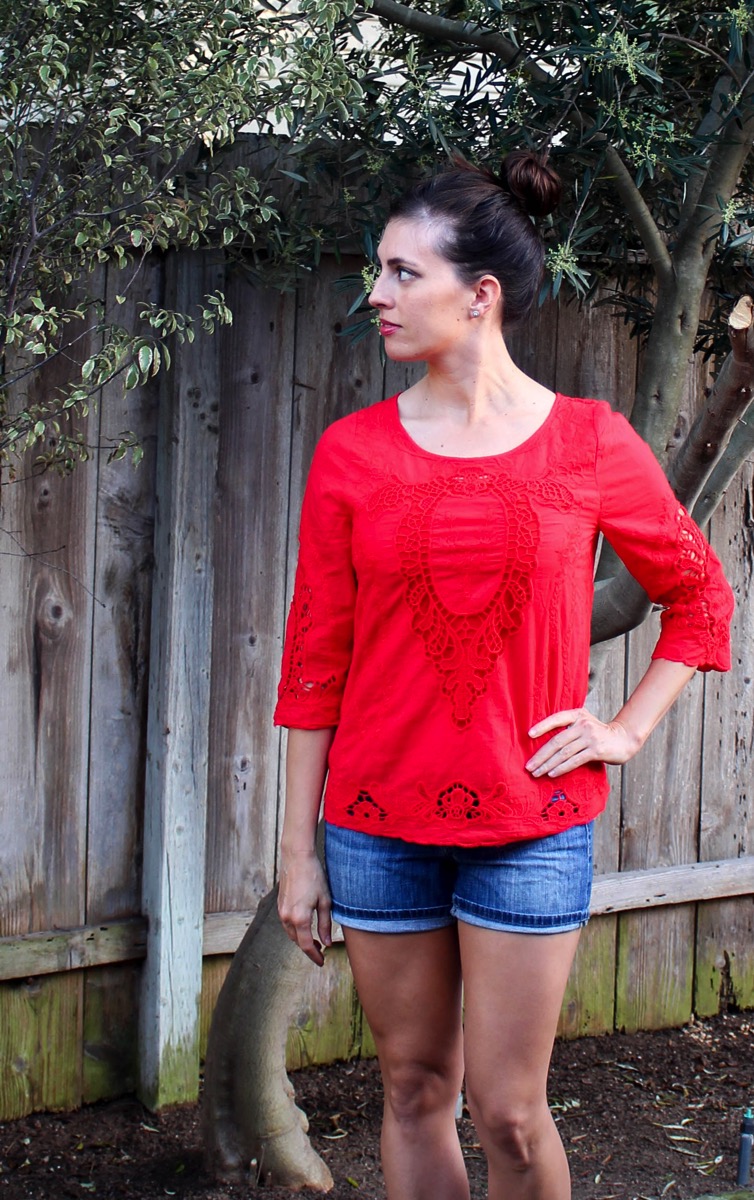 (Please to ignore my post-baby bald spot.)
When I removed this from the box, I KNEW it was a keeper. I love everything about this shirt: the bold color, the unique detail, and the fact that I can wear it all summer with jean shorts. Done.
THML Chana Dress (similar styles by the same brand here, here and here <— obsessed with that last one!)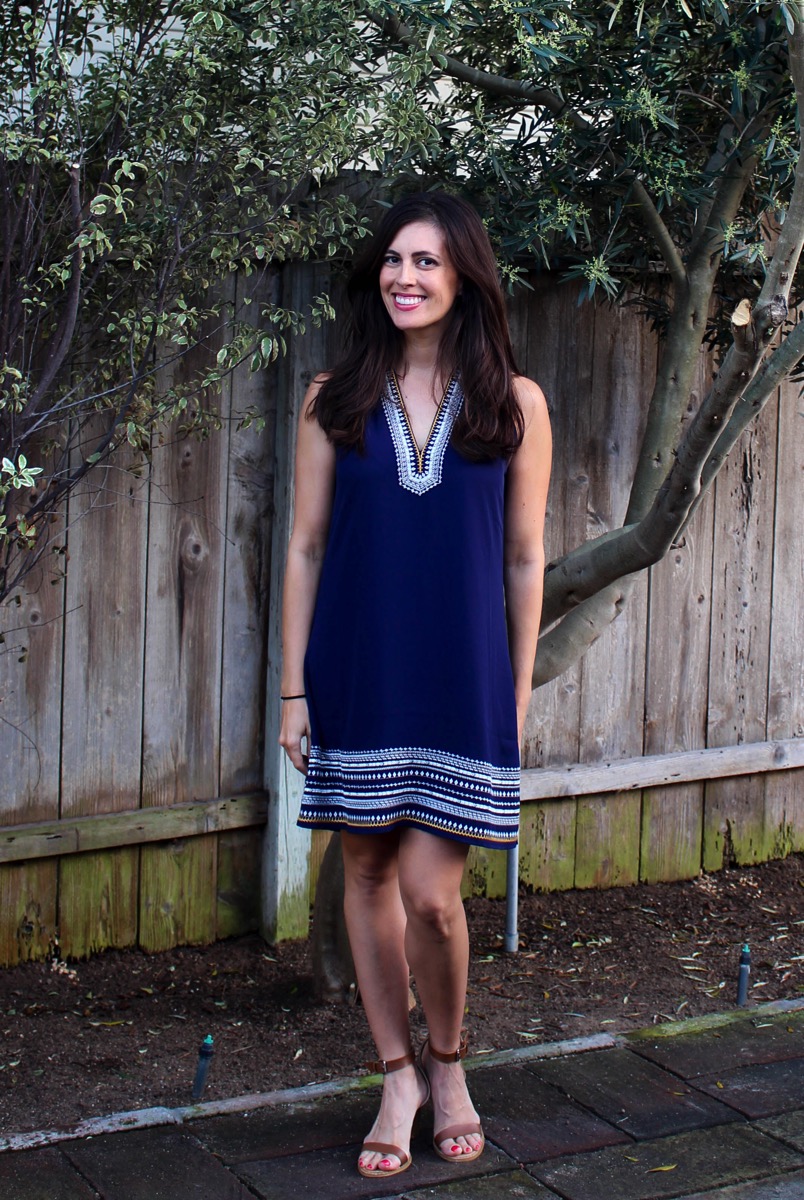 I wasn't sure about this one. Lately with my Stitch Fix boxes, if I'm on the fence about something, I'll just send it back. These are usually the pieces I don't end up wearing enough to justify taking up precious closet space. The Pilot's half of the closet keeps getting smaller and smaller. 😉 I liked the detail on the neckline and hem, but found the dress to be pretty shapeless and kind of blah.
Papermoon Paola Embroidered Neckline Top
+ my best derp face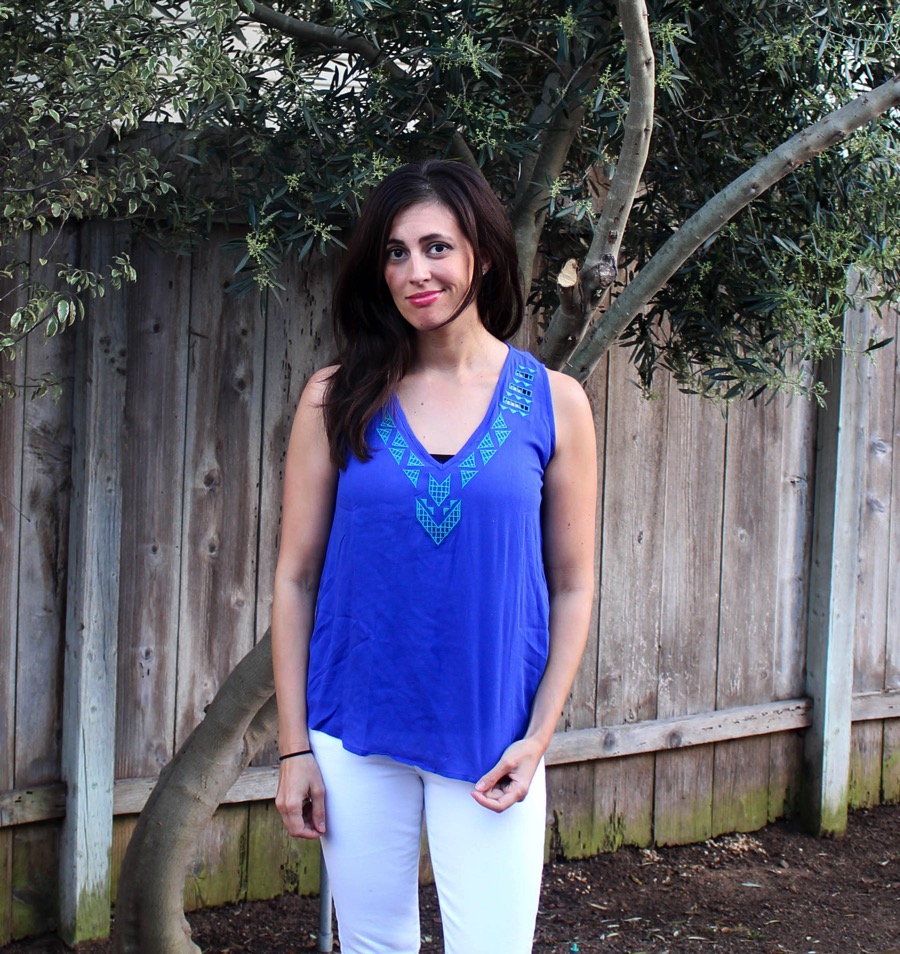 I think I would have liked this top more in another color. I have so many blue tank tops, and this one didn't have a "wow" or "I want to wear that every day" factor. Sending back.
Pixley Alison Swing Dress (very similar here and here)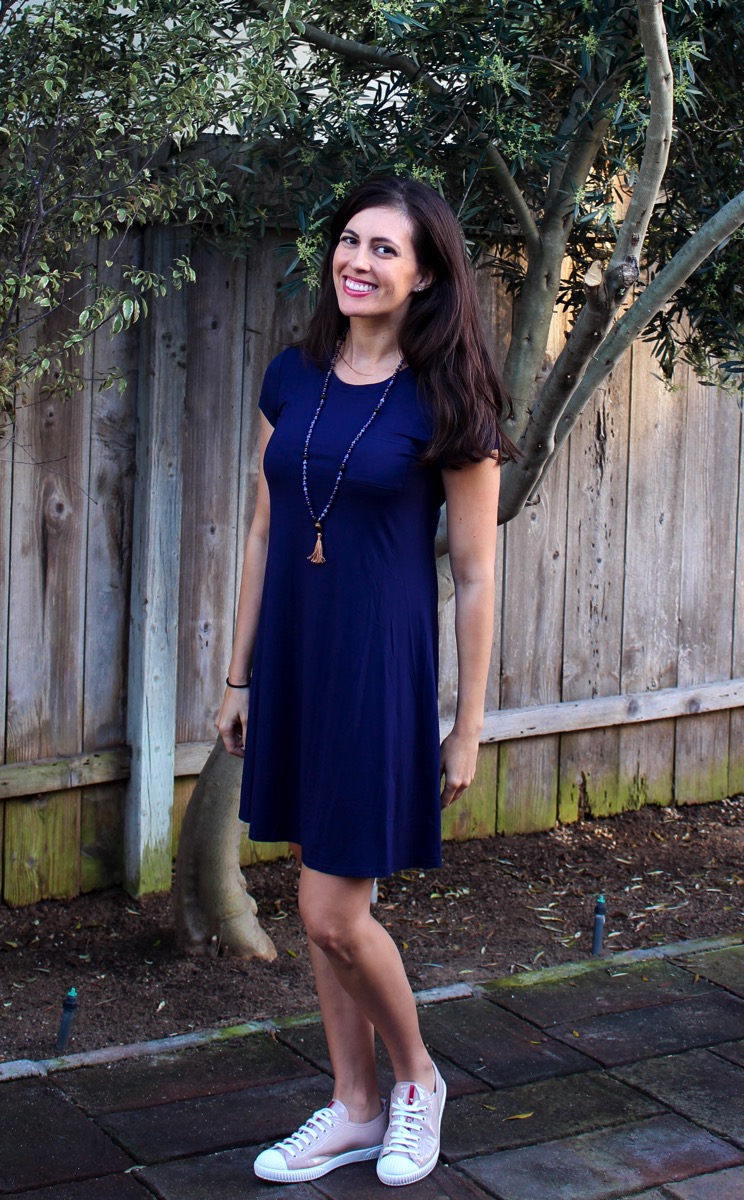 (with Prada sneaks from MyHabit)
Another keeper! I love neutral casual dresses that I can wear with sandals or sneakers. I can tell I'll wear this one a lot this summer.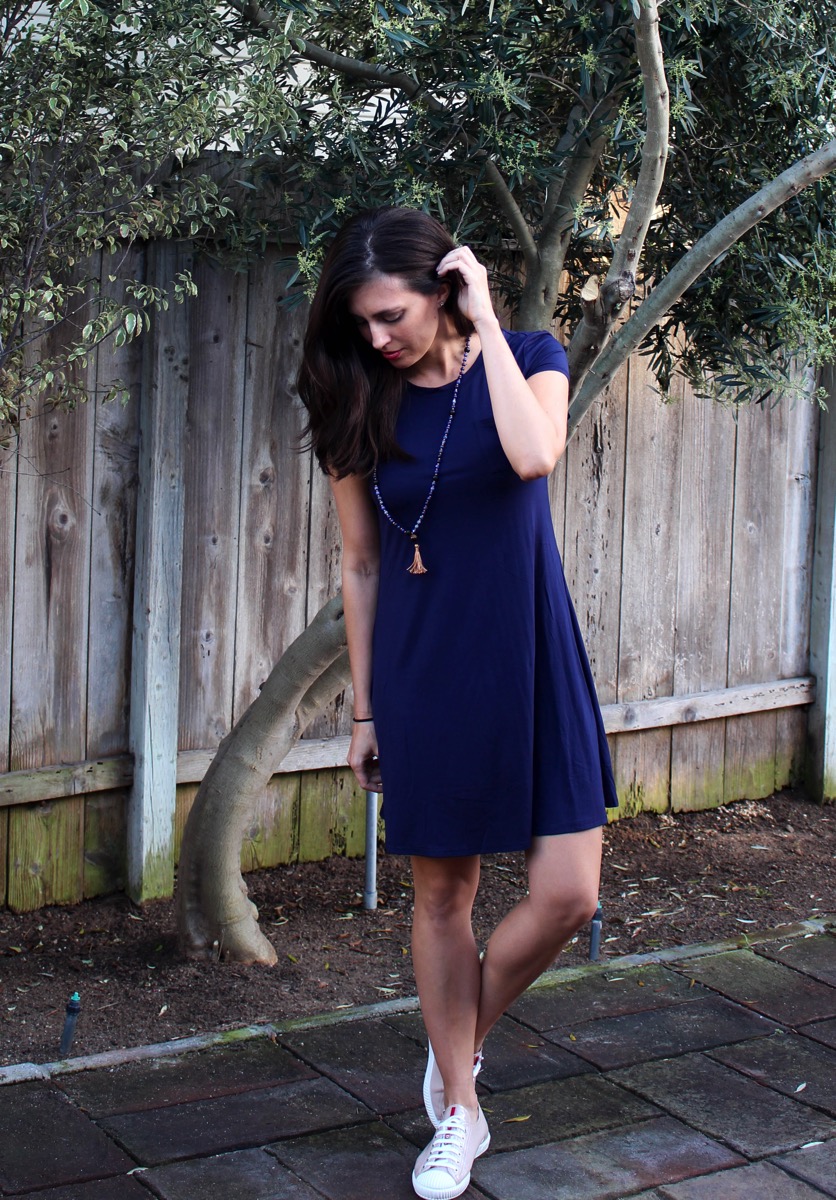 Renee C Galia Cami Top (similar here)
I wasn't sure about this one, but ended up keeping it. I thought it would be cute with my white jeans, jean shorts, or a with a skirt and wedges for going out.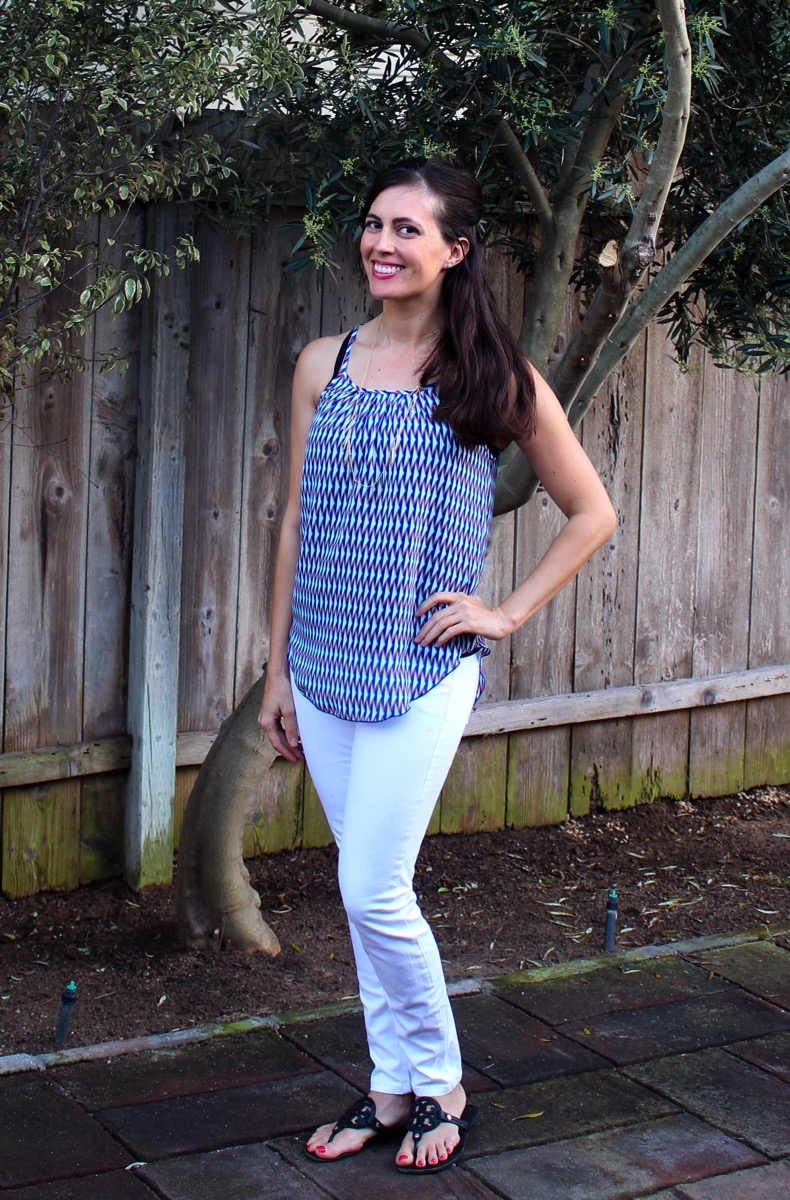 Also seen in this post: Joe's white jeans, JustFab brown sandals, Joe's jean shorts (on sale! my fave pairs), and Miller sandals.
Stitch Fix Tips to Get the Most Out of Your Fix
If your Stitch Fix deliveries have been hit or miss, try these tips to get clothes you love!

Utilize Pinterest
Be very specific with what you're looking for. If you have a Pinterest style board, be sure to link to it, and include links to specific items you're coveting. The red embroidered top above is on my style board, so I was so excited to see it in my fix!
Give Feedback
If you don't like something, be sure to indicate what you didn't love about it. They really do read your feedback and take it to heart when designing your fix.
Give it a Chance
Give your stylist a couple of tries to get to know you! If you find that you aren't meshing, ask for someone else to style your fix. I'm convinced that my stylist Alexandra and I are BFFs… even though she doesn't know it. #creeper
Have you tried Stitch Fix yet (referral link!)? What's your best Stitch Fix tip that helped you get items you love? What's the best thing you've added to your closet lately?
xoxo
Gina
More Stitch Fix reviews here, here, here and here.
In full transparency, I paid for the above items using Stitch Fix credit from referrals to the brand over the past couple of years. Thank you so much for your support! I'm thrilled that many of you have tried it and love it as much as I do <3