My cleaning chart + around the house tips
Hi friends 🙂 Happy Monday! Thank you so much Livi's "get well" wishes. Thankfully she's been on the ups (knock on wood), so hopefully it continues to stay that way.
Recently, I got a request for a post about home organization, and since it's fun to switch things up around here, I thought I'd roll with that for today.  I think that I should start off by saying that I'm not the most organized person in the world. (I think that title belongs to my friend Kath.) However, there are some parts of my life that have to be super organized for pure necessity. I learned from an early age that I had to keep track of my to-dos (especially with school and work) or things would fall into catastrophe. There are still many areas in disarray -like my car. Don't ever look at it- but since it's the New Year and many people are looking to jazz up their organization techniques, I thought I'd share some of my favorites.
Keep a cleaning chart.
This has helped me SO much, especially since I love a sparkly, clean home and don't have a ton of time to dedicate to cleaning each day. Instead, every day I spend around 30 minutes (in addition to daily chores) to do the bigger tasks, and our house always feels company-ready. This is especially wonderful before I love family and friends to come over all the time, and usually it just takes a last-minute vacuum (Caro shreds like crazy) and wiping the countertops, and the house is ready to go.
Here's our weekly cleaning chart: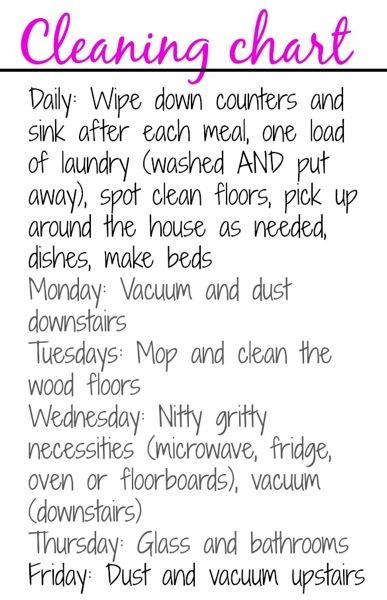 I also like to make some of our homemade cleaners, including this shower and tub spray. I mop using hot water and dish soap, then rinse with hot water + a few drops of lavender. Then, I ice-skate with towels on my feet to dry and shine the floors. (This doubles as a killer inner thigh workout haha.) Seventh Generation or Meyer's dish soap and vinegar can be used to clean almost anything. 
-Organize the closets by theme and color. I always do sleeve length (tanks to short-sleeves to long sleeves then dresses and coats) and colors lightest to darkest within those categories. It makes finding things much easier.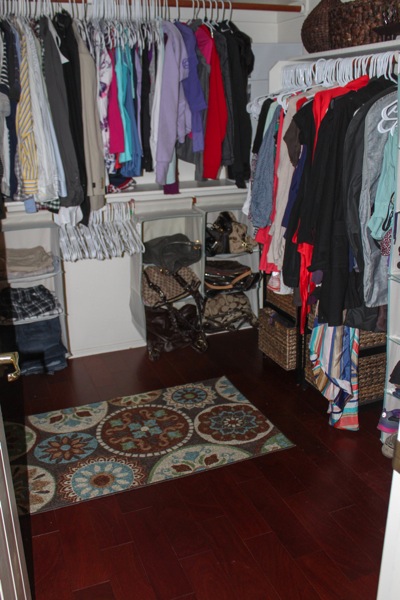 -Meal plan! Not only does it help me make healthy choices when I know what we're having for dinner, but it's also a huge cost-saver. I'm less likely to go on wild Trader Joe's impulse buying frenzies. ("New flavor of Joe-joes?! Don't mind if I doooooo….")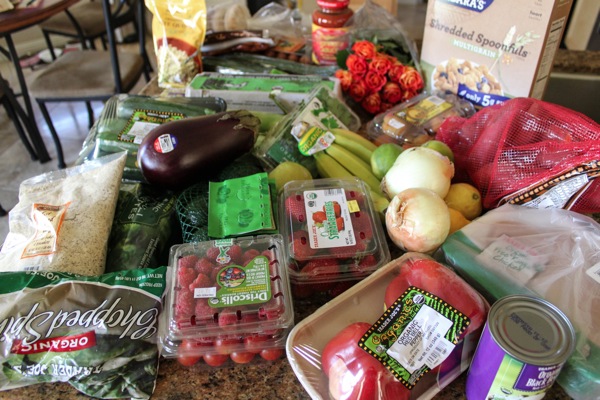 -Split up chores. The Pilot and I have a pretty good routine of who does what, which makes me feel like the house runs more smoothly. Of course, we switch around from time to time, but we usually stick to the same chores. I'm also very fortunate that he helps out a lot around the house– he does the dishes and cleans the kitchen every night after dinner 🙂
-Goodwill as often as possible. When I find that we're buying new things or that Livi has an abundance of toys she no longer uses (*cough* Christmas *cough*), I'll store whatever we may use later and Goodwill the rest. When you relocate every few years, like we do, there's no point in moving clutter or things you won't use. 
-Storage bins and baskets are our friends. It helps to categorize things around the house in store bins or baskets. We have a lot of toys in our living room, but you'd never know it because they're tucked in baskets and put away after playing.
What's something that has helped you become more organized? Do you stick to a cleaning chart or any of the tricks above? What's something that's NEVER organized?
For us, it's the junk drawer. My sweet nana has even organized it for us (!) but I'm convinced when you shut it, everything inside scrambles around.. and gets lost forever.
xoxo
Gina
How are your 2014 goals and resolutions going? Check out my guest post on the Stitch Fix blog for tips for top resolutions <3