After the ZIN Jam session on Saturday, Eric stopped to give us some tips about our classes. He gave some awesome advice -especially the fact that you don't have to be a Zumba Jammer to host your own Master class- and also told us his family's Zumba story.
While it's not really the place to post the details – I looked online and couldn't find it published, so I'm going to just hold onto this one- it definitely made me think about the fact that everyone has their own personal fitness story, whether it's Zumba or another type of activity that they love.
I've tried a lot of workout formats throughout the years, and while I have my favorites (spin, yoga, strength and any dance cardio classes will always be up there), Zumba has always had my heart. I think it has a lot to do with the facts that it came to me at a turning point in my life and brought me back to "home" in so many ways.
Insert cheesy hair-flippage pic here: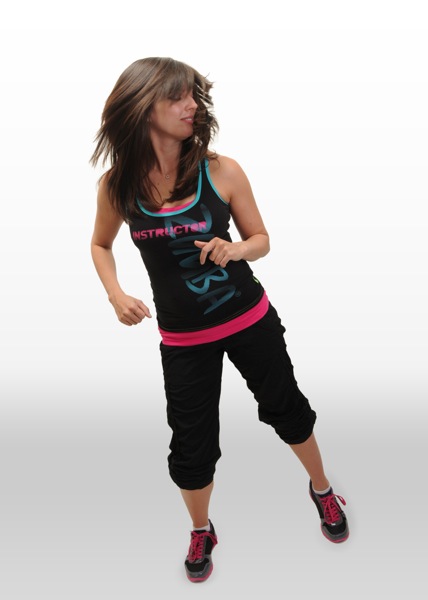 When I first found out about Zumba, we were living in Valdosta and visiting family in Orlando. I took my cousins' favorite Zumba class, and even though I had no clue what I was doing (the instructor was shaking body parts I didn't even know I had), I was hooked. I had been teaching fitness classes (step and spin) in Valdosta, but there was a deployment looming and I was just starting to feel really homesick. I still wasn't too familiar with Valdosta, missed my family more than anything, and even though I was fortunate to have a wonderful group of friends, I knew it would be challenging to spend a deployment alone, away from my family.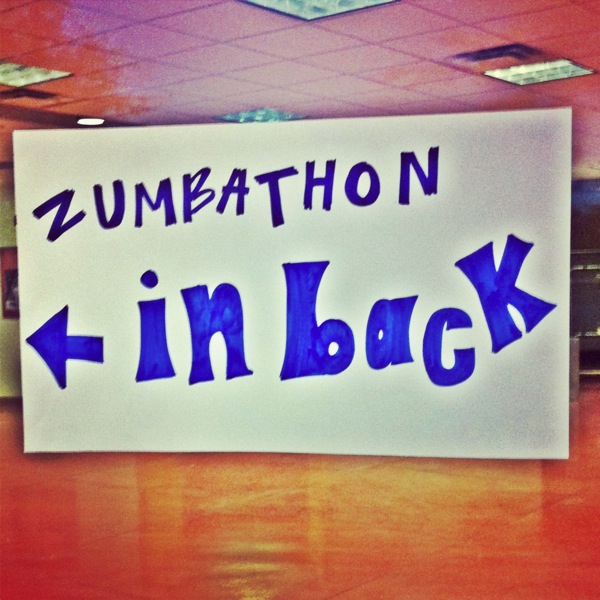 For that second deployment, I debated coming back to Tucson, and my friend Renee talked me out of it. She told me that I wouldn't always have the chance to run home, that eventually we'd have kids and I'd have to know how to be strong for their sake, and that I'd have a lot of fun with my friends. She was right on all counts. (It's good to have friends who will give you a kick in the pants when you need it.) The deployment was hard, as all deployments are, but I used that time to enjoy the company of amazing friends, work on the blog, and teach fitness classes. With everything I did, and how much I loved it all, I really put my heart and soul into Zumba. I was SO nervous before my first class (and to be honest, it sucked), but by the time we moved, I had over 50 shaking and screaming participants packed into a racquetball court turned aerobics room at the base gym.
Zumba gave me back a little piece of the things I'd missed so dearly: dance, my dance friends, and the Latin rhythms that I grew up with. By having the chance to hear Latin music (especially salsa), it kind of made it feel like my family was close by, even though they were across the country. Teaching Zumba, I was surrounded by inspiration and success stories. Women who just had kids, who had never worked out, finding their fitness passion; active duty military, dancing at the end of their workday; a woman who used Zumba in addition to therapy for depression, because she said it made her so happy to dance; the little toddler who came with her mom to class and knew all of the moves.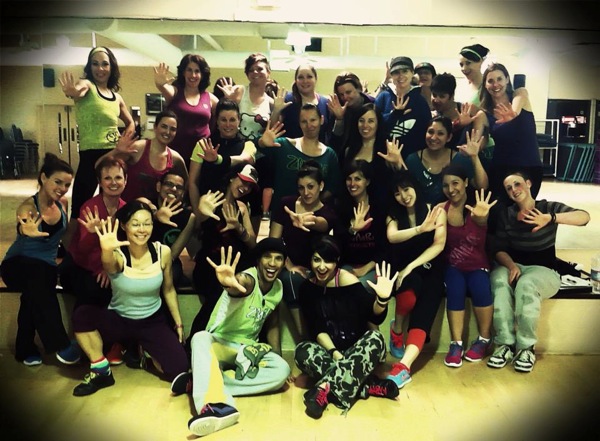 Teaching fitness taught me a new level of compassion and empathy, because you never know what your participants are going through, or what their personal battles are. Before one class, a frequent Zumbie, who had always been so quiet, told me that she loved Zumba because her family lived in Colombia. Living far away from family was something that we shared, and if she wouldn't have told me, I'd have no idea; I would just think of her as the cute, quiet girl who took my class.
Everyone has a story about what brought them to their fitness passion- I'd love to be able to hear and/or share some of yours.
Please hit me up in the comments, or if you'd like yours to be featured, send me an email (fitnessista at gmail dot com, subject: my fitness story). It can be about anything you love: yoga, strength training, spin, ping pong, you name it. There's a reason WHY you love the activities you love, it's just a matter of acknowledging it and writing it down 🙂 If you'd like me to share yours anonymously, that's totally cool, too.
I can't wait to read <3
xoxo
Gina
More: