Notes from the week: 12/1
-I think the baby has definitely dropped.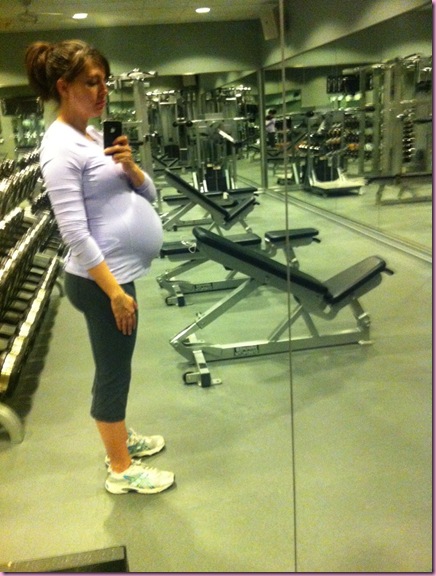 Everyone else seems to have noticed this too ("I don't think you're going to make it until your due date!" I don't either but I'll have to laugh if I go to 41 weeks without any sign of labor), since the little one used to be snuggled up extremely high and has descended deeper down into my pelvis. And holy hell do I feel it in my hips. This weekend, it hurt to walk around because my hips were in so much pain.
According to Dr. Google, the baby will drop a couple of weeks before going into labor, and causes increased pressure on the pelvis, but also takes pressure away from the ribs. It's definitely easier to breathe… last week I went to bed wheezing a couple of nights and this week it's noticeably easier to suck in oxygen. I enjoy that.
While the fact that she dropped (and is head down!) makes me really excited, I also keep telling her to just wait 2 more weeks until she's fully cooked.
Also, whenever I think of the term "the baby has dropped," I sing "Drop it Low" in my head. Drop it low, girl, drop it, drop it low.
-We need to find a pediatrician. I've been putting it off because Tricare (military insurance) intimidates me. Every time I go to Tricare, it ends up being a day-long event with lots of different offices and piles of paperwork, but ends up being worth it because they're pretty much amazing. I've heard so many gripes about Tricare, but I couldn't be happier with them. The fact that I had very expensive health care in college makes me appreciate it even more.
Anyway, the longer I wait, the more it's going to hang over my head as another thing on the to-do list, so I put it in the planner for this week. I'll have to research different pediatricians here in Tucson (and ask fellow wives who they take their babies to), and make an appointment for us to meet with the doctor and check out the office.
Any tips on what to look for in a pediatrician?
-I seemed to have lost all sense of awareness. Good manners are super important in our family, and Tom was shocked when I walked right in front of a man looking at flowers to grab ours and walked away without saying "excuse me."
He said "Are you ok? You just totally cut off that man and didn't say anything." I didn't even notice the man was there! Scary.
-When we first started dating, one of Tom's friends from high school MySpace-d a picture of her pregnant baby belly painted like an Easter egg. Now, whenever he talks about old friends, I say "Wait? Is this the egg girl?" 99% of the time, no, it is not the egg girl he's referring to. Anyway, at the time I thought the egg thing was extremely silly and now… I want a henna tattoo on my belly.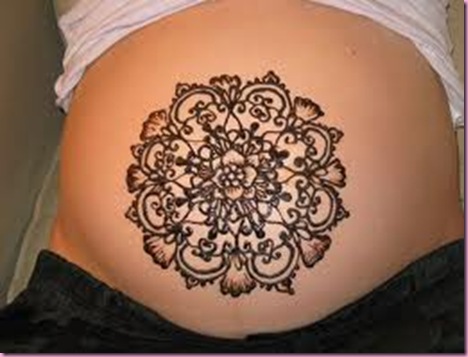 Source
Maybe a project for the weekend? 😉