I got to see the sunrise this morning.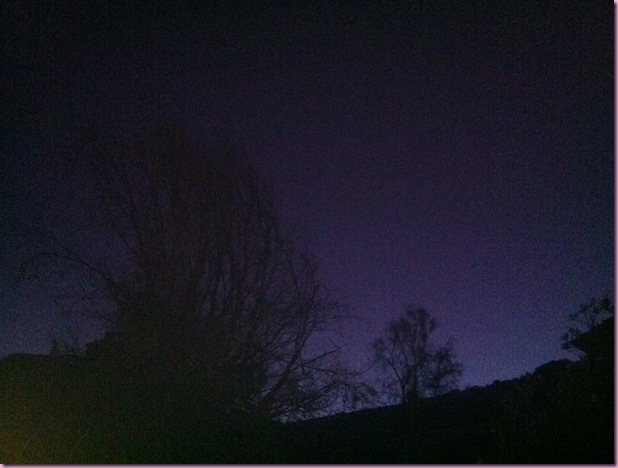 While I'm not a morning person in the least –I usually wake up around 6:45 or 7, but don't turn into a human until at least 8- it was surprising to discover that I actually liked waking up so early today. I'm not going to make it a habit or anything, though 😉 I had the 6:30am weight room shift at work, which I've only had once before, and it wasn't that bad at all.
Maybe it was my supreme inner happiness from finding a new bread love.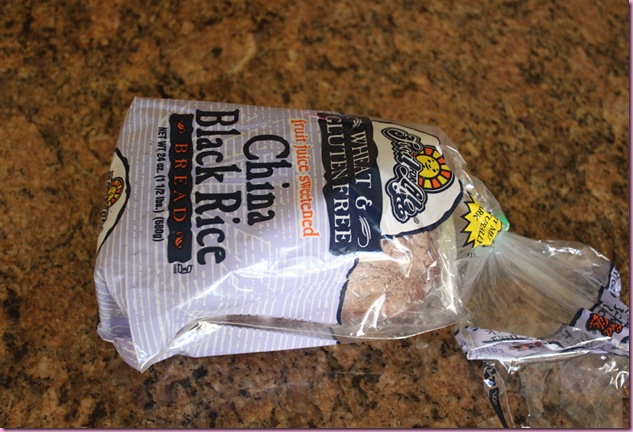 A few people have recommended this bread to me, and I might even say that it's a new favorite. The texture is similar to millet bread (dense and chewy), but the taste is richer, like a hearty whole-wheat or rye. This makes me very happy because I love wheaty, dark breads, and all of the gluten-free varieties I've tried have been more like white bread, which I've never been a huge fan of.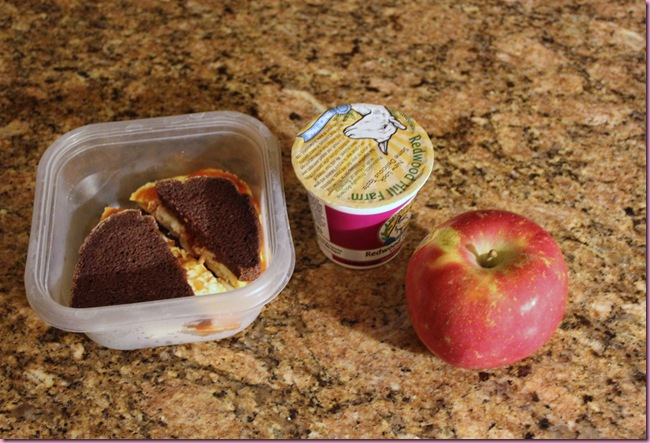 Egg sandwich with salsa, yogurt and an apple
Leftover tempeh bacon, black rice bread, egg and nutritional yeast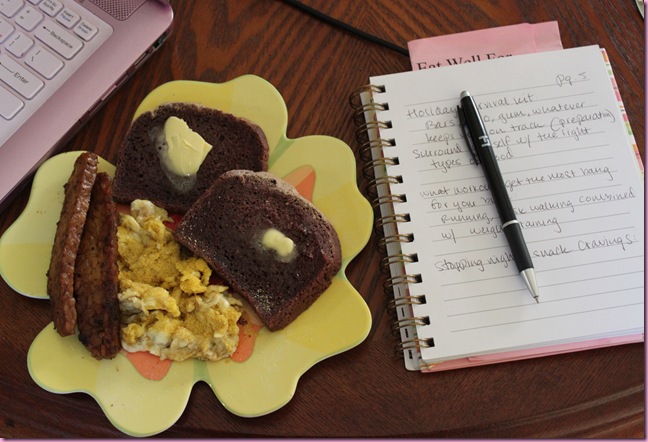 with a side of notes from the conference call.
As tempted as I was to use the bread for last night's on-the-go dinner –we always eat on the way to Tuesday night classes- but decided to step it up a little from a usual sandwich and made stuffed bell peppers instead.
Stuffed Bell Peppers

[Might have to replace this pic when I make a pretty plated version]

These were extremely easy to make and SO delicious. The Pilot loved them, too.

First I pre-heated the broiler,

the steamed two cleaned bell peppers (seeds removed), cut-side down in the microwave. 6 minutes in a little bit of water:

Next, I sautéed some shallot, onion, and garlic in a little olive oil, added some spicy organic turkey sausage (tempeh or chopped portobello mushrooms would work well, too) and chopped fresh tomatoes.

 

After about 10 minutes, stirred in some cooked brown rice, oregano, sea salt, and shredded goat gouda.

 

Stuffed the peppers, topped with more shredded cheese and broiled for 2 minutes:

Easy. Fantastic. A little messy to eat in the car, but we were ok with that. For the Pilot, I just added extra cheese and placed his pepper (whoa! haha) on top of the extra pepper filling.
Tonight is another on-the-go dinner, since we have another class in a little while.
But first, we're going to take this little lady for a walk: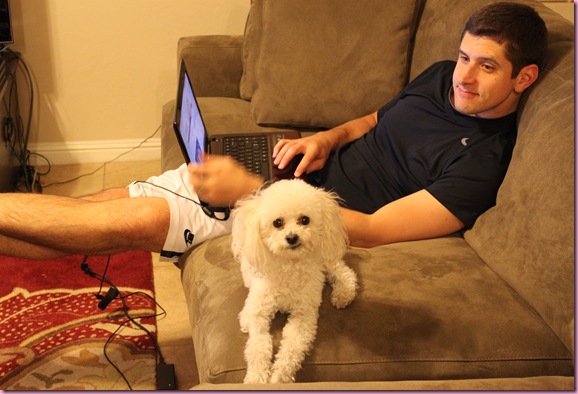 Have a great night and I'll see ya later! <3
xoxo
Gina
CONGRATS to the Shape prize pack giveaway winner:

Please send me your shipping address to fitnessista at gmail dot com, so we can get your goodies on the way <3
Thank you so much to everyone for entering and sharing your holiday tips! I've loved reading them, and it will be a great list to refer back to as the holiday season continues.
Something to read:
My guest post at Edible Perspective [5 favorite ingredients and workout moves]
Ab exercises for fall and winter [the best way to get a six-pack? clean eats and a solid cardio routine]
Can mushrooms helps the immune system fight cancer?
The healthy benefits of ZUMBA! [Three hip shakes for that]