One song workout: Holiday Fit Frenzy
Hi! How's the day going so far? We're going to spend the morning getting ready for Tucson travels. I can't wait to see the family, and my bro Kyle is going to be home. I kind of missed him while he's been across the world (in MA in the snow). I even miss him teasing me. Last time we were together, I flexed my bicep at him and he smashed it with his hand. And then he laughed so hard at the defeated look on my face. Sibling love hahah.
Since we're traveling this year, it forced me to get our Christmas game plan together early. Everything is packed and ready; just needs to be transported.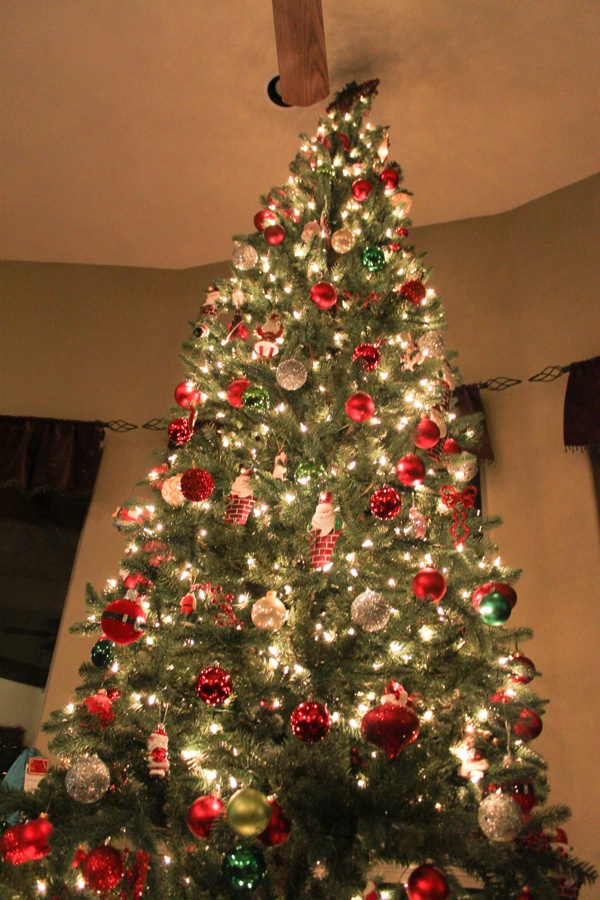 I'm sure many of you will be traveling or in a time pinch this holiday season, so I thought I'd share a little one song workout with you. It takes less than 5 minutes to get in a great mix of cardio, strength and intervals. Here's how it works:
-Open this video in another window (keep it paused) or download the song onto your phone:

-Get this pinnable image close by, whether it's on your phone or printed out: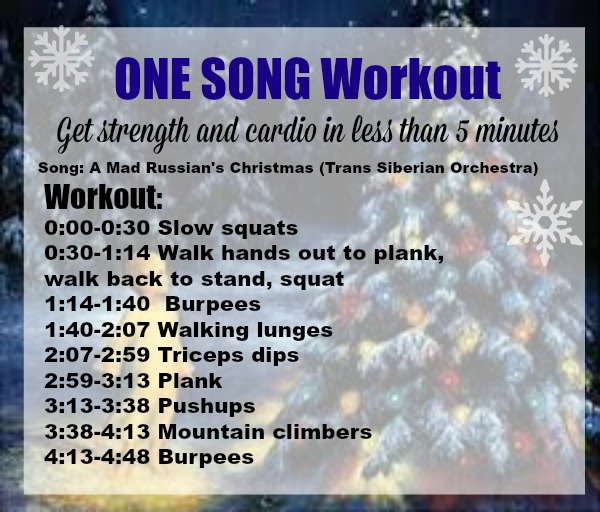 -Press play and keep track of the time (via a timer on your phone or Gymboss timer). (If an ad plays before the video, these are the moves for the actual song)
Some form cues:
0:00-0:30 Slow squats. Get your form set up and ready! Focus on sitting back and down, keeping a lifted chest and tight core. Exhale to rise. Sit down slowly and make sure to focus on sitting BACK so your knees don't go too far forward.
0:30-1:14 Walk out to plank, walk back, squat. Walk your hands down your legs, onto the floor, and out into a plank position. From here, walk your hands back to your feet and stand up. Sit down into a squat. Rise, and repeat. You have plenty of time, so move slowly and efficiently.
1:14-1:40 Burpees. This part of the song is just begging for burpees! You can walk or jump back into your plank position for the burpee, and add an optional pushup if you'd like. Write down how many burpees you do.
1:40-2:07 Walking lunges. Take a big step forward and sink straight down into a lunge. Watch your front knee to make sure it doesn't extend past your toes. Keep your spine straight and core tight; exhale to rise. Step the opposite foot forward and lunge on the other side.
2:07-2:59 Triceps dips. Make sure to keep your chest lifted, fingertips pointing forward, and as you bent your elbows, make sure they go straight back. You can do these with a chair or bench, or on the floor, keeping your hips lifted.
2:59-3:13 Plank. You can modify by placing your knees on the floor, or add in a challenge option with plank jacks, rotating side planks, plank hops, or hip dips.
3:13-3:38 Pushups. Feel free to modify by dropping to your knees (or with wall pushups), and try to do as many as you can on your toes!
3:38-4:13 Mountain climbers. Take deep breaths and keep your core tight as you job your knees in a plank position. You can bring your knees towards your chest, or towards your elbows, engaging your obliques.
4:13-4:48 Burpees. Grand finale! Finish strong and MEET OR BEAT the amount of burpees you did in the first round.
Let me know if you give it a try!!
xoxo
Gina