Total body travel workout (strength and cardio)
Hi friends! How's the day treating you? The week has gone by quickly, and I'm looking forward to the weekend. We're actually staying in town this weekend! I know. To be totally honest, a bit of FOMO has hit me. I was doing really well, but after visiting Chicago and Orlando recently, I remembered what it's like to live in a real city. I'm not saying I need a Tiki Port around the corner – god, I miss Tiki Port – but it wouldn't hurt to have a Trader Joe's, Orangetheory, barre studio, and a Dunkin. Maybe a few more restaurants and a Whole Foods if we're getting crazy. We do a lot of fun things here, and I know we'll make the most of it, but it's started to hit me that we go to the same six places pretty much all the time.
On the fitness front, I've also had to get a lot more creative. Besides yoga and teaching barre, I haven't found any classes here that I love. I'm not quite ready for a full yoga class yet – the thought of a full back extension in upward-facing dog makes my toes curl a little – but I've been taking advantage of online fitness classes. I'm LOVING the Peloton app, and have also been doing Physique 57 online. (Robin is my favorite Peloton instructor, and Chad is my fave P57 teacher.) In between that, I'll lift weights at the country club gym, use our Bowflex HVT machine (<— it's amazing), and go for walks. You do what you gotta do.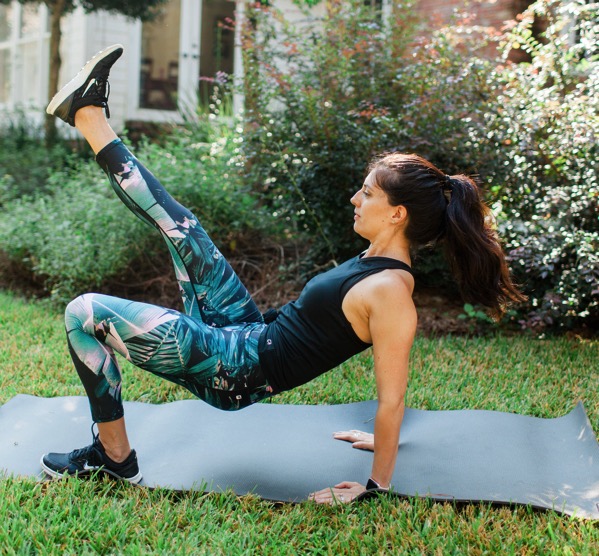 (Wearing gap fit tank // Fabletics crops // Nikes <— on sale)
As we head into the busy holiday season, we'll likely have to get more inventive with our workout locations and routines. So many of us will be traveling, outside of our regular schedule, and trying to sneak in workouts in between the festivities and extra to-dos. Even as the season gets busier, I find it more important than ever to get in a daily sweat session since it boosts endorphins, helps me beat stress, and just makes me feel good. I know many of my fitness friends out there feel the same way. 🙂
I put together a quick workout you can do anywhere! This one is bodyweight-only, and an awesome combo of strength and cardio. Pin it for when you want to get in a quick sweat session at home during naptime, while traveling in your hotel room, or as an impromptu workout.
Please let me know what you think if you give it a try!


Form cues and tips:
Curtsy lunge to plie squat: For this exercise, you aren't rising in between switching- keep your body LOW and knees bent the entire time. Torso stays upright, step back into your lunge, then keep the front knee bent as you step out to side to squat. Step the opposite foot behind and lunge. Watch the front knees to make sure they don't extent past the toes.
Plie squat jumps: Step your feet out at least shoulder-width and sink your hips down into a squat. Try to get your thighs parallel to the floor, and touch the floor. Exhale to jump up, and land in a soft squat.
Lunge to basketball throw: Try to keep your chest lifted and core tight as you perform the exercise. Aim for some dynamics and height change with your movements, as this will make the exercise even more challenging. As you throw the pretend basketball, spring up from your bottom leg and land softly.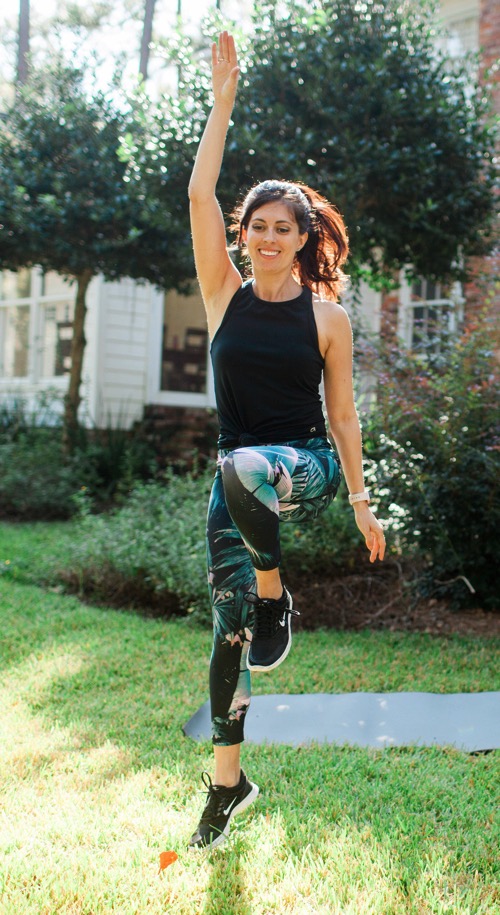 Squat jumps: Get into a squat position (booty LOW and back), and touch the floor. Keep your abs engaged and chest lifted. Powering through your heels, spring up, reaching your arms towards the ceiling. Land with a soft knee. Repeat.
Spinal balance with leg pulse: Come onto hands and knees (hands under your shoulders and knees under your hip bones). Extend one arm and the opposite leg, keeping your hips parallel to the floor. Flex your foot and gentling pulse your heel up towards the ceiling (or sky!). Squeeze your glute to lift your leg and keep your core engaged. Tap the floor with your foot, squeezing your glutes to rise. Then at the top, complete 20 pulses, making sure to take even breaths the whole time. Switch sides.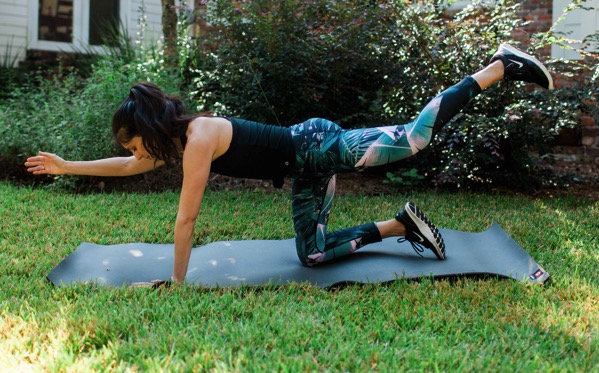 Triceps pushup to side plank: You can do these on your knees or toes, just make sure to keep your hips in line with your torso (no butts in the air or sagging in the middle) and your hands planted firmly into the surface. Bend your elbows to lower your body towards the ground, exhale and squeeze your chest to rise, then rotate to a side plank, lifting up your bottom oblique. This is one rep. If you're modifying, keep your bottom knee on the floor as you rotate, and just extend the top leg. If you want a challenge, hover the top leg up as you rotate. Repeat, alternating sides.
Figure-4 hip raise: Start on your back with legs bent and feet flat on the floor. Lift one leg off the floor, and cross that ankle over your opposite knee. Squeeze your glutes to lift your hips, keeping your upper back pressing into the floor and hips parallel to the floor. Lower down towards the floor (don't touch it!) and exhale to rise back up. Continue for 10 reps, then switch legs.
Triceps dips: For a more challenging version, place a flat weight plate on your legs. As you complete your dip, make sure that your elbows stay pointing straight back, keep your chest lifted, and shoulders down. Fingertips will face towards your toes.
Happy sweating, friends!
xo
Gina
Photos: Lindsay Colson
To extend this workout, try it along with this oldie but goodie HIIT workout.