Reader's Request: Breakfast Before Bed
Hey everyone! How's your day been?? Mine has been bueno.. I'm starting to get excited/nervous to see a certain someone 😉
When I asked for some reader's request ideas, the inbox was flooded with wonderful suggestions (thank you!). I couldn't believe how many of you had questions about fitness fueling and how/why I've been eating breakfast before bed lately. So that's the theme for today's reader's request post 😀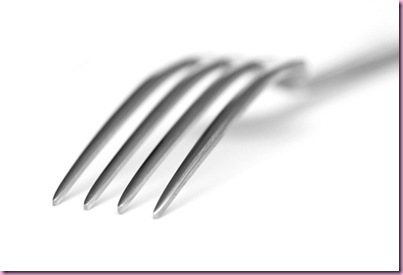 (Source)
I'm going to go ahead and contradict a very popular myth by saying
A snack before bed is a GOOD idea.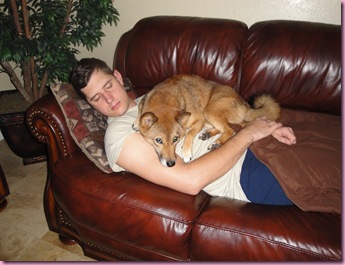 (Yes, my husband is a seksi man. And Viesa has a crush on him)
That is, *most of us* need to eat a little sumthin' sumthin' before bed. If your lifestyle is pretty sedentary, by working a desk job and don't exercise at all, the extra snack is just extra calories which won't be converted and burned as energy  —— > weight gain.
If you're active, especially if you lift weights, a little healthy snack before bed (including protein) is a good idea 🙂
Here are the reasons why:
– If you lift weights, chances are that you have more lean muscle. Lean muscle burns more calories at rest, even when you're sleeping

– While we sleep at night, our metabolism is still cranking away, even though the only active thing we may be doing is sawing logs 😉 As we sleep, our body continues to burn carbs, fat and protein, in that order

– Burning carbs is great, burning fat is fantastic, but if we have no stored protein (from food) our body will go after precious lean muscle, which keeps us "toned" and healthy, as excess body fat can lead to a bunch of health problemos

– Having a snack with protein can help to keep our body from burning muscle during the night

– A snack before bed is also a great choice if you have early AM workout seshes and can't digest an AM breakfast before working out

– If you don't have a snack at night before bed, and workout in the morning on an empty stomach, chances are that your workout will be burning muscle instead of fat and carbs
If you can stand to eat breakfast before you work out in the morning (or if you work out later in the afternoon), just have a small protein-rich snack at night and your regular breakfast in the morning. A great example for this would be a piece of cheese, a small protein smoothie or a couple of egg whites.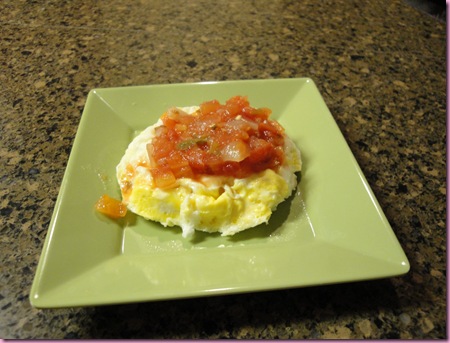 If you don't have time or can't digest a full breakfast before you work out in the morning, have a regular breakfast (mostly carbs, with protein and healthy fat) before you go to sleep. Examples: oats + protein powder + nut butter, nut butter + banana + whole grain bread or bagel, protein smoothie with fruit, cereal + flax + protein powder, omelet + salad, energy bar with protein, etc.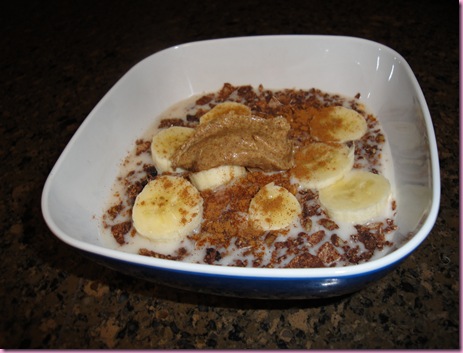 If your AM workout consists of weight training, have a protein-rich snack within 30-60 minutes after your workout to help your muscles re-build and recover.
Perfect: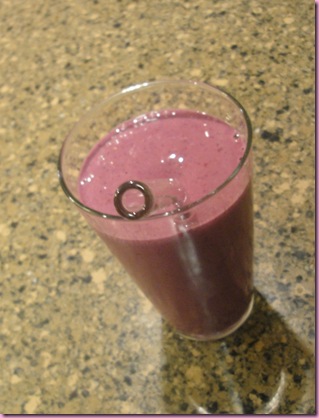 If you're doing some crazy AM cardio (no weights or strength training), carbs + electrolytes are the focus (and of course you want a little protein and healthy fat, too)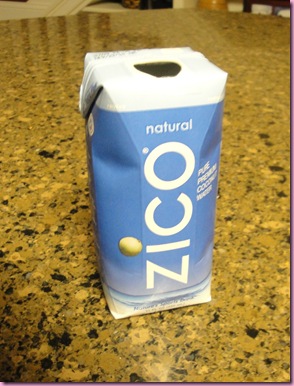 (or fruit/juice)
+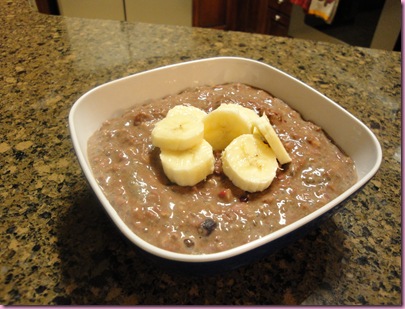 (oats/cereal/bagel/bread)
*Note: As always, check with a doc before making any lifestyle/fitness/eating changes.
Before I started doing Insanity, I could do an AM half-breakfast. I'd have a smaller breakfast of oats, millet with something on it or a bar, and then do my workout and have the rest of my breakfast (usually a smoothie for protein) afterwards. Our AM workouts used to be mostly weights (not so much cardio since I teach at night, or would run/yoga), so there wasn't any hardcore cardio or jumping around in the morning. Insanity is a LOT of jumping and serious cardio, which is why I couldn't stomach breakfast before our workouts anymore. Having breakfast before bed and a smoothie after Insanity has been *working out* really well 😀
Have you tried the breakfast/snack before bed thang? Think you'll give it a whirl?
What are your favorite pre-workout and post-workout feasts?
I'm off to get ready to see the pilot.. I'm nervous 🙂 Be back in the morning with some awesome photos.
xoxo,
Gina