Hiiiii guys 😀 How are ya?
Things are bueno over here- I love reading your guesses about what's going on. I'm just gonna throw it out there that some of you might have hit the nail on the head, if you know what I mean 😉
I actually just got back from a fun little meeting… the proverbial ball is a-rollin'. SO STOKED 😀
So it's been a little lacking with the recipes lately in Fitnessista land, so I figured it was high time for a new RAW RECIPE!
Not-Chicken Salad

Serves 2

– 1/4 C raw sunflower seeds

-1/4 cup raw almonds

-1/2 carrot

-1 celery rib

-1 green onion, minced

-1 t tumeric

-1 t savory

-1/2 t poultry seasoning

-1/4 t thyme

-sprinkle of garlic powder

-1/8 C water

-sea salt and pepper to taste

1. In a food processor, pulse the carrot and celery until finely chopped, but not mushy. Set aside.

2. Place the remaining ingredients (except for the green onion) in the food processor and pulse until mixed well and finely chopped. The mixture will be crumbly.

3. Taste and adjust seasonings as necessary.

4. Combine the carrot and celery mixture with the nut and seasoning mixture.

5. Stir in the green onion

6. Serve atop a bed of organic greens:

Or on some bloomin' onion bread (recipe is here)

7. Feast 😀

© 2010 The Fitnessista
That was my lonchi today –the sandwich version- and it was ahhhhmazing 😀 Let me know if any of you give it a try!
I've actually eaten all raw today which hasn't been happening as much since it's been colder. Needless to say, I feel pretty good 🙂
I had some fruit before hitting up the gym for a 50 minute cardio sesh: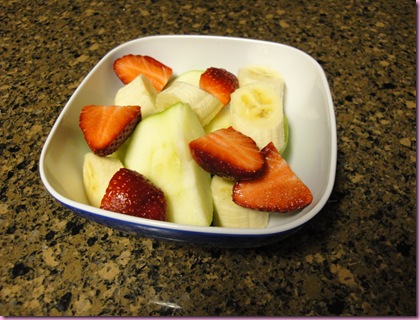 30 minutes of sprints, steady state and hill walking on the RAD (Revolving Apparatus of Death) and then 20 minutes on the elliptical, pedaling to the music (a faster pace with upbeat songs and higher resistance/slower pace for slow songs). It was a great workout!
When I got home, I made a chocolate-covered strawberry protein shake: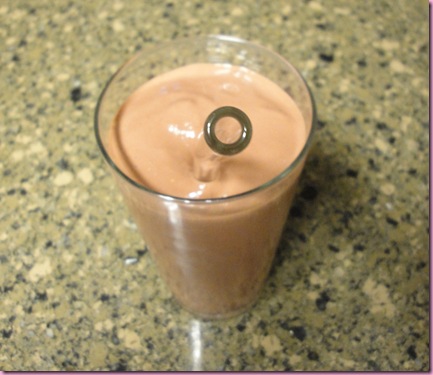 – 1 C almond milk
-1 scoop vanilla Sun Warrior
-1 T raw cacao agave syrup (from Katie)
-1 T raw cacao powder
-1 C frozen organic strawberries
-1 t vanilla
-pinch sea salt
-foodgasms 😉
Delectable.
Well I'm off to answer emails –mayjah apologies to all of you whom I haven't responded to yet, I'm on a mission to get back to you!!!- and then do yoga before heading to work.
Enjoy the rest of your day!
xoxo,
Gina
Something to talk about: What's your favorite protein smoothie recipe?? I try to get new things into the rotation but I always end up going back to the standards. I'd love some new ideas!