Reader's Request: 5 Easy Ways to Boost Metabolism
Since I got my Weight Loss Specialist certification, quite a few readers have asked me to feature more posts with weight loss tips and tricks. This was a tough one for me because I'm not one to encourage weight loss -I like to focus on body fat percentage- and I understand that reader friends may have had a history or are currently recovering from an eating disorder. I try to remain mindful of potential circumstances others may be facing, and wanted to point out a couple of things before continuing with this post:
-How you FEEL is a better gauge of progress than any scale. Throw your scale away! If you really want to track fitness progress or fat loss, have your body fat percentage checked out via calipers or hydrostatic testing at a local gym. Many facilities will offer this for free or at low cost to members.
-While the following are tips to boost metabolism -especially if you find yourself hitting a rut or plateau- they're also great tips for general health and wellbeing. So instead of looking at this as a "weight loss" post, think of it as general tips to kickstart new healthy habits! 🙂
–If you think this post may be one worth skipping, listen to your intuition. What we read can affect our bodies and minds, so it's up to us to use the best judgment <3 Sending healing wishes and love.
Back in the day, I effed up my metabolism. It was during the transition from weight loss to maintenance mode, and I was still eating diet foods, not fueling myself properly, and working out too much. My body was eating away at precious muscle, and I had no idea how much food I should be consuming. This is also when a large portion of my diet consisted of low-calorie and low nutrient "food-like substances" instead of real foods. Live and learn. By adding calories back in each day, and decreasing my workout load, I was able to restore my metabolism. I can work out less, eat more, feel energized, and increased my lean muscle mass.
What is Metabolism Exactly?
The sum of all living cells' energy reactions to produce and utilize energy. (Source) Many factors can have an impact on metabolism, especially age, muscle density, genetics and hormones. If you suspect something is awry, or you're not seeing results from clean eating and a solid workout routine, it can be advantageous to meet with a doc to perform blood work and an overall health check.
Resting Metabolic Rate (RMR) is the amount of calories your body needs to LIVE. It doesn't account for the calories you burn through every day activities (walking around, chores, errands, folding laundry, gardening, etc) or your daily workout.
According to this research, this is the most accurate formula for RMR estimation:
Males: RMR=10x(wt in kg) + 6.25x(ht in cm) – 5x(age in years) + 5
Females: RMR=10x(wt in kg) +6.25x(ht in cm) – 5x(age in years) – 161
To determine body weight in kg from lbs simply divide weight in lbs by 2.205. For instance, a 140 lb woman would calculate body weight in kg as follows: 140 lbs/2.205=63.5 kg. Height in centimeters is easily determined by multiplying a person's height (in inches) by 2.54. So, for a female who is 5 feet 6 inches (or 66 inches), height in centimeters is 66 inches x2 .54=167.64 cm. Continuing with this RMR estimation, if a?? female client is 30 years old, 140 lbs and 5 feet 6 inches the estimate for her RMR would be calculated as follows:
RMR=10(63.5) + 6.25(167.64) – 5(30) – 161=635 + 1048 – 150 – 161= 1372 calories per day
She would need to add in an estimate for calories burned in daily activities (this site will calculate based on activity level) + an exercise estimation.
Let's pretend our example girl, let's call her Emily, burned an estimate of 300 calories through daily activities + 450 in a Zumba class. Her estimated calorie expenditure for that day would be:
1372 + 300 +450 = 2122
If she had a goal of weight loss, a safe way to decrease the amount of calories each day would be by 500 (500 x 7 days each week = 3500 calories = 1 lb of fat loss each week). She could target her intake around 1622 each day.
Do I Have to Count Calories?
Now that we've got the numbers mumbo jumbo out of the way, I'm going to throw it out there that I hate counting calories. I did it for a long time, and I found that it sucked the joy out of food and turned it into too much of a science experiment. I think that if you strength train, do cardio, focus on quality, whole foods, you will settle into a healthy spot. I did provide the info above because it makes sense, and it does work for many people, but I'm just not one of them 😉 Instead, I like to focus on actions I can take in my daily life, instead of a numerical goal.
Here are 5 ways to get your metabolism going, especially if you're facing a plateau or looking to increase the benefits of your routine.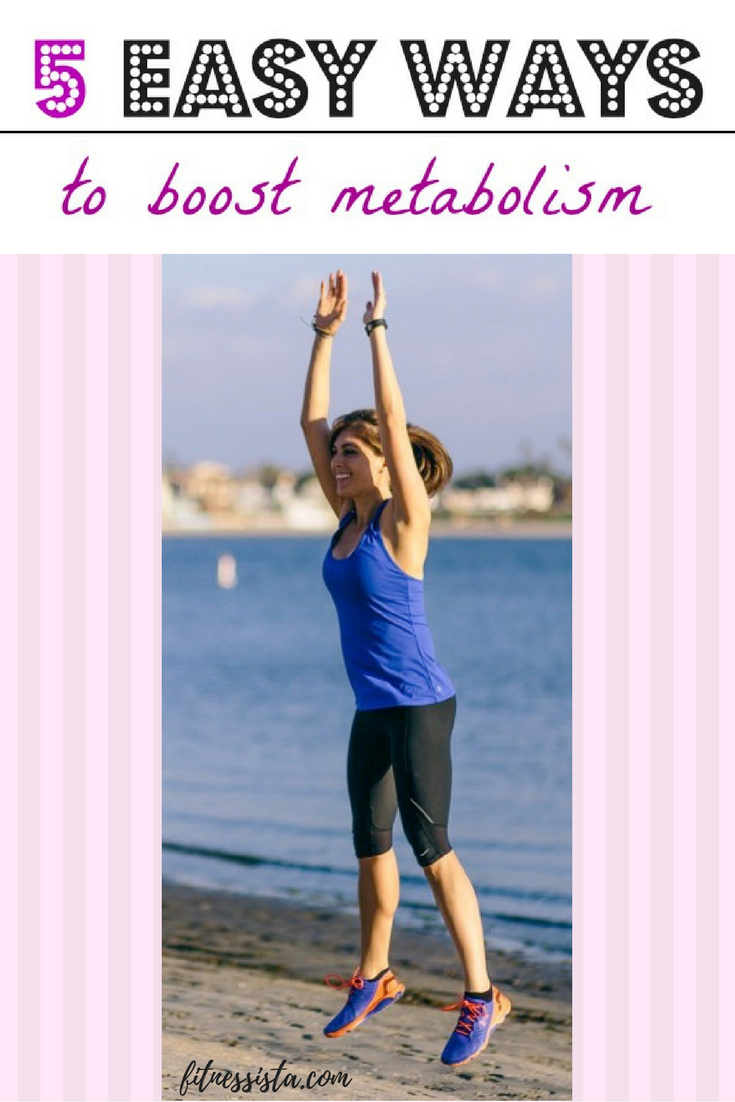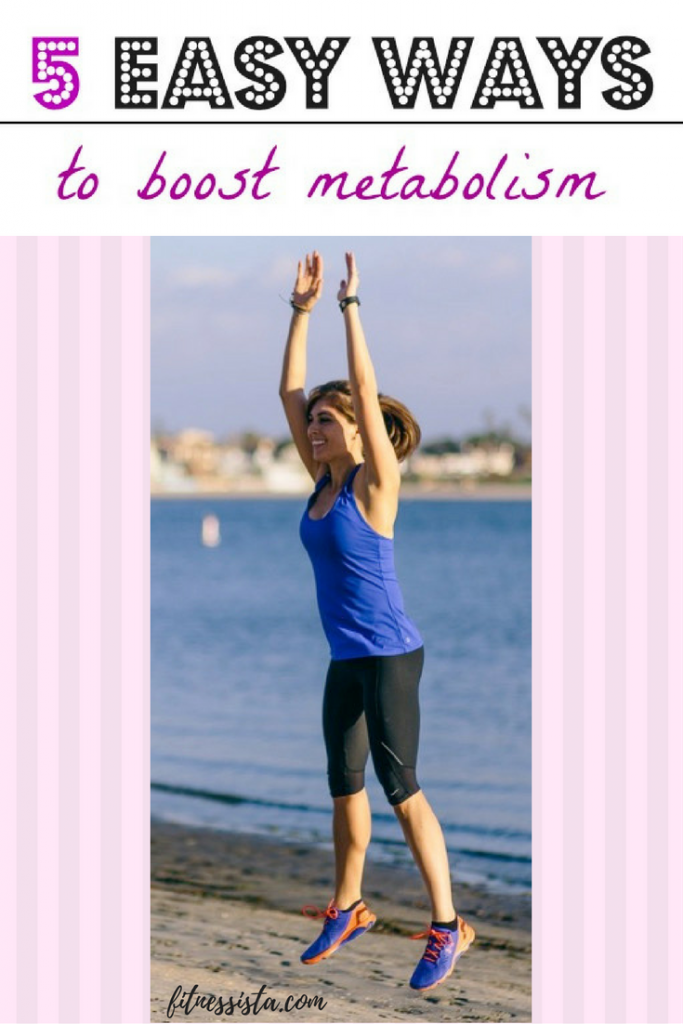 EAT. Provide yourself with nutrient-dense food, including fresh produce, whole grains, healthy fats and lean proteins (animal or plant-based). Pay attention to your hunger cues, and eat when you're hungry, stop when you're full. Hydration can impact hunger levels, so I like to always keep a water bottle with me throughout the day.
Sleep. Insufficient amounts of sleep can stimulate the release of ghrelin (a hormone that sends hunger signals; I like to picture it like a hangry gremlin) and can decrease the regulation of lepton, which tells us that we're full and satisfied. You can read more about the impact of sleep on hormones and metabolism here, but try to get your magic number of sleep eat night. For me, it's a solid eight hours. Already get enough sleep? Create a bed time ritual to help yourself wind down each night and promote high quality sleep.
Drink water. As I mentioned before, dehydration can have a host of negative effects on fitness results and how we feel. Aim for 96 oz of water each day!
Strength train. In this 2000 study (Hunter et al), participants were able to increase their daily calorie burn by 100, just from consistent and simple resistance training. Already strength training? Brainstorm ideas to safely increase the intensity, like adding weight, changing the resistance method (bands, kettlebells, machines, dumbbells, barbells, etc) or adding cardio blasts in between sets.
Add in interval training. I beat that "do interval training drum" loudly and proudly 😉 Interval training increases our exercise consumption post-workout, which means the body has to work harder (aka burn more calories) to restore oxygen levels to a resting state. Try adding interval training max 2-3 times each week on non-consecutive days. Want to know how? Check out this post for more guidelines.
Hope this helps a little!
In your current routine, what has the most significant impact on your fitness gains and how you feel? For me, the major ones are sleep and strength training. I feel so much better (and stronger!) with consistent amounts of both.
xoxo
Gina