Reader's Request: Meal Planning
Hey everyone! Hope you're having a loverly day 😉
I got the following email last week:
Can you do a post on how your organize your meal plans?  Any shortcuts (chopping takes the longest for me)?  One idea — can you post grocery list of the products you use and where to get them? (such as Ezekiel and maca).  How do you remember all of your recipes?
Figured it'd be a fun way to switch things up on the ol' bloggy a bit.
So here we go, Meal Planning 101:
Every week, unless it's a weird one where one of us is out of town, I sit down on Sundays with my favorite cookbooks and pick out our meals for the week.
These are some of the "usuals" even though I have around 100 cookbooks… I'm obsessed 😉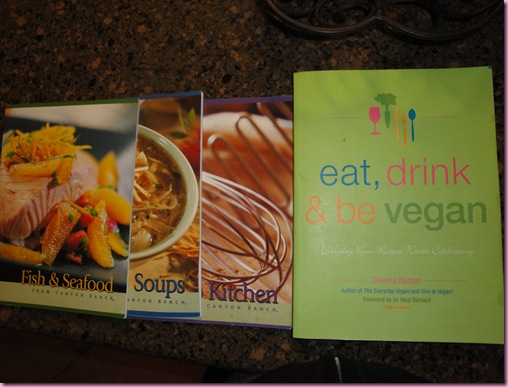 I also look online for recipes, because I don't like to repeat the same dinners for the pilot and I. There are SO many recipes and ingredients out there- might as well shake it up!
Step 1: Create a dinner plan for each night of the week, using some of the same ingredients as repeats (for example, if you don't have something on hand but have to use it for a recipe –like a spice, vegetable or meat- try to find two recipes that use the same ingredients. Like if I make the pilot a type of chicken one night, I freeze half the package and use the rest for another chicken meal)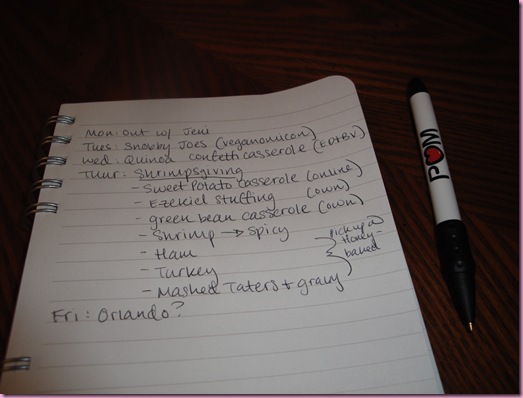 Also, while planning our meals I consider nights when the pilot is flying or I have late training appointments. I create meals on those nights that can either be made in advance or in the slow cooker.
Above is our tentative dinner plan for the week, including Turkey Day aka Shrimpsgiving
Step 2: Create a grocery list from the recipes for each menu, making sure not to repeat items – like if I need two onions, I'll put 2 in parenthesis and only write onions once. That way, I don't forget anything.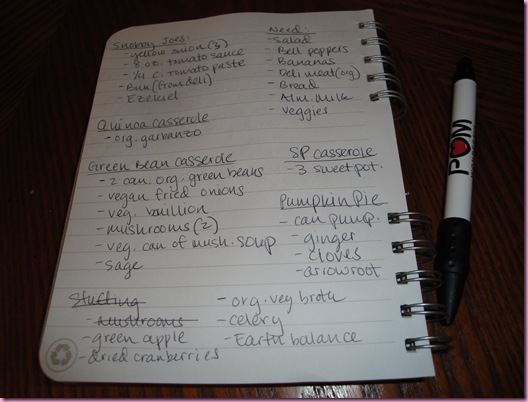 Also include a "need" category on your list for necessary staples, breakfast and lunch items. As far as bfast goes, I'll keep the usual staples on hand (bananas, oats, almond milk, spinach, organic eggs, ezekiel) and for lunch, I'll make sure to purchase lots of organic salad beast materials and whatever veggies look fresh and delicious. I also pick up some seasonal fresh fruit—whatever looks good 😀
Step 3: Shop it up! I usually hit three grocery stores for all of our food—everything I can find at the commiscary I will get there, as it's the cheapest and tax free, next I'll stop at Publix (Publizzle) for organic meat and veggies, then to the health food store (on Tuesday) for all of the fun and special goodies (Ezekiel, Mary's crack, Kombucha, almond butter, dried coconut, etc)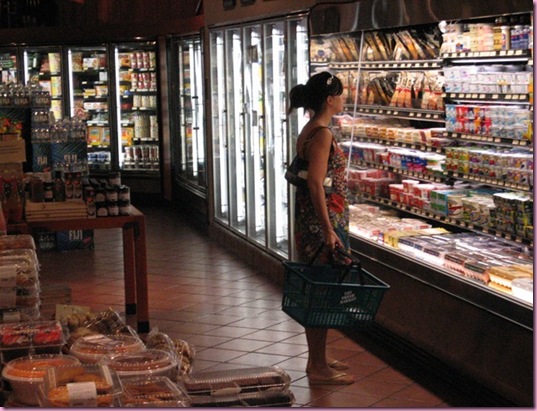 Step 4: Anything you can prep in advance, do it!
This includes chopping veggies (that will hold their shape and last, like bell peppers, cucumber, carrots, etc) and putting them into ziploc baggies or airtight containers, making hummus, sauces, spreads, casseroles, whatever. If it will make your life easier during the week, prep it all on Sunday.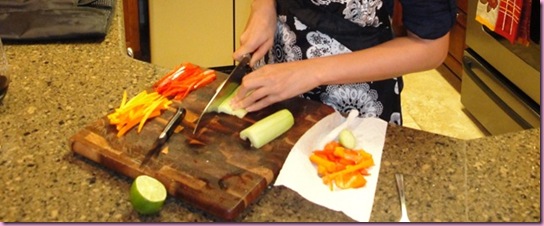 Step 5: Enjoy the fruits of your excellent organization and small amount of labor 😀
To answer the other questions above, I purchase the maca through Earth Shift and as far as remembering recipes, I don't! I write down unique recipes (or make them up on the spot), or follow ones from a cookbook or online. The only recipes I could make from memory would be any of the dessert recipes from 105degrees, because I made them over and over..and over 😀
I'm off to teach Zumba!
If there's anything you'd like to see in the "Reader's Request" segment, shoot me an email: fitnessista at gmail dot com
Happy cooking!
Gina