Reader's Request: Fave Quinoa Uses
Morning! It's almost the weekend! Kind of stoked 🙂
The chipotle black bean soup was actually a success, even though I went a little cray cray with the chiles.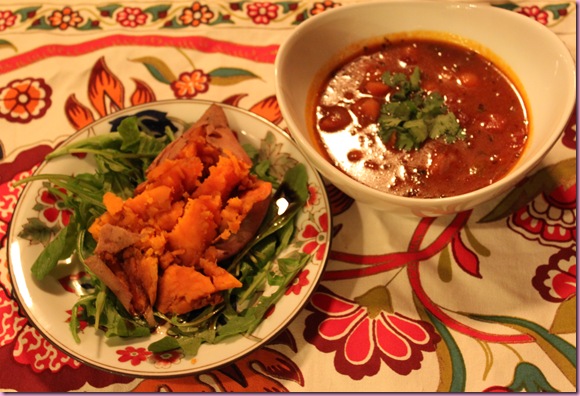 [Recipe is in the Canyon Ranch Nourish cookbook. I added 2 chipotle chiles instead of 1/2 t, and also a whole head of garlic.. because if it doesn't have garlic, I didn't make it]
We enjoyed our soup with baked sweet potatoes atop salads, + a turkey and cheese omelet for the Pilot (he needs more food and protein than just soup and sweet potato). When I put his plate down, I said "Here is your most random dinner ever." – he loved it, though. We sat on the patio outside, ate dinner and caught up on the day while it stormed. Romantic 🙂
This morning, I started off the day with a smoothie + waffle: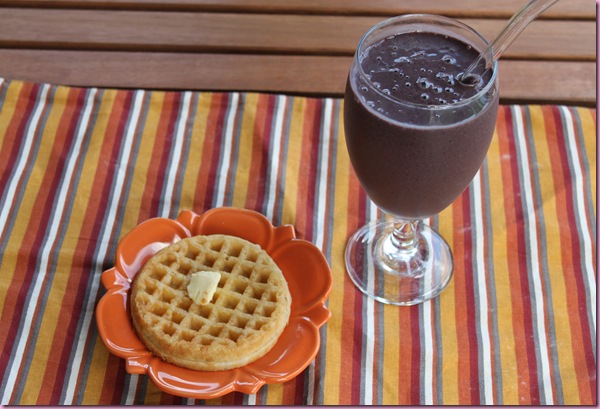 It made me sad for about 4 seconds that smoothies are on the way out, oats are on the way in. The thing that stopped me from being sad was the thought of pumpkin oats… I can't wait to turn my skin orange from a pumpkin frenzy 😉
So I thought today would be a fun morning for a reader's request post.
Here's a snippet of an email I recently received:
Hi Gina,

I've been reading your blog for 3 years (!) and love it. I wanted to ask you for your favorite ways to make quinoa. I know it has a lot of protein and that it's a great healthy option, but I just get so bored with plain quinoa.
I'm a quinoa fan. It took me a while to learn how to say it properly –I used to say "kwin oh wa" but it's actually "keen wa"- but I love quinoa because it's a complete protein, and an easy way to switch up from brown rice. Quinoa is actually a seed (not a grain) and related to leafy greens, like spinach and swiss chard.
A little bit about quinoa, from trusty Wiki:
a species of goosefoot (Chenopodium), is a grain-like crop grown primarily for its edible seeds. It is a pseudocereal rather than a true cereal, or grain, as it is not a member of the grass family. As a chenopod, quinoa is closely related to species such as beets, spinach, and tumbleweeds.
Quinoa is:
-High in magnesium (which is great for relaxing blood vessels for heart health and migraine remedies)
-High in fiber, which has been shown to protect against breast cancer
-It contains all of the essential amino acids, making it a complete protein
Just like rice, quinoa can pretty boring. It has a unique texture (it can be slightly crunchy with a nutty taste) and just like rice, it's all about how you cook it.
Quinoa can be prepared on the stovetop (just follow the directions on the box) or in the rice cooker.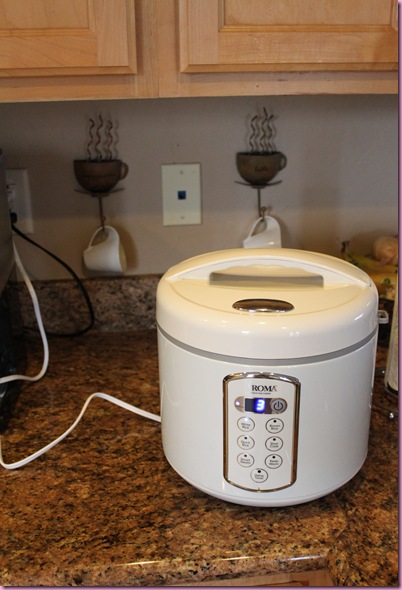 I used our rice cooker for quinoa the other night and it was perfectly fluffy: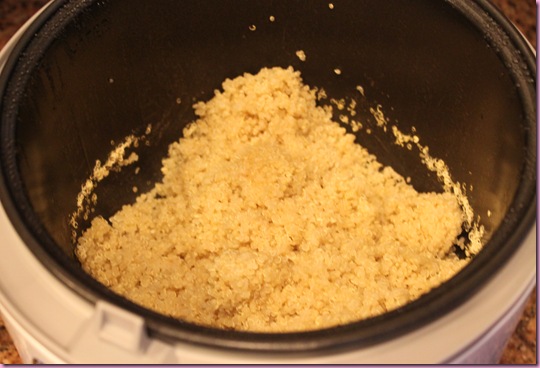 My #1 cooking tip for quinoa is to make sure you rinse it before cooking. Just pop it into a mesh sieve or strainer and run water over it, rinsing thoroughly. This is because it has a natural coating called saponin that repels insects– it can make it taste bitter if it isn't rinsed off.
Here are my top 5 favorite uses for quinoa: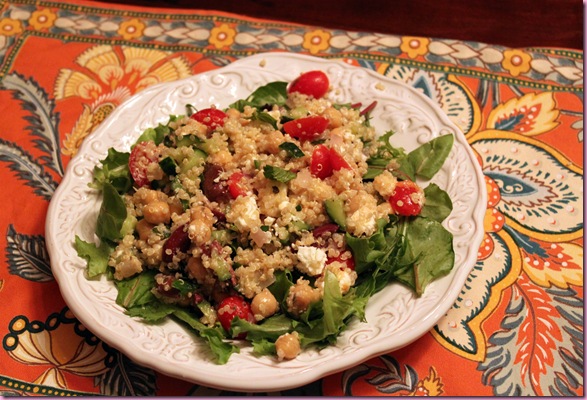 This is a great recipe for quinoa newbies. If you like Greek salad, you'll like the recipe 🙂
2. Breakfast Quinoa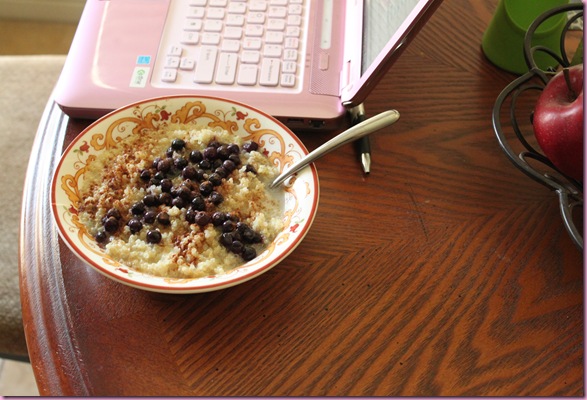 Cook quinoa and treat it like oats. I find it a little bit more filling, and love it with blueberries, cinnamon almond milk and a drizzle of honey.
3. Sweet and savory quinoa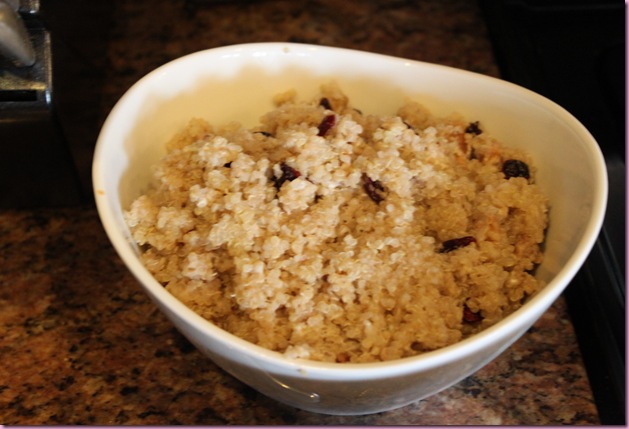 After you prepare plain quinoa –try cooking it in broth instead of water for a flavor boost- try adding your favorite cheese, a type of chopped nut, a fruit or dried fruit, drizzle with olive oil and season with sea salt and pepper. I made the above quinoa with dried cranberries, herbed goat cheese, walnuts, walnut oil, garlic powder, sea salt and pepper.
4. Experiment with quinoa flour or flakes.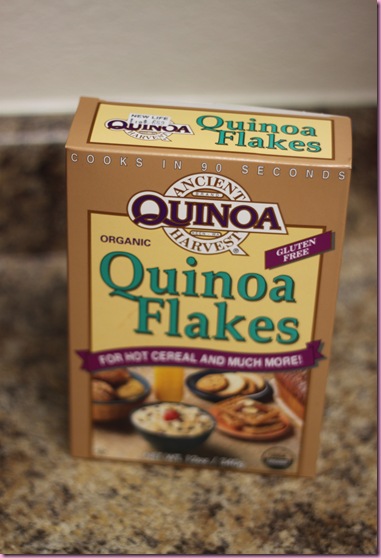 Quinoa flour (ground up quinoa- you can make your own in the Vitamix) or quinoa flakes are unique substitutions for flour or oats.
I love using quinoa flour in baked goods, or homemade pitas: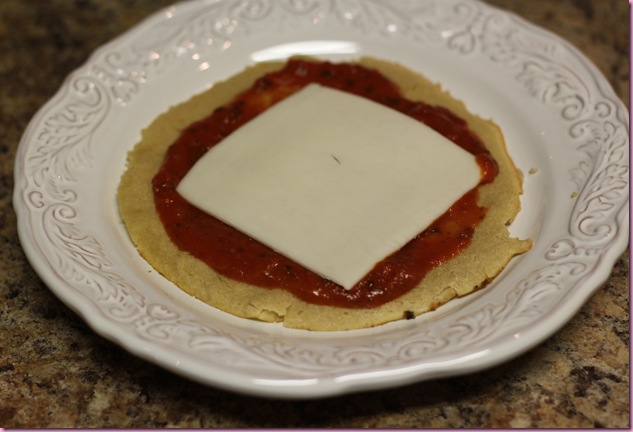 [It has a soft texture and mild flavor. It isn't as grainy as brown rice flour]
and quinoa flakes for muffin tops 🙂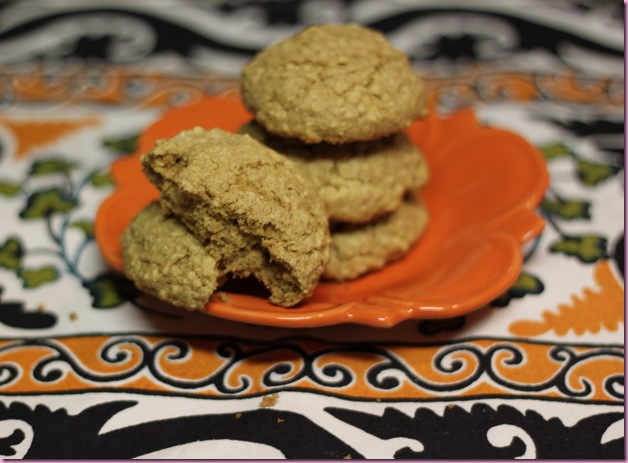 5. As a replacement for rice, to switch things up and boost the nutritional stats. For dinner the other night, I made my favorite fried rice using quinoa – it was pretty much amazing.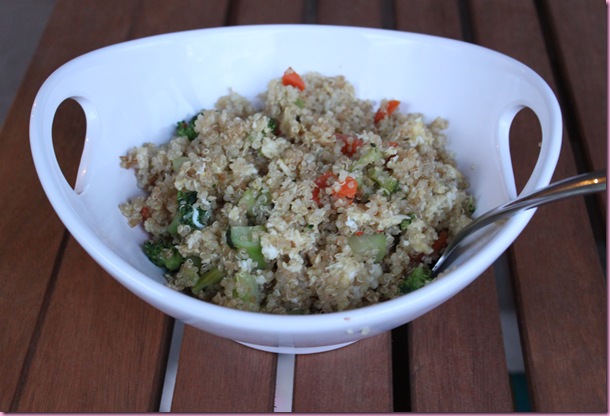 So tell me friends: What's your favorite way to enjoy quinoa?
Off to do the work thang.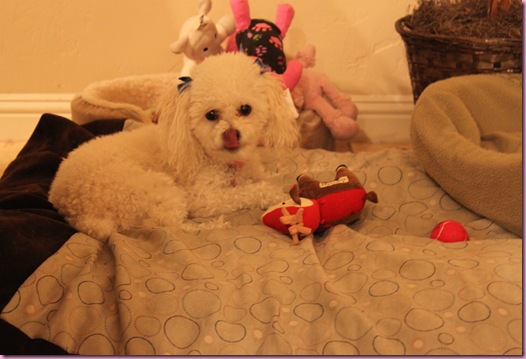 Bella is not 😉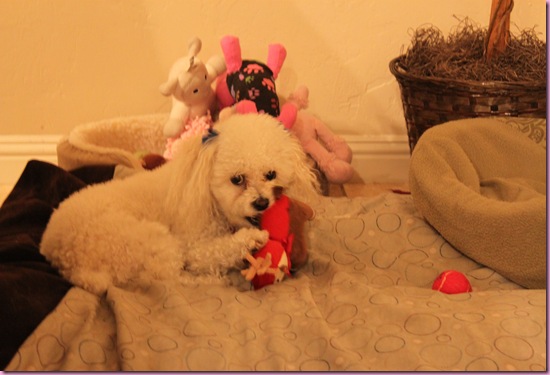 She watches Kardashians all day.
See ya tonight!
xoxo
Gina