Reader's Request: Pre-pregnancy Nutrition
Hey everyone! Hope your humpday is going well 😀
I got a couple of questions about what types of foods to eat before trying to conceive. As you guys know, the only babies I have are of the "fur" variety, but I have trained and counseled quite a few mamas-to-be.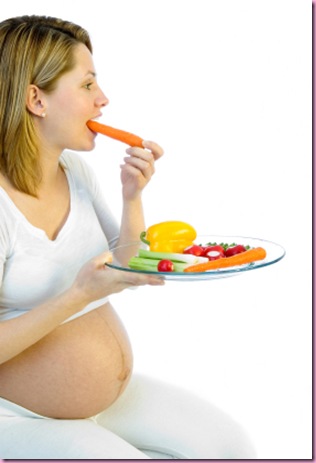 (Source)
According to the American Pregnancy Association, the following nutrients and tips are especially important 3 months to a year before trying to conceive (anything I'm adding to their suggestions is in purple): ****Disclaimer: please talk to a doc regarding your specific needs before putting a whole-grain bun in the oven
Folic Acid: The U.S. Public Health Service recommends that women of childbearing age obtain 400 micrograms (0.4 milligrams) of folate or folic acid each day. This B vitamin helps reduce a baby's risk of neural tube birth defects such as spina bifida. If your family has a history of neural tube defects, your doctor may increase your daily intake. Folic acid may be obtained naturally through dark green leafy vegetables (i.e. spinach), citrus fruits, nuts, legumes, whole grains, and fortified breads and cereals. These foods can be supplemented with a prenatal vitamin which usually contains 800mcg of folic acid. Folic acid is a water-soluble vitamin allowing your body to flush out excess amounts.

  (Source)

Calcium: It is recommended that women get at least 1,000 mgs (three 8 oz glasses of skim milk) of calcium a day if they are considering getting pregnant. Calcium may be obtained from natural sources such as cottage cheese, low-fat yogurt, canned salmon, sardines, rice, and cheese. Vegan calcium-rich sources include tofu (processed with calcium sulfate pr nigari), dark leafy greens (like turnip and collard greens, kale, bok choy) and green veggies (broccoli and okra), tempeh, tahini and almonds.

(Source)

Supplements & Vitamins: In addition to a healthy diet, many healthcare providers will encourage supplements to increase the probability that you get all the nutrients you need. Pre-natal vitamins are a necessity and I also recommend spirulina and maca. Spirulina is a highly bio-available (meaning it's quickly absorbed into the bloodstream) source of nutrients and antioxidants. Maca can help our bodies perform at an optimal level and is also known to improve reproductive function and boost fertility.

(Source)

Healthy fats: These are essential to support a growing baby's eye and brain development, and also help the placenta and other tissues grow. Go for a diet in moderate healthy fats: Monounsaturated fats including olive and canola oil, and avocados, olives, nuts and nut butters as well as Polyunsaturated fats, which include DHA and ALA, which are necessary for a healthy, growing baby. Sources of Polyunsaturated fats include chia seeds, flax seeds, canola and soybean oil. Fats to avoid are saturated fats (not including coconuts, which are high in saturated fats but the fat is utilized differently by the body, and are fabulous in moderation) and hydrogenated and partially-hydrogenated fats aka TRANS FAT. Artery clogging beasts.

  Drill sergeant Gina says: STAY AWAY FROM TRANS FAT 😀 

Caffeine: It is important to wean yourself off of caffeine (including chocolate- this is where I cry a little), because research has shown that more than 300 milligrams of caffeine per day may reduce fertility by 27 percent. Caffeine also impedes upon the body's ability to absorb iron and calcium. Since you won't be able to drink it while pregnant, might as well start getting used to life without it. I gave up coffee a little over a year ago, but the chocolate… wahhhhhh…..

Remove: Artificial sweeteners, alcohol, recreational drugs, and cigarettes all have the potential of harming your soon to be conceived baby. Also, eliminate as many processed foods as possible and aim to buy organic meat, dairy and produce. Fetal and childhood exposure to chemicals is far more dangerous than exposure later in life. Organic is expensive, but save some dinero by printing out coupons online and buying frozen organic meats, fruits and veggies. If you can't afford organic, make sure to wash fruits and veggies extremely well.

Tips:

–Choose whole-grain bread products over white, and brown rice instead of white

-If you can, go organic

-Double-check ingredients. If you don't know what an ingredient is, put it back on the shelf

-Avoid super salty foods, as these can lead to high blood pressure and potential pregnancy complications

-As far as fish goes, mercury levels can be, well, fishy 😉 Opt for wild caught salmon or halibut, or farmed trout and catfish. Vegans can get their Omega 3s from flaxseed, hempseeds, nuts and chia seeds.

-Make juice at home. It's an easy way to get in TONS of nutrients quickly and deliciously 😀

–Get healthy and feeling amazing! Work out (make sure that your body fat percentage and weight is in a safe range to carry a healthy baby), add in some yoga, walking, or whatever exercise makes you feel good 😀
These are just some tips to store in the back of your brain for if/when the pre-pregnancy time comes around. I had a lot of fun with this reader's request post- please send your requests my way: fitnessista at gmail dot com
Have a wonderful day <3
xoxo,
Gina
Something to talk about: All the madres in the bloggy house, what are your favorite pre-pregnancy or pregnancy tips? If you only have fur babies, like me, any idea of when you'll be adding a human baby to the mix?