Reader's Request: Indian Food Newbies
Hiiiiii 😀 How's your night going? Hope you've had a lovely day <3 I've enjoyed reading about who you would like to meet– so many fun answers 🙂
Mid-morning snackage today was a bowl of goat's milk yogurt mixed with 1/2 scoop Sun Warrior + local blueberries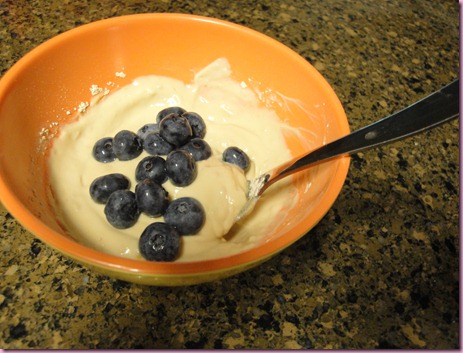 It tasted almost dessert-like… like a CUSTARD. Redonk.
After going to work for a while, the pilot met me in between appointments for Indian food celebration.
Buffet style: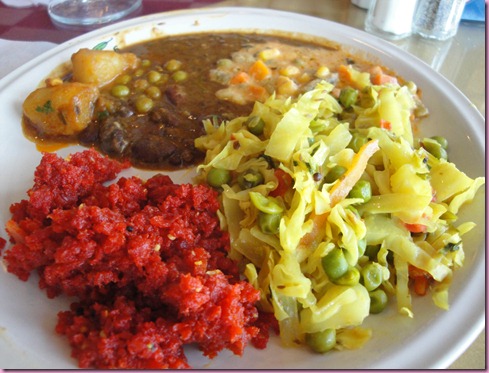 With the necessary roti: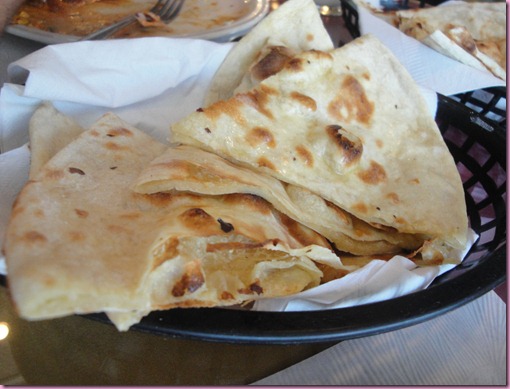 We left happy, with Indian food babies in tow.
Speaking of Indian food babies, many of you have asked me for tips on what to order at an Indian restaurant, or ideas for recipes to make at home.
Honestly, I'm kind of boring when it comes to Indian food. Once I try something I like, I stick with it. I'm a creature of habit 🙂
That being said, here are my faves (please feel free to add to my list in the comment section!) 😀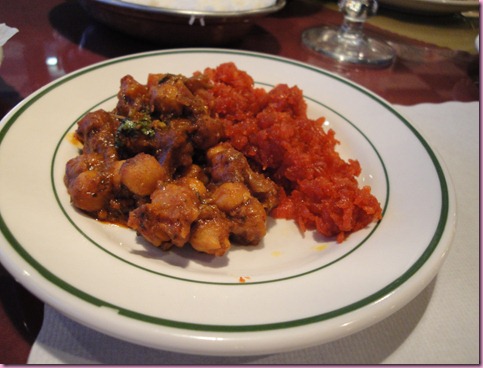 Vegan options:
*Note: Make sure that your food will be cooked in vegetable oil instead of ghee for it to be totally vegan (Thanks Kim, for reminding me of this!)
-Channa Masala- chickpeas, tomatoes and spices
-Baigan Bhartha (make sure they don't use cream.. from what I've noticed, most places don't)- roasted eggplant, tomato and spices
-Veg Jalfreezi- mixed vegetables and spices
-Dal Bukara- spicy lentils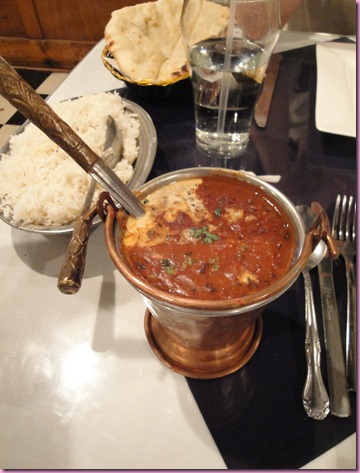 Vegetarian faves:
-Vegetable korma- vegetables in a creamy sauce
-Paneer curry- cheese with curry and vegetables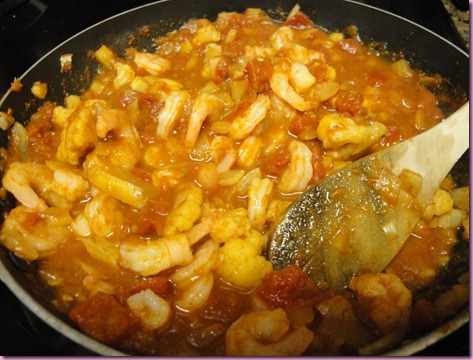 Meaty choices:
-Chili Chicken (my favorite in the meat-eating days)- spicy red chicken with bell peppers and onions
-Tandoori salmon- grilled salmon with green bell pepper, mint and onion; a great first-timer option
-Tandoori chicken- grilled chicken with green bell pepper, mint and onion
-Chicken Tikka Masala- chicken in a creamy curry sauce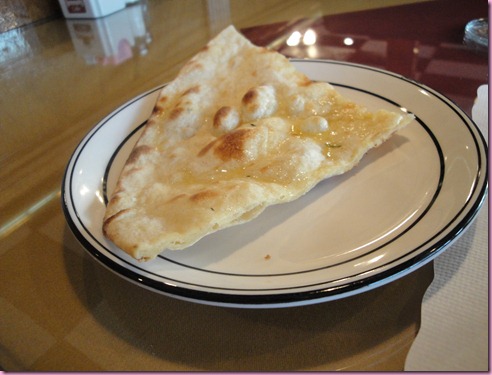 Other
-Tandoori roti (whole wheat naan)
-Mango lassi (sweet yogurt drink)
-Pappadum (like chips, made from lentil flour) and dippers (mint chutney, tamarind chutney, etc)
-Gajar Halwa- if they have this, get it. It's super sweet (not very healthy), but made with carrots and an awesome dessert choice.
*Tips: When you order, make sure to specify how spicy you'd like your food to be (mild, medium, hot). If you're feeling adventurous, ask the server what they recommend. If in doubt, get the buffet. It's a great way to try out a variety of dishes sans commitment 😀
Recipes to make at home: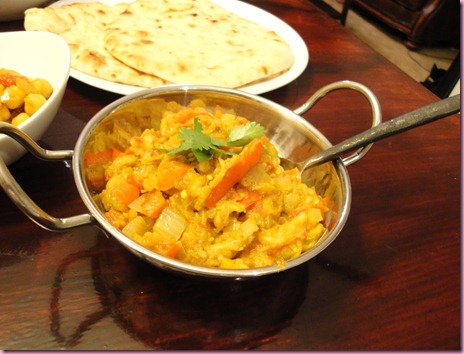 Happy Indian food feasting!
*Note: If you'll be in Chicago for the Healthy Living Summit, we're planning an Indian dinner for Saturday night. Get stoked 😉
See ya in the morning <3
Gina
Something to read: *This article* on WomansDay.com – featuring yours truly along with some of my beautiful bloggy friends 🙂