Reader's Request: When Food and Family Collide
Hey everyone! Hope your weekend is wrapping up beautifully 😀
I've received quite a few requests on what to do when your eating habits differ from family and friends and how to nourish your body the way you see fit, when others verbally disagree.
Before we get started, a little disclaimer that I post on sensitive topics:
If you are currently struggling with ED or in recovery and think that reading about this topic may result in a trigger effect or is a sensitive issue, please skip this particular Reader's Request. I don't ever want to offend or influence others, just share my experiences and what has worked for me and what hasn't. Everyone is different and knows how certain things affect their bodies and minds—it's up to us to use our best judgment.
I also want to add that genuine concern (vs unnecessary nagging) when friends and family are worried about your health should certainly be warranted. Please seek help from a counselor if you are not giving your body the proper fuel it needs to flourish.
That all being said, here we go 😀
The family dinner table: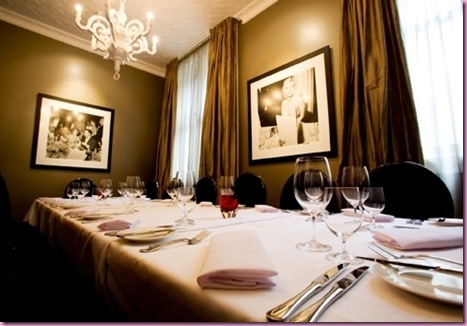 (source)
Scene of delicious eats, time with those you love, and sometimes controversy.
I'm very fortunate to say that my family, for the most part, has always been 100% supportive of the way I chose to eat.
Of course, when I first changed my diet, they wondered why I skipped on the white rice and pasta, and later on, when I stopped eating meat, but soon it became second nature to them. Now, my family expects me to eat something different from what the rest of them are dining on, and I'm so fortunate that they'll usually cook something for me that I'd like to eat, as well. For example, when we go to madre's house in Tucson, she and my nana keep up with the blog and always have the kitchen stashed with my current fave foods, and when we go to my dad's house, they always ask what I'd like to eat for dinner. Also, when we went to the cabin this past week, the in-laws expected me to bring my own food since they would be dining on hamburgers and the like. It worked out perfectly 😀
I understand for many, that family dinners can cause a lot of stress, particularly if you follow a different lifestyle, such as vegan or vegetarian.
Friends also have a knack for openly discussing their disagreement with the way you choose to feed yourself, which is pretty strange if you think about it 😉
The dietary choices you choose to make are personal. Only you know what foods best suit your body, what you'd like to eat, and how much of it. No one else can tell you what you're craving, what you need and how you should eat (unless, of course, it's a doctor). Stick to your guns, and use the following tips if you find yourself in a sticky situation.
1) Before dining at a friend's or relatives, offer to make a side dish/dessert/appetizer that you would like to eat.
2) Always have emergency snacks with you. There were quite a few business meetings in my life where I would break into the emergency bar or homemade trail mix in lieu of whatever they were serving.
3) Load up on all of the things you would like to eat. Usually at big family gatherings, people don't even realize I'm not eating the meat or pasta because my plate is so full of other things.
4) Remind yourself that the naysayers are usually insecure about their own unhealthy eating patterns. They're picking on you to make themselves feel better.
5) Prove them wrong. When others tell you "there's no way you could get enough protein", let them know about the plant protein sources and leave it at that (even though it's hard for me to not get into the whole meat industry and inflated protein requirements shebang but I try to keep things short and sweet). Usually I don't get a lot of flack from others about protein because I have a lot of lean muscle that I've been able to maintain on my quasitarian lifestyle. I prove them wrong by not looking frail and malnourished.
6) If you're offered something you don't want to eat, just say "no, thank you". It took me a long time to realize that turning down someone's food will not hurt their feelings. Even if they act a little miffed, they'll forget about it by tomorrow and just make up for it by spending time with them and having fun..that's all that really matters anyway.
7) No preaching. No one wants to hear about why you don't eat meat as they dive into their ham or turkey dinner. Just tell them it's a personal preference and it doesn't appeal to you as much anymore. Then ask them where they got their shirt 😉
8) Laugh at yourself for being weird 🙂 When I worked as a retail sales manager, a lot of store associates were bewildered with the lunches I brought to work. They borderline made fun of me, but when I laughed and said "I'm just weird, I guess", they gave up on it.
Are there any other tips you'd like to add to the list?
How'd it go with the recent holidays? Were you able to eat what you wanted in peace or did confrontation arise??
Happy feasting 😀
xoxo,
Gina