Reader's Request: Making a Meal Outta Your Smoothie
Hey everyone! How are ya? Hope you're having a splendid morning 🙂
I get a lot of emails asking for basic tips on how to put smoothies together. I totally feel ya- there are so many ingredients and combos out there, and as a newbie, it can feel intimidating. It's also easy to throw stuff willy nilly into the blender and *hope* it comes out tasty 😉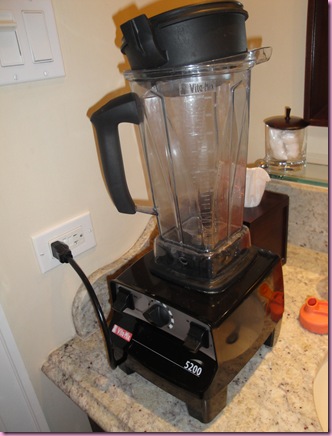 Here are some steps to making the perfect smoothie:
*Note: It's always better to have *real* food as smoothies digest extremely quickly, but these tips should help with satiety when you're on a time crunch or craving something cold to eat in the summer months.
1) Pick Your Liquid

This is going to be the basis for the smoothie. You can roll with milk of choice (for a creamy, more milkshake-like smoothie); almond milk is my fave), fruit juice, coffee, tea or water. Add 1-2 cups.

2) Add Your Protein

Sun Warrior = My protein lovahhh

Vega is #2 🙂

Including protein powder is going to pump up the nutrient value of the smoothie and help repair lean muscle. Always include protein if your smoothie is 30-60 minutes after a strength training workout. For tips on finding your perfect protein powder, click here. Add 1/2 – 1 serving.

3) Choose Your Fruit

(bahaha, I had to do it. Please don't be offended of the flasher banana)

This is one of the most fun parts of the art of smoothie making. Add in whichever fruits you have on hand- I usually wash and chop mine, freeze on a baking sheet, then transfer to a Ziploc baggie to keep in the freezer. Add 1-2 servings (1/2 C to 1 C). *Bonus: organic fruits are much less expensive when you buy them frozen.

4) Pick a fat, any [healthy] fat

Healthy fat is so important for nutrient absorption as well as brain function, reproductive health, immune and nervous systems. Nut butter is a great choice, or almonds, walnuts, chia seeds, flax, hemp seeds or coconut oil. Add 1/2 – 1 servings (a tablespoon of fat usually works well for me)

Optional:

5) Greens

Greens are fun to add to smoothies, especially since it's a quick way to get in a veggie serving and extra nutrients. Word to the wise: kale in smoothies tastes like death. To me, at least 😉 I'd roll with spinach or chard, especially if you're a newbie.

6) Starch

Adding starch, such as a banana or some oatmeal will give the smoothie a thicker texture and will make it more filling due to the increase in fiber and carbs for energy.

7) Texture

For a thicker smoothie, add 1/4 avocado or 1 serving of lowfat yogurt. If you choose to add these, you can opt out of #4, since you'll be increasing the fat content with the avocado or yogurt. You can also add cacao nibs, chocolate chips, coconut or granola for a little extra crunch.

8) Flavor

Flavor it up!

– A pinch of sea salt will bring out the sweetness in the fruit

– 1/2 t vanilla will make the smoothie more aromatic and deepen the flavor

– Feel free to add seasonings (cinnamon, nutmeg, cayenne), superfoods (maca, mesquite, cacao, spirulina) or fresh herbs (lavender, mint, basil)

-For extra sweetness, add in some Stevia, maple syrup, honey or a medjool date

9) Presentation

Garnish using an ingredient that's in the smoothie, and slurp up with a Glass Dharma straw 😀

More tips:

–Use frozen fruit instead of ice. Ice waters down the smoothie and frozen fruit brings it down to the perfect temperature without sacrificing flavor

-While blending, blend at the "low-medium" speed (on the Vita-mixalicious, level 4) until all of the ingredients are fully chopped and combined (about 2 minutes). After this point, increase the speed all the way to high and blend for an additional minute. If you try to go to high speed right away, all of the fruit will migrate to the bottom and get stuck. If things aren't blending smoothly, add a little more liquid.

-The cool thing about enjoying smoothies as meals is that you can customize them to fit your nutritional needs. I often suggest an extra smoothie to clients who are looking to gain weight. It provides extra calories, without actually having to *eat* them- you just make the smoothie in the AM, leave it in the fridge and make sure it's gone by the end of the day (in addition to the regular eats). If you're not looking to gain weight, smoothies are a great choice for a quick and nutritious meal.

-For some awesome smoothie combos, check out Show Me Your Smoothie 😀
Today's smoothie:
Chocolate Cayenne Smoothie

-1 C cold chocolate almond milk

-1/2 C water

-1/4 avocado (or 1/2 banana)

-1 scoop vanilla Sun Warrior

-1 T raw cacao powder

-1/2 T cacao nibs + extra for garnish

-1/2 t vanilla

-1/4 t cayenne (to taste)

-pinch of sea salt

-Stevia, to taste

Blend in the Vitamix and enjoy 😀

© 2010 The Fitnessista
Well friends, I'm off to the dentist to get a tiny cavity filled. The dentist looks like my dad, so I hope he does a good job and is gentle to my chompers 😉 Wish me luck!
My dentist reward: shopping and juice afterwards 😀
xoxo,
Gina
Something to talk about: What's your all-time favorite smoothie combo? Are there any smoothie-making tips that I missed?