Welcome to the s'more side
It's a stormy night over here- perfect for a rainy day workout, eh?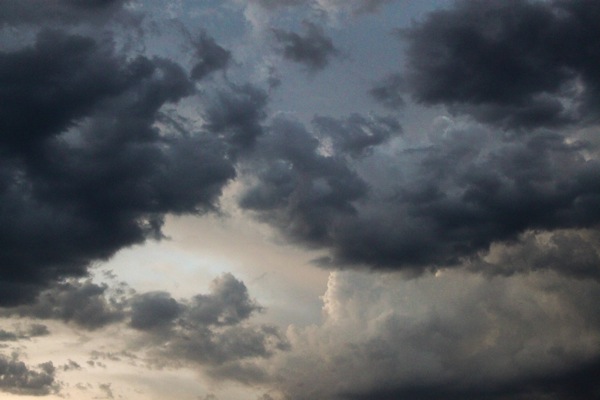 (Thank you so much to those of you who already did the workout and left your feedback! So glad you're loving it so far)
My friend Lisa spent the afternoon over here hanging out with Oliv and myself. Lisa is from Australia and had never had a s'more… until this afternoon.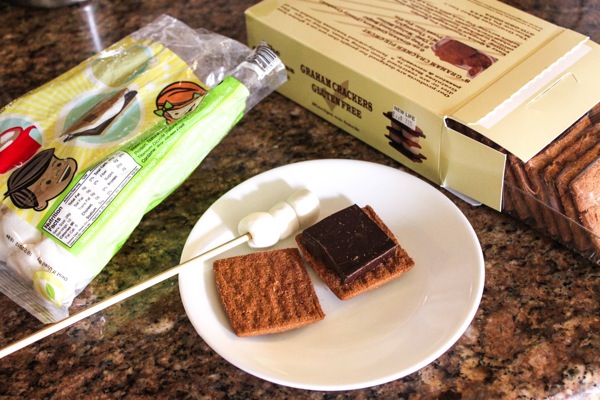 She now knows the trifecta of foodgasms- I was so excited to show her the way.
We talked about a lot of random things, and somehow got to talking about this movie and the fact that we're both obsessed about the Wizard of Oz:
(I can't wait to see it!!)
I used to watch Wizard of Oz over and over when I was little (and hide from the witch), Wicked is my all-time favorite book, and I've blogged many times about my great love for the musical. When the Pilot told me that he saw the preview for the above movie, I had to YouTube it right away. Maybe I'll even make it to the movie threatre for that one (I almost never go to movies since I'm now narcoleptic).
I snacked on a few of the chocolate chip cookies Lisa brought over, so was excited for a veggie-filled meal to wash it down.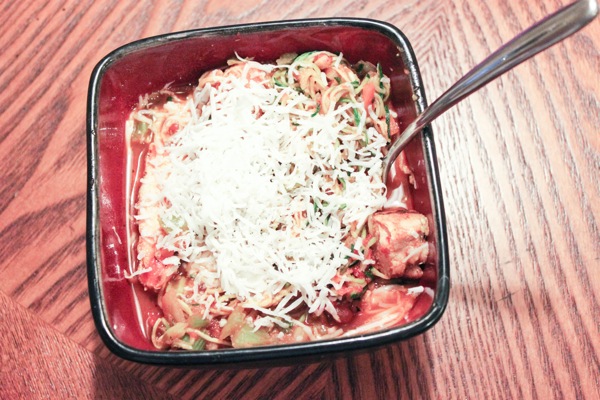 Not the most aesthetically appealing, but extremely flavorful, thanks to the leftover chicken the Pilot grilled last night. He seasoned it with a spicy meat rub and it was fantastic.
Just a little mirepoix in olive oil (I was forced to use a ton of celery since it's towards the top of the container and I was digging down for the onion and carrot)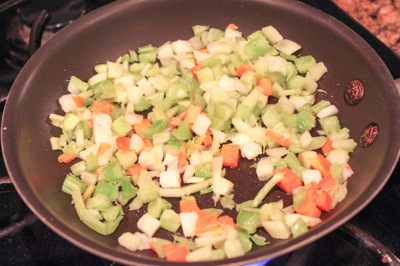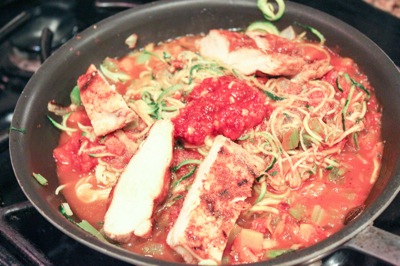 with two spiralized zucchini, a leftover chicken breast, marinara, garlic, and a spoonful of chili-garlic sauce. 
Hope you're having a happy Monday and I'll see ya in the morning with that "Save the Gym Hair" post- finally!
xoxo
Gina
Something to talk about: What is a food that you've introduced to a friend or family member? I'll never forget when the Pilot first had almond butter. I put it in his sandwich to take to work since we were out of peanut butter and he came home and said, "We might need to throw that peanut butter out. I think it's rancid." Haha
Something to think: