Reader's Request: Skincare
Hey everyone! How's your day going? Hope it's been bueno so far 😀
I've received a few emails like the following and figured it'd be a fun idea for a reader's request post!
Dear Gina,

Would you please do a blog post on what you do to take care of your skin? Guess I need to start eating more raw food because your skin is always GLOWING! Please share your skincare routine with us.

Thank you!

Katie
The thing is, my skincare routine is much like my life.. a little all over the place 😉
I really believe that if you take good care of your body by eating well, working out and minimizing stress, you skin will respond beautifully.
Here's a pic of me without makeup- the only thing I've got on is a little coconut oil on my lips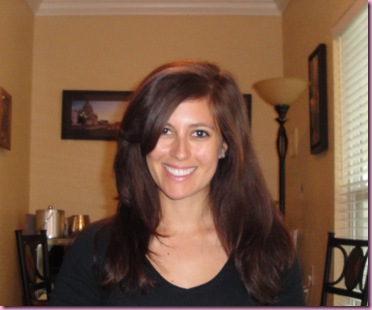 While I don't use a ton of products on my face –except for eyeliner, I look like a dead person without it- here are some of my favorite products: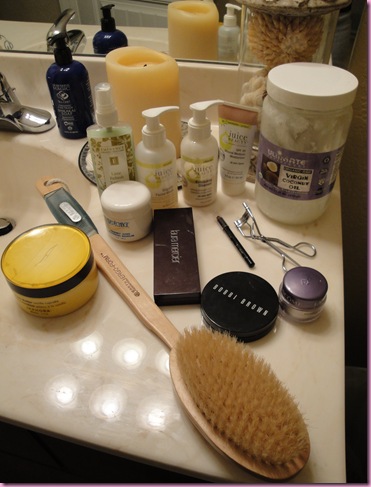 A GIANT tub of coconut oil.. it's a multipurpose beauty product but I use it the most as lipgloss and moisturizer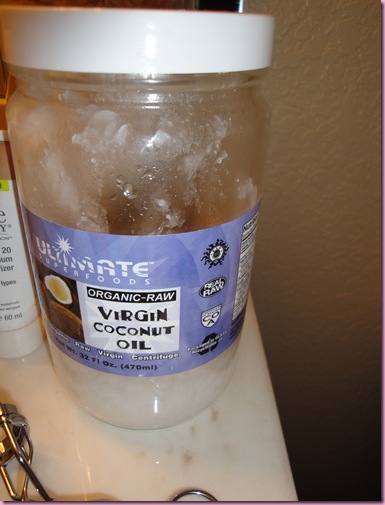 My Juice Beauty stash: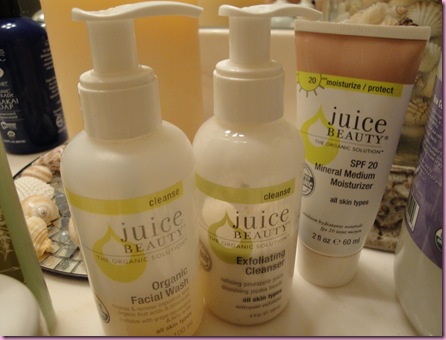 I wash my face twice a day with either the facial wash or exfoliating cleanser and wear the tinted SPF 20 moisturizer instead of foundation, every day. My skin is super sensitive and Juice Beauty is the only product I've found that works extremely well and doesn't agitate it. Bonus: it's ORGANIC 😀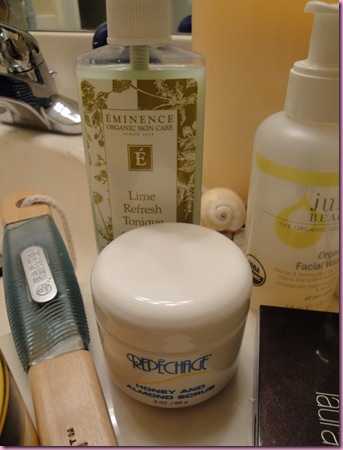 Eminence Oraganic toner (with lemon) that I spritz on if I'm not leaving the casa and don't need SPF, and Repechage honey almond scrub that I use once or twice a week. The scrub has real almond chunks in it and makes my face feel suuuuuuupa smooth 😉 My friend Ashley got both of these products for me and they're amazing.
Body butter, body brush, eyeshadow, bronzer, nighttime moisturizer, eyeliner and eyelash curler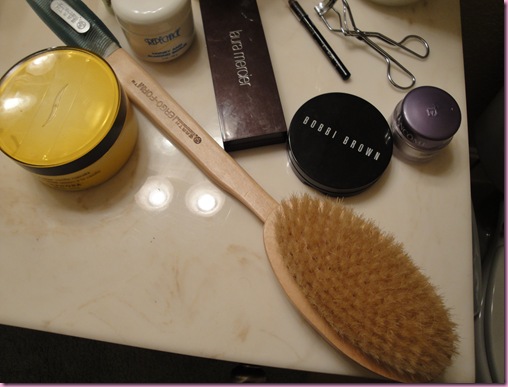 Remember when I was at school and said I kept forgetting to dry brush??? I've used it every day since then and LOVE it! It wakes me up a little before I take a shower and it's always nice to scrub off some dead skill cells 😉 for more info on dry brushing, click here
Also pictured above is my favorite body butter from Sephora (in vanilla cupcake, but I like the coconut cream one best), Laura Mercier eyeshadow, Bobbi Brown Bronzer, Lancome Renergie Microlift (the opposite of organic, but I use it before bed and kind of adore it), and Loreal kohl eyeliner(the best eyeliner I've found.. it's about $7 and worked perfectly for smoky eyes or thin lines).
So now that's you've seen my favorite skin goodies, here are my top tips for glowing and beautiful skin:
Drink LOTS of water! When I don't drink enough water, my skin is the first thing to tell me. Hydrate yo-self 😉
Get lots of nutrients from fresh fruits, veggies and juice. Vitamins and nutrients in fresh fruits and veggies improve skin's texture and elasticity and provide antioxidants. Antioxidants protect us from cancer and slow aging and disease progression.
Stress less. Easier said than done, I know, but once I start letting stress take over, little bumps show up all over my face. Take deep breaths, keep a schedule, and if something unexpected pops up, deal with it in the best way possible. Try not to get worked up over things you can't change.
Workout! Sweating helps skin rid the body of toxins and can aid in stress reduction. Exercise endorphins are great for skin as well 🙂
Hope ya'll enjoyed this post and if you have any reader's requests send them my way: fitnessista at gmail dot com
See ya tonight!
xoxo,
Gina
Something to talk about: Tell me about your favorite can't-live-without beauty product! I might have to give some new things a try 😉