Review: "Bringing Up Bebe"
It's no secret that I love to read. It's my favorite way to unwind at the end of the day -I try to go upstairs to read for 20 minutes or so before bed- and am usually reading an informational book and a fluff book at the same time. I like to think they balance each other out. Right now on the Kindle is "Fifty Shades of Lame" (I've pretty much given up on that one) and "Bringing Up Bebe," which I loved.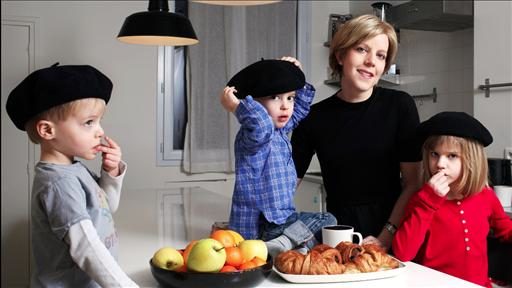 (Source)
The story is about an American author, who moves to France with her family (husband and young daughter) in order to observe how the French raise their children. While dining in a restaurant, she's amazed to see all of the French children are sitting patiently, waiting for their meal, while her two-year-old daughter screams and throws food. The difference between many American children and French children becomes obvious, and she's determined to figure out what strategies French parents use to raise, calm, patient and polite children.
While I enjoyed the book, there were a few things I didn't really agree with. While the clear purpose was to demonstrate the differences between French and American children and parenting tactics, the sweeping generalizations became a little annoying. Of course, there are always exceptions to the rule, and I'm sure there are foul-mouthed, impatient little French bullies, while the book almost made it seem like it's never the case. Also, some of the examples weren't measurable- more opinion than fact, as they were stated. Like, "French women do more work in the house but complain less than American women." According to whom?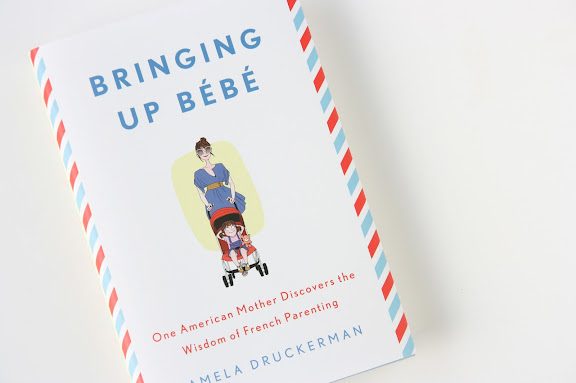 (Source)
Some of the things that really stuck with me:
1) The value of teaching patience and independence. I really liked an example of a little girl who was patiently making a cake while the mom did things around the house and the dad worked at his computer. There's a recipe (which is printed in the book) that uses a yogurt container to measure all of the ingredients, so it's easy for a small child to follow. I think it's important for children to be able to entertain themselves- when I was young, I used to love coloring or reading on my own. The value of patience is stressed, which is why the author claims that many French children sleep through the night within a few weeks of being born. Instead of running in at the very first whimper, the mom waits a couple of minutes, and usually the baby will fall back asleep on their own. This was a HUGE mistake I made in the beginning. Livi slept in the bassinet next to our bed, and since I was so afraid she'd wake Tom up, I picked her up with every sound she made. Sometimes she was actually making sounds in her sleep, and when I quickly picked her up, it woke her. That's why she wouldn't get in a full feeding at night sometimes and wake up hungry an hour later. Hindsight is always 20/20, eh?
2) A healthy attitude towards real food and treats. At the French nurseries (similar to day cares, but government-subsidized), the children are given a 4-course meal with a salad, cheese course, entree (fish or chicken) and a dessert (like fruit). Every day, they have an afternoon snack, called the gouter, in which dessert is usually served. French children are encouraged to eat the same food as their parents (no pizza and chicken nugget "kids meals") and get the opportunity to explore various ingredients. The author's daughter goes to visit her grandmother in the United States, who is excited to make her some American food, and makes her Kraft macaroni and cheese. The child says "that's not real cheese."
I think this is interesting because I've heard that if you focus on whole foods, it helps the child to enjoy vegetables, and if offered processed food might not even like it. 
3) The lack of mommy judgment. According to the author, if a mom decides to take her child to day care (it's FREE, clean, staffed by professionals with years of experience), give her baby formula (which is more popular after the first few months) and go to work, it's NDB. Most moms return to work within 4 months, and it makes it easy to continue her career with the high quality of day cares in France. 
4) The history scattered through the book. In the 1800s in France, many poor working women would outsource wet nurses to feed their babies as they returned to work. The babies were transported by wagons and many died on the way there. The French needed a safer option for women to take their children, and also have the ability to breastfeed in between her shift, so the creches (nurseries/day cares) were born. The man who came up with the idea initially appealed to the wealthy to help finance the day cares. He convinced them that by contributing, their funds were directly affecting the economy by enabling more people to work. From there, the nurseries eventually became government-subsidized and the waiting list is LONG. The author said that the only thing similar to the French day cares in the United States are the CDCs (Child Development Centers) on base (which are pretty incredible).
5) No MILFs. The term "MILF" (or something similar) doesn't exist in France, because it's expected for the mom to return to her pre-baby sexy self within 4 months of giving birth. The only thing I didn't like about this concept is the focus on "for the husband." How about getting back in shape because it makes you feel good? The book also talked about post-birth vaginal therapy… for the husband's pleasure. Interesting…. 
6) The focus on "education" instead of discipline. According to the author, French parents speak to their children with kindness, in a non-demeaning manner. Instead of focusing on the punishment for their actions, they focus on educating the child on why their actions were wrong. I think this is a fantastic idea and something I hope to do with Livi. There is also emphasis on the order of the family and fact that the parents are the ultimate decision-makers. A common phrase is "it's me who decides." The French are also apparently pros at making "the big eyes": your warning to know you need to stop what you're doing. I asked Tom to make "the big eyes" and he scared me a little. Livi's going to know what's up, haha. 
While the first 3/4 of the book focuses pretty much on why the French are better parents -she doesn't get into successful American parenting strategies until the end- I learned a lot from reading it. Of course, it's nice to think and plan about how we'd like things to be, but I've really learned to just take it day by day and do the best we can.
I also look forward to the day when Livi and I can make a yogurt cake together 😉
Have you read any fantastic parenting books? Anything wacko?