Heyyyyyy 😀 HAPPY SUNDAY! How are you? I am bueno- we're having a blasty in Tucson 😀
I promised shenanigans…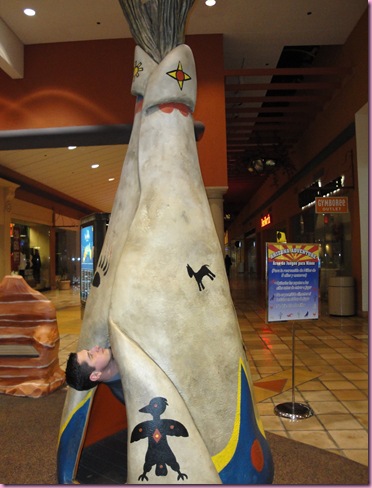 There ya go 😉
We had a pretty busy day yesterday, so here's a boatload of pics from the extravaganza 😀
We slept in (glorious!) and the madre made a meaty egg feast for everyone else, and some sauteed veggies for me.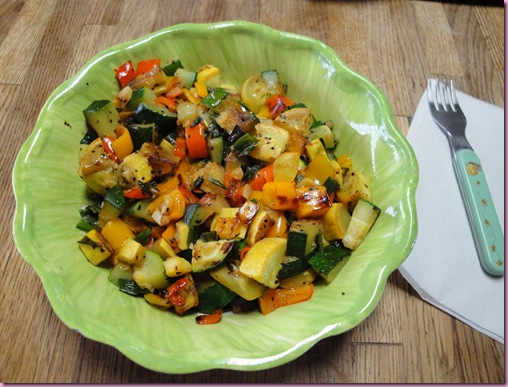 The veggies were perfect, but I kept staring at the Funfetti Bundt that nana made- it was making googly eyes at me 😉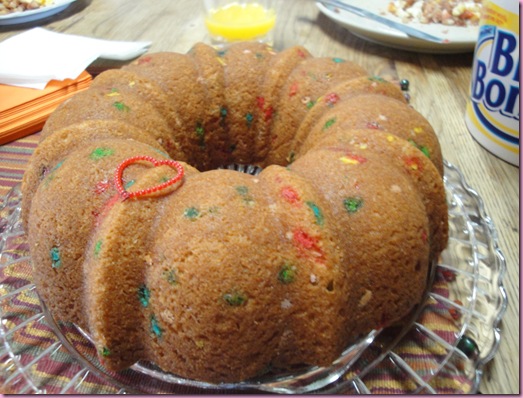 So the pilot and I split a piece with our bfast 😀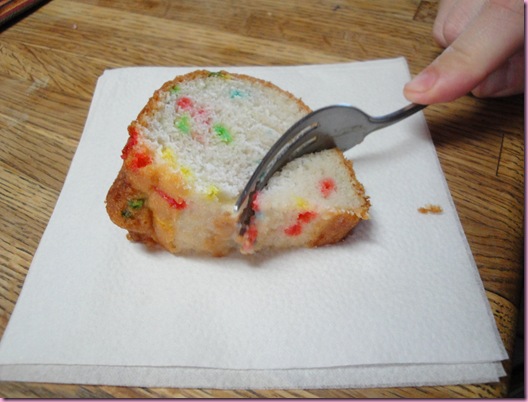 Funfetti, how I love thee.
We hit up the gym for back, biceps and abs (a little cardio), and then I munched a little fruit when we got back to the casa.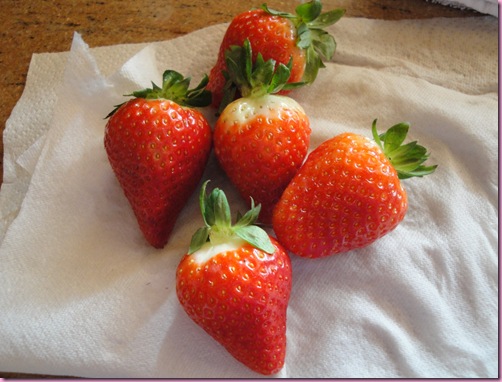 Next, the pilot and I met his friend Robbie at another one of our Tucson favorites: OREGANO'S!!! (Home of the pizookie! Pizookie! Pizooooookie!)
The portions, much like the menu, are GIGANTIC.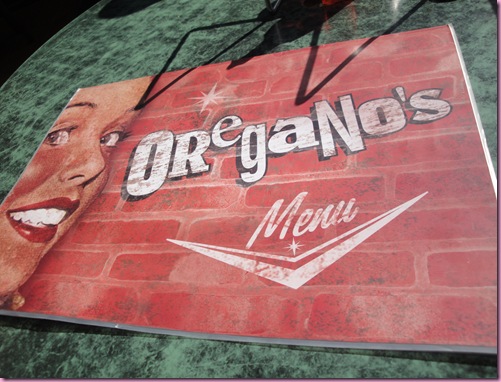 I was a pleasantly difficult customer –as I always try to make up my own meal as politely as possible with a smile on my face- and ordered what became the best salad I've ever had at a restaurant.
The Oreganos' favorite (with roasted red peppers, sundried tomatoes, kalamata olives, goat cheese instead of feta, no raisins, no pinenuts, and grilled shrimp instead of chicken, no dressing).
This was the JUNIOR size!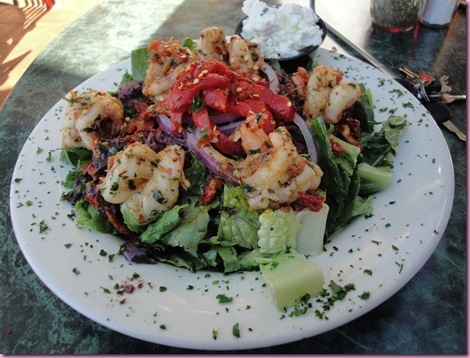 They even put the goat cheese on the side for me 😀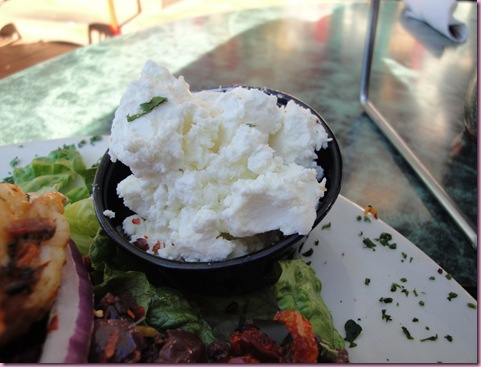 I killed it while the boys devoured their stuffed mushrooms and pan pizza.
It was a foodgasmic glory 🙂
After our feast, we came back to my mom's, took showers, got ready, chilled for a little while and then went to my dad's house to see my nana, dad, stepmom, little bros and their two dogs (we brought Bella with us to see her friends).
My stepmom, who is a fabulous hostess, set out a beautiful spread of snackies.
Veggies and hummus: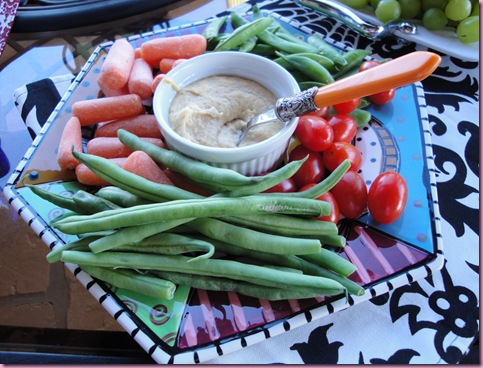 Fruit and dip: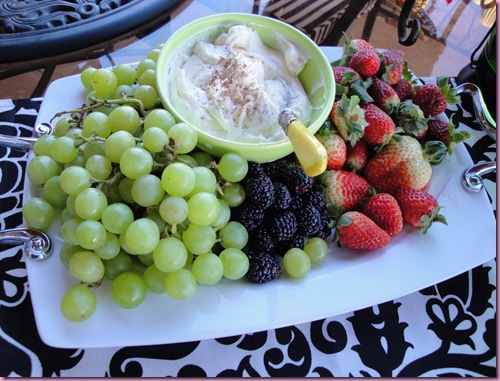 Olive tapenade, crackers and cheese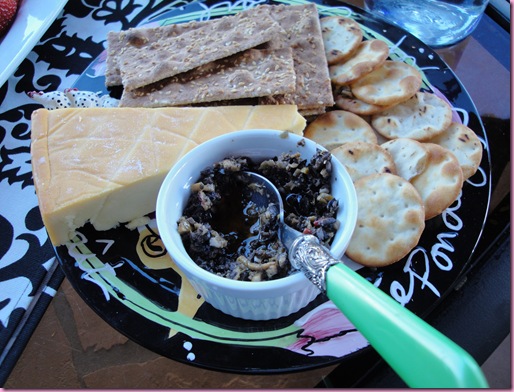 And the best whole grain, freshly made cookies I've ever had. Ever.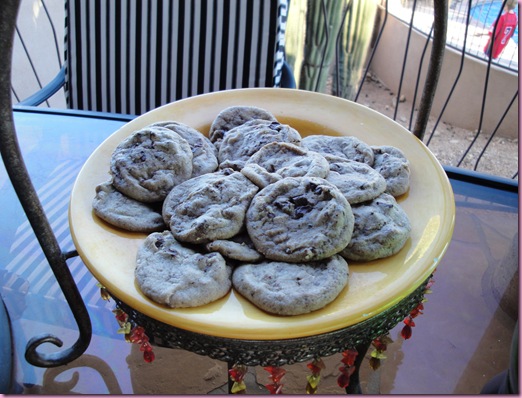 I had two along with my veggies, hummus and fruit. They were still warm… amazing 😀
We sat on the patio where my dad had built a fire, snacked and chatted for a few hours. It was wonderful!
After my dadoo's, we met up with everyone to go shopping at Foothills Mall.
I got a few things 😉
Since there's a Sushi Garden attached to the mall, we all ate there since the pilot and my brothers wanted sushi.
After last week's sushi disaster, I wasn't really feeling like sushi.
So I had some seaweed salad: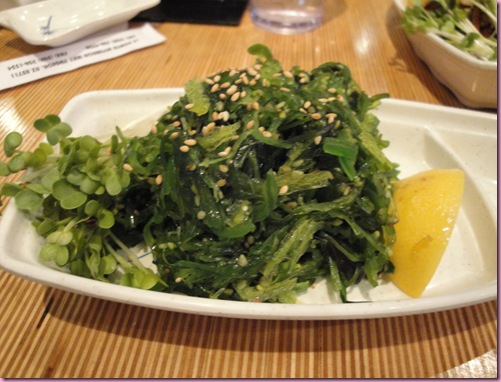 Squid salad: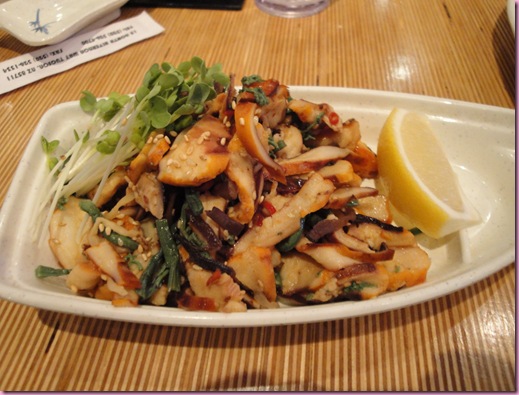 Miso soup: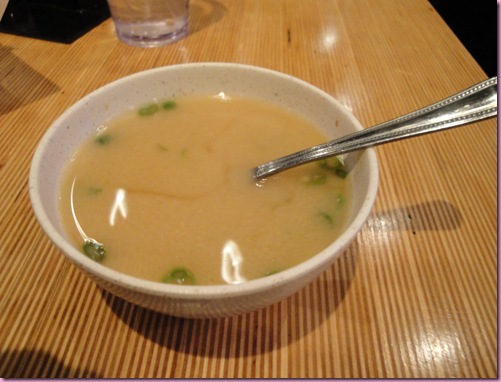 And edamame: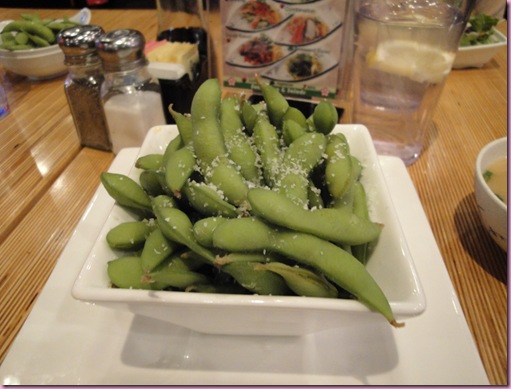 As you guys know, I don't usually choose to eat soy since most soy products are highly-processed. Lately, I've been craving it like you wouldn't believe. The tofu in the miso soup was so buttery and fabulous, so I'm thinking about adding tofu back into my like in moderation, because I really do love it. I'll talk a little more about this next week when I get back from vacay 😀
Well the pilot and I are getting ready to hit up Sabino Canyon for a 9 miler, and then going to see my great-grandparents. For lunch, we're going to check out an awesome vegetarian restaurant 🙂
See you tonight!
xoxo,
Gina
Congrats to all of the lovely ladies who ran the Disney Marathon this morning!!! <3 Especially my twinnie friends, Caitlin, Meghann and The FBGs!