Can you believe that I've actually started to not mind waking up early in the morning? (Note: I didn't say "I like" it, but for me to go from utter loathing to not minding is a huge deal haha.) It's so much easier to be productive and plan out the day, and by the time Liv goes down for her first nap, it's still pretty early. 
Last night was her first sweet potato experience and she LOVED it.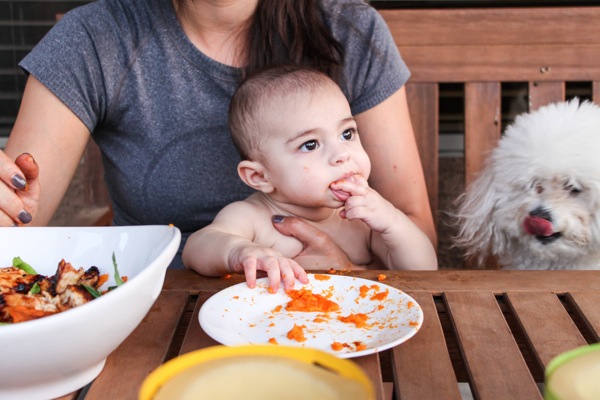 I had it on a plate in front of her, and after I helped her figure out what it was and gave her a couple of bites, she went after it. It was the cutest thing ever, and note Bella in the photo, anxiously waiting for any casualties.
She had her own chicken and sweet potato, too, but inhaled it within 4 seconds. I always have to remind her to chew.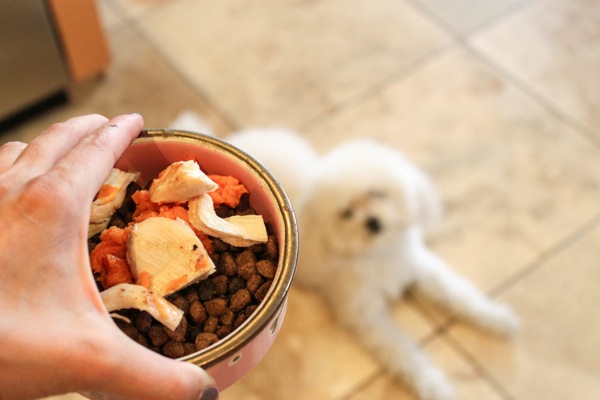 Before our dinner, we had absolutely no groceries, so the Pilot was so kind to go pick some up. I appreciated it so much because it gave me the chance to chill for a sec and hang out with Liv after a long day of teaching, and he always surprises me with what he buys when he grocery shops. I really wanted Popchips, so he bought 3 different flavors (sweet potato, salt and vinegar and BBQ)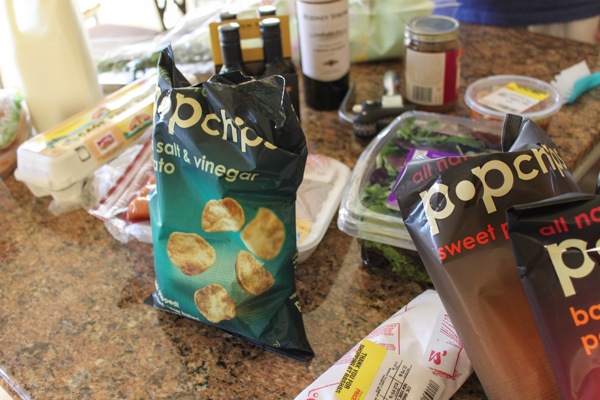 (I busted into the salt & vinegar as soon as he got home)
also in the mix: a gorgeous bouquet of flowers, Endangered species chocolate bar and a new jar of almond butter because I was out, 
+ ceviche and wine for appetizers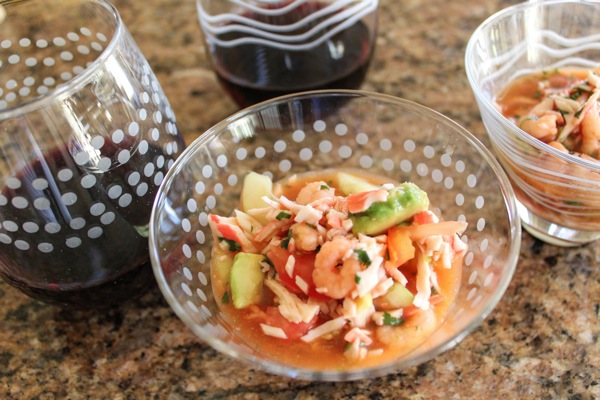 Steak for the mister, chicken for me, sweet potatoes for both of us: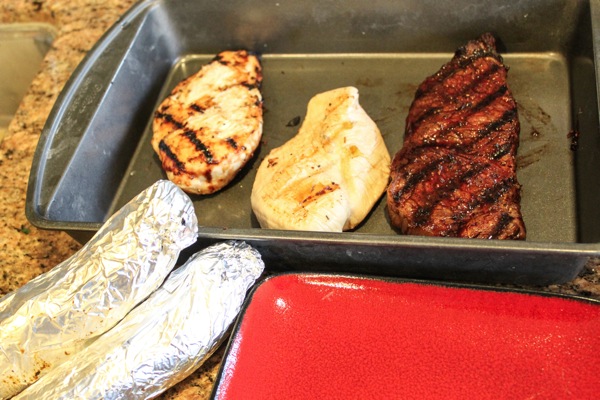 (Chicken in the middle was plain- 1/2 for Bella and 1/2 for me to eat on a salad or in a wrap today)
I put both the chicken and sweet potato on top of greens and covered it with balsamic vinaigrette- it was amazing.
Today, we're going to go to the park before it gets too hot, and maybe enjoy a date night tonight.
Hope you have a wonderful Sunday!
xoxo
Gina
Summer Shape Up 2012 officially starts TOMORROW! All of the details will be up then, but I wanted to try and get the grocery list and meal plan up by this morning for those of you who like to plan ahead and grocery shop on Sundays. If you're participating in the Shape Up and want to follow along with the meals, here's the full list of meal ideas and groceries for the first week 🙂
****After your grocery shop and/or prep for the week, leave a comment here to check in!! Let me know what your plan is, what you did to prepare for the week and/or a meal or recipe you're excited to make.