Roon winners + My Manifesto
Hey friends! IT'S FRIDAY 🙂 Happy weekend to ya.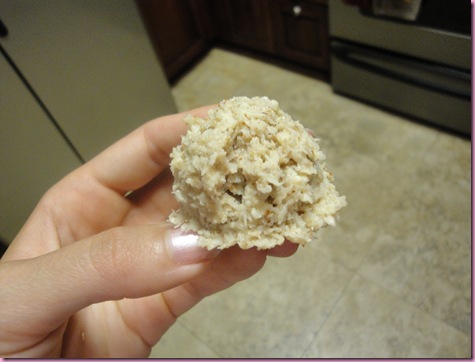 I still can't believe the redonkulously awesome amount of roon entries. It wouldn't be right to pick just one winner, so I picked two 😀
Congrats to:

and

Send me your addresses to fitnessista at gmail dot com (+ any foodie likes/dislikes/nutrition prefs) – I'll make your roons this weekend and will get your goodie packs together.
Thank you SO much to all of you for entering! <3 Expect more roon giveaways in the future fo sho 🙂
At lululemon, we have a manifesto: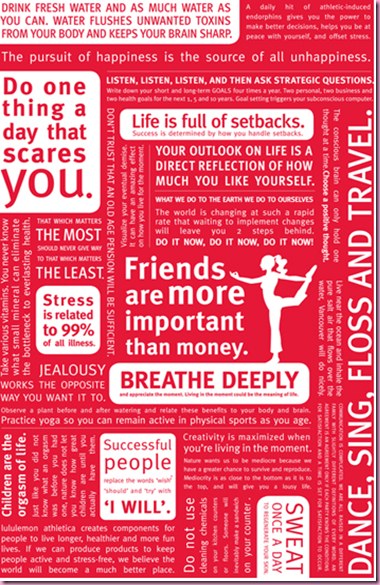 manifesto
These powerful quotes are a great way to initiate conversations with guests and serve as friendly tips and reminders for a happy, healthy life.
When I put the call out for reader's request ideas the other day, someone suggested that I do a top 10 list of my favorite health/fitness tips. I decided to take it a little more general and do my top 10 list for everything and anything – almost like my own manifesto 🙂
1. A salad beast a day keeps the munchies and boredom away. Salad beasts are my all-time favorite lunch or dinner. There's a thousand different combinations out there, and an easy way to get a ton of nutrients. A properly balanced salad beast will keep you full and satisfied for quite a while.

2. Get a pet – they make life richer and more fulfilling.

3. Splurge on classic, save on trendy. I like to think of my clothes in "cost per wear" – if it's something that I'm going to wear over and over, it's worth the extra dinero, instead of a trendy top or dress that I'll wear once or twice. Workout clothes count, too. If I'm in athletic clothes every day, you can bet your luon-covered booty I'll be making sure it's quality stuff 🙂

4. Move everyday. It can be intimidating to begin a fitness program because many people believe they need to go balls to the wall everyday to make it count. So. Not. True. Just MOVE everyday – it will add up and I promise you'll feel a difference in your energy levels and jeans size. There's no need to go crazy with the exercise if you're combining it with healthy eats.

5. Make time. As a busy bee myself, I know how it feels to have a schedule that's bursting out of the seams. However, when it comes to friends, my husband and family, I make time. My friends know that if they need me, I'll be there in a second, and the Pilot knows that I'm down for a random date or movie night anytime. At the end of my life, I'm going to look back at all of the fun I've had and be thankful, not at how much I worked.

6. Get yo juice on. Having a daily juice does wonders for my skin and is an easy way to get fruit and veggie servings. Oh, and it tastes foodgasmical.

7. Devote yourself to a regular yoga practice. You'll stretch, focus, prevent injury and learn valuable lessons that are applicable to everyday life. Yogi falls. Yogi gets back up. Yogi transforms into a stronger person. 🙂

8. Treat everyone you meet like they have 24 hours left to live. Kindness goes a loooooong way.

9. Get what you want out of life- obstacles just make the ride more exciting. Have a clear vision of what you want to accomplish, declare your goals, draw on others for support and GO for it.

10. Dating a loser jerk? Dump him, ASAP. I promise that there's someone out there who will treat you like a queen.

Before I met the Pilot, I was in a two-year relationship with a crazy person, who harassed and verbally abused me. When I finally broke ties with him, I thought my life was over. I was heartbroken and had little self worth – it was a very bad summer. Two months later, I met the Pilot at Starbucks! Everything happens for a reason <3
What tips or quotes would you include in your manifesto??
I can't wait to read them 😀
Enjoy your morning and I'll see ya later today!
xoxo
Gina