Hiiiii friends! Hope you're enjoying the morning. I'm moving in slow motion because I had a lovely night of food poisoning. We had an amazing time with Heather, Scott and their friends Kylee and Joel at the Joint for drinks and dinner. (I Snapchatted Scott's mad sake bomb skills haha.) The Joint is one of our favorite funky OB spots, as they serve tapas and sushi, but I probably won't be getting the Poke bowl again. I feel like maybe they used it for fish they wanted to get rid of? And I'm done writing about that now that my skin is turning green again.
Moving on….
Today I thought I'd share a Musical Strength workout. As you guys know, I LOVE love love musical cardio as a way to change up your cardio routine and use the music to guide your workout. It makes the time fly by, and for me, it's also extremely motivating. I think this is why I love teaching music-driven classes so much, like Spin. I put my heart into creating an awesome playlist for each class that will pump people up and motivate them to work harder.
The same goes for strength. When I first tried BODYPUMP, I was blown away by how brilliantly the exercises coordinated with the music. As a dancer, I really enjoyed this new-to-me choreographed strength training, and class ended way too quickly. I enjoyed the instructor training process and am always a little giddy when a new release pops up on the instructor site.
I put together a BODYPUMP-esque strength workout to share with you. The main differences: it isn't as complex as a BODYPUMP track (no drop and holds or tempo changes; it's all 2-2 or pulsing movements), and there are cardio blasts, which will increase your heart rate, given you an awesome sweat, and torch serious calories.
Here it is if you'd like to give it a try!!
The music:
(I would love to put together some video workouts like this, but am not sure how to do it because of copyright issues. YouTube will undoubtedly block it. Please let me know if you have any ideas!)
The workout: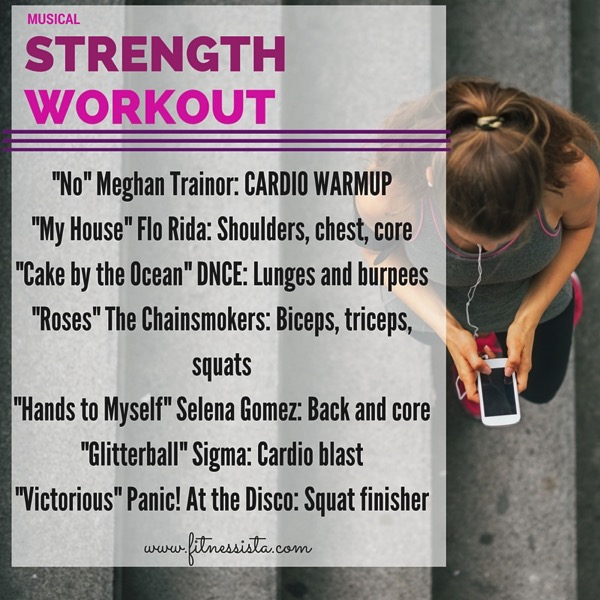 Workout guidelines (as always, talk with a doctor before making any fitness changes. Honor your body and modify when you need to!)
"NO"- Use this song as a cardio warmup. Hop on the treadmill, go for a short walk/jog, or Stairclimber.

"My House:- During the first verse, do upright rows, slowly and with control, heavy weight. Chorus: push-ups, as many as you can do and modify as needed. Second verse: lateral raises. Chorus: push-ups. When you need a break, take it into a plank. Do 3 sets of 12 chest presses for the rest of the song.

"Cake by the Ocean": walking lunges during the verses, burpees during the chorus. 🙂

"Roses": for the first verse, do heavy biceps curls. During the chorus, do as many controlled weighted squats as you can. For the second verse, do overhead triceps extensions. Squat during the second chorus. Next, do 3 sets of 12 triceps dips. If you have time leftover, hammer curl until the end of the song.

"Hands to myself": during the first verse, do heavy bent-over rows. For the chorus, go for as many V-ups as you can. Next verse, do bent-over flyers. For the following chorus, try, plank with hip dips. To finish the song, deadlift, heavy, until it's over.

"Glitterball": Cardio blast! Hop on the treadmill, rower, Stairclimber, or jump rope and keep a steady quick pace for the entire song.

"Victorious": weighted squats during the verses (aim for 12, and then rest until the chorus). Squat jumps (or quick bodyweight squats) during the chorus. Repeat until the song is over. 🙂

Cool down, stretch!
Let me know if you give it a try <3
What's your current favorite workout song? I'm still obsessed with "Till It Hurts" by Yellow Claw. It makes me run faster every.single.time.
xoxo
Gina
More:
Musical cardio ideas here, here, here, here and here.