Thursday! Almost the weekend, night of our work dance recital and the Pilot's last workday before his long weekend – I'm a fan of that 🙂
I don't have anything to exciting to show you on the food front, besides the things I didn't make: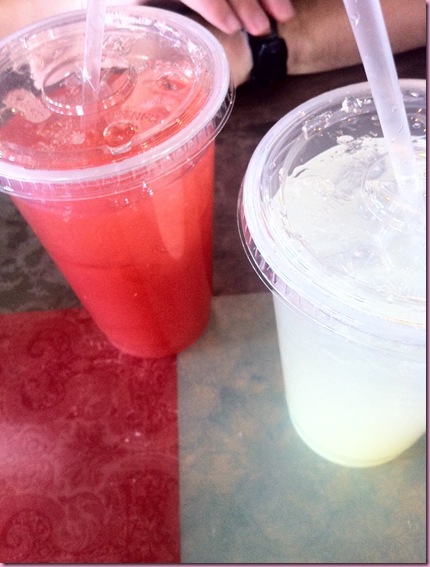 (Stevia sparkling lemonade! So refreshing… I can't wait to make a version at home)
Salmon burger atop salad with sweet potato fries and curry aioli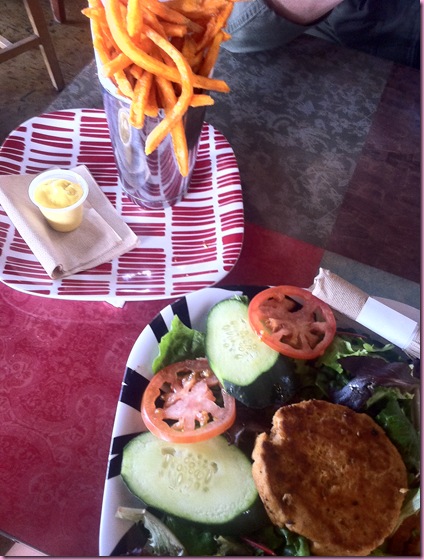 (both from Create Cafe)- a little lunch date with Liv and the Pilot)
so how about a workout instead?
Even though May is 1/3 of the way over, that there are still 9 max opportunities to do this workout in May if you'd like (2-3x week). I thought it would be fun to do a fast and furious strength circuit, followed by some HIIT cardio of your choice.
[print_this]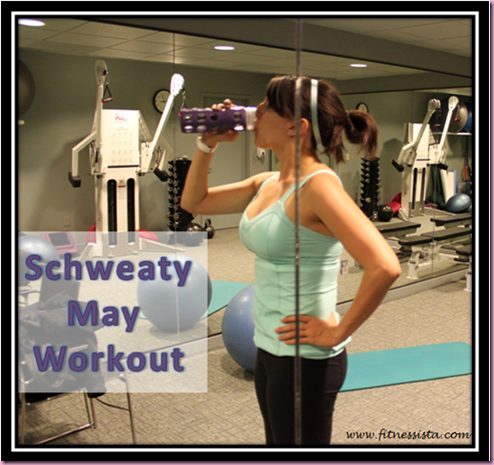 As always, check with a doc before making any fitness changes. Honor your body and injuries- if it hurts, don't do it.
The exercises:

– 5 minute cardio warm-up. Cardio of choice, moderate intensity.

3 sets of 12-15 reps of the following:

– Squat and press. Holding a pair of dumbbells, come into a squat, pushing your booty back, keeping the weight in your heels, abs tight and chest lifted. Come up to standing and bring the dumbbells into a shoulder overhead press.

– Bent-over fly with leg lift. Grab a pair of light dumbbells (I like 5s for this one) and come into a prep: weights at your sides, bodyweight in the front foot and the back toe lifted. As you come up into your leg lift and bent-over fly, keep your hips parallel to the floor and don't let your arms extend up higher than your shoulders. Keep a slight bend in your elbows.

– Curtsy lunge with bicep curl and lateral raise. This is a fancier version of the curtsy lunge and knee lift I posted the other night, because you get in legs, biceps, core and shoulders all at the same time. As you lunge, you'll bring the dumbbells into a bicep curl and as you knee raise, bring the dumbbells up into a lateral raise.

– Stability ball push-up. The closer the ball is to your ankles, the harder it is. Need an extra challenge? Try lifting up one leg.

– Stability ball back extension. As you rise up, make sure to think about your low back (contract your abs and exhale as you come up). Do not hyperextend you back and keep your elbows out to the sides, in line with your ears.

– Stability ball leg lifts. Be sure that you don't touch the floor as you lower the ball down. Keep your arms, palms down, at your sides, or under your low back for extra support. Challenge: lift your head and shoulders off the ground and keep them lifted the entire time. As you bring the ball up, rotate it to the right and left for a bonus oblique burn.

HIIT:

If you'd like, follow the strength portion with 20 minutes of High Intensity Interval Training. 1 minute 30 seconds easy (light jog or power walk), and 30 seconds HARD (as fast as your legs will take you). For the "hard" portion of the interval, you can increase speed, resistance or a combo of the two. You should be huffing and puffing!

Cool down and stretch.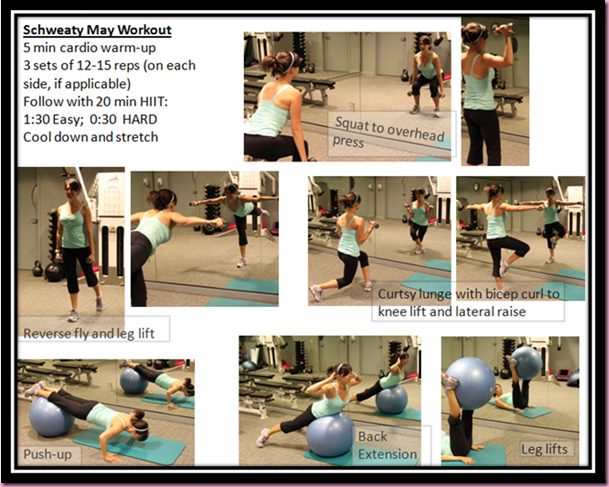 [/print_this]
So who's in?
No Schweaty Workouts for June and July because we'll be started this year's Summer Shape Up. Please let me know if you have any requests 🙂
Have a great day! <3
See ya later with some pics (maybe some video, too) from the dance show.
xoxo
Gina
#smoothieaday in May!
-1.5 C almond milk

-1 C frozen mixed berries

-1/2 frozen banana

-1/3 C oats

-2 T hempseeds

-1 scoop Sun Warrior

-Stevia, cinnamon

-handful of spinach
Something to think: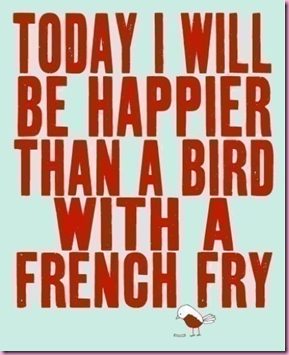 Source