Spring Solo Spin Workout (+ playlist)
Hiiiii. What have you been up to today? I'm just returning back to the world after totally crashing out while putting Liv down for her nap. We read some books, laid down, and were both zonked within a couple of minutes. Definitely recovering from a full weekend of adventures. 😉
I hit up the gym this morning to get in a little treadmill workout. It's always a little tough to get in a workout the day after teaching two classes, but I always feel better afterwards. It's a great way to shake that bit of soreness away.
I alternated two minutes of running with two minutes to incline walking for 45 minutes, while listening to the POSH podcast and praying my phone didn't fall off the treadmill repeatedly like last time. The gym will be DEAD silent, minus the sound of my phone crashing to the treadmill belt and thumping to the floor while I scramble to chase it down. Embarrassing.
We're having a major banana bread moment over here.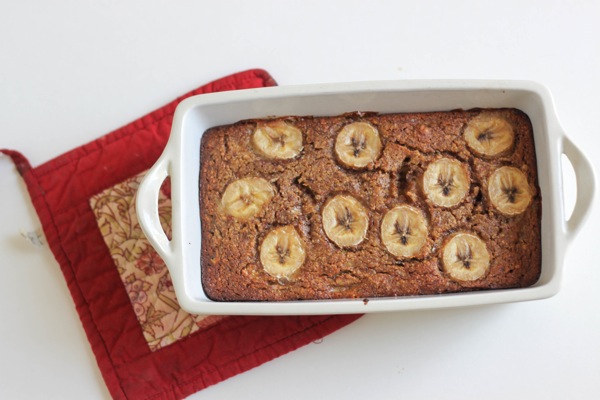 Bananas tend to brown way faster than we can eat them, but the answer is always banana bread. This one is SO GOOD, especially heated up with a little butter… or my weird bread trick: chopped in a bowl, topped with almond milk and berries. I know, it sounds bizarre, but I promise it is amazing.
Liv and I made a stop at People's. The gorgeous purple trees are already blooming,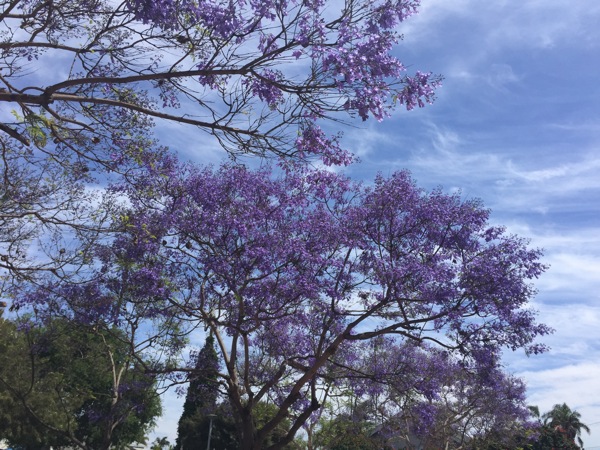 just as they were when we first moved here last year. We got some butternut squash soup (which was glorious), a couple of necessities, and this ingredient for dinner tonight.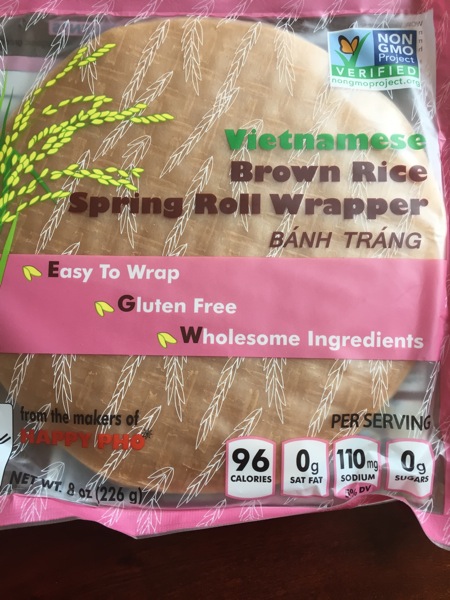 We've having chicken and mango spring rolls with spicy almond butter sauce. Yesssssss.
Since the ol' spin playlist got revamped last night, I thought I'd post it if you're looking for new songs. I got a couple of the new songs from Lacey Stone's Facebook page and LOVED them. It's amazing what some new music will do!
Below are some musical cardio guidelines if you'd like to incorporate them into your own workout. It's a great way to make the time fly by! You can do this on the treadmill, spin bike, or elliptical.
1) Budapest (Remix): Use this as your warmup song. Set up some proper form, focus on breathing to get some oxygen to your muscles, and find a steady moderate pace and resistance.
2) Lean On: moderate climb. You're still warming up the legs, so find a moderate resistance and build from there, maintaining the same pace.
3) Let the Groove Get In: tempo work. Each time the chorus plays, find a quick, uncomfortable pace and maintain it. Each time you do this, increase your pace. Recover during the (short) verses. Keep a low resistance the entire time, but make sure you do have resistance/incline.
4) GDFR: heavy climb. Find a steady pace you can maintain. Every time he says, "Goin' down for real," add resistance. Do this until you can't take it anymore and hold it here. Lower the resistance and repeat.
5) Recess: sprints!! 30 seconds as fast as you can go, 30 seconds of recovery for the entire song.
6) Jump (For My Love): (note: I like the Pointers Sisters version MUCH better but the widget builder didn't have it) recovery song. Use this song to shake your legs out, with an easy pace and incline. If you're feeling extra energized, hop off the treadmill and do burpees during the chorus, step in place during the verses.
7) Hear Me: climb with tempo work. Find a moderate incline/resistance during the verses and a slower, steady pace. During the instrumental breaks (you'll know it when you hear it), crank up that resistance and crank your pace. Keep it up, and recover during the verses. If you're on the spin bike, you'll take it out to position 3 as you increase the resistance and pace; sit for the verses.
8) Lacrymosa: heavy climb. Take the first minute to find your most challenging incline with a moderate pace. Hold this for the second minute. Next, decrease your incline and pick up your pace. Finish with a strong, quick pace.
9) Bills: recovery song. Use this to get your heart rate down (stay in the working zone). If you're running or walking, find a nice, easy pace and resistance. If you're on the spin bike, alternate between seated in position 1 and standing on position 2, with enough resistance to support your body weight.
10) Come With Me Now: climb. Try to keep the beat of the song the entire time. Every 30 seconds, increase your resistance. Maintain it at your most challenging point for the rest of the song.
11) Beat It: sprints! Easy pace and incline/resistance during the verses. During the "beat it" chorus, sprint your little heart out.
12) Everything: recover and stretch.
Let me know if you give it a try! What's the last "power song" you added to your playlist? For me, it was definitely "Djembe Beats" by Del Gado. It's entirely instrumental, and has awesome djembe drums. PERFECT for sprint intervals. Don't forget to check in with today's workout here!
Have a great night and I'll see ya tomorrow. <3
xoxo
Gina
Head's up! SHOPBOP's friends and family started today. Just use the code "SPRING25" to get 25% off at checkout. During their last sale, I picked up this maxi and this tunic (<— marked down now, too). They have a lot of amazing stuff!