Nice Walmond + Solo Spin #2
Hiiiii 😀 How are you?? Things are bueno over here, just made a batch of walmond butter 🙂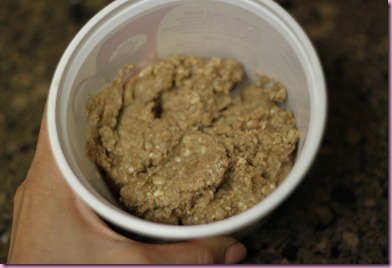 Since we're moving in about a month and have a surplus of food (including a freezer full of raw nuts!) it's time to get a little creative 😉
I used equal parts walnuts and almonds for the walmond butter, along with cinnamon, sea salt and vanilla.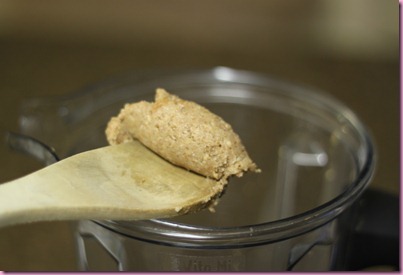 Thanks to your lovely suggestions, I just let the Vita run on low and work its magic, despite my urge to crank it up. Patience is not my virtue, but I was rewarded with lovely walmond butter for waiting 😉 I can't believe how easy (and inexpensive!) it is to make your own nut butter at home.. especially when you go through a jar each week. Heh heh.
Lonchi today was a fiesta salad: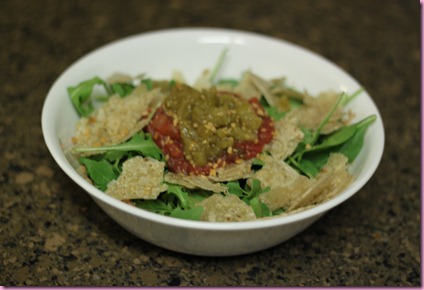 -Spinach + arugula
-Veg refriend beanies
-Salsa and green chilies
-Brown rice tortilla
and a little later, dessert: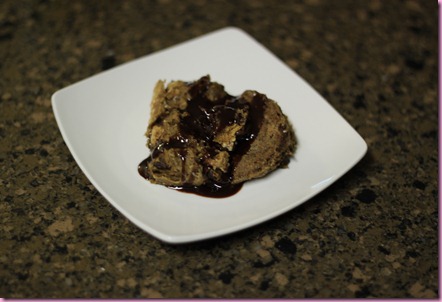 Chocolate chip vegan mug cake! (nixed the cacao powder)
*Word to the wise: don't skip out on the chocolate chips if you make this! They *make* the cake 😀
Workout today was a 30 minute pilates sesh and 30 minutes of Zumba practice. I have to audition to teach in Orlando, so I'm trying to get ready! (I'm a lil nervous) As much as I want to TurboFire, I'm taking an easy week this week- my body is asking for it, so I'm listening.
Speaking of workouts….
Time for SOLO SPIN SESH #2!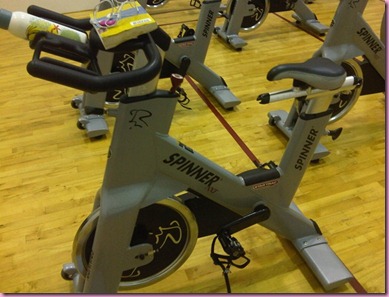 (You can find solo spin sesh #1 *here*)
The playlist:
1. "I Like It" (ft Pitbull) Enrique Iglesias OR any song that will pump you up!!! –Warm Up
2. "Club Can't Handle Me" Flo Rida – Easy Run
3. "Dynamite" Taio Cruz -Jump
4. "Teenage Dream" by Katy Perry –Climb with tempo
5. "Animal" Neon Tees –Sprint
6. "DJ Got Us Fallin' In Love" (ft Pitbull) Usher –Easy run
7. "Airplanes" (ft Hayley Williams) B.o.B –Easy Climb
8. "All I Do is Win" (ft T-Pain) *choose clean or explicit version* DJ Khaled –Heavy climb, stand and hover
9. "Mauja hi Mauja" – crunches on the bike
10. "One" Swedish House Mafia [Radio Edit] –crazy sprint
11. "Glitter in the Air" Pink OR any pretty song that you love –cool down
The workout:
Disclaimer: Please take quite a few spin classes from an instructor before attempting this workout on your own. Many things go into play with spin, like proper bike set up and positioning, so please make sure you know good form and how to set up your bike before attempting to spin on your own. As always, check with a doc before making any changes to your fitness routine.
Resistance guide:
-Level 5- You can feel the resistance, like you're biking down the road, but could maintain a quick pace easily
-Level 6- More challenging but not too uncomfortable
-Level 7- Challenging and a little uncomfortable to maintain a fast pace
-Level 8- Very challenging
-Level 9- Extremely challenging—one more turn and you wouldn't be able to move your pedals. Make sure to pedal smooth circles with this high of resistance
In between songs, take off all the resistance (unless otherwise noted) and get a sip of water—make sure to keep pedaling
1. "I Like It"
Warm up
Resistance level 5- Use this song to get ready for your spin sesh- take some deep breaths, do some stretches on the bike and pump yourself up
2. "Club Can't Handle Me"
Easy run
Start seated with resistance level 5 for 1 minute; increase resistance to level 6-7 (enough to support your body weight), stand up and run for 30 seconds, sit for 1 minute, increase resistance one more time and stand for the rest of the song
3. "Dynamite"
Jumps
Start seated with resistance 6-7, sit for 8 counts, stand for 8 counts, repeat 4 times then reduce standing and sitting times to 4 counts, then 2 counts, the 1 count (up and down fast)—be careful not to sit down too hard, "float" down
4."Teenage Dream"
Climb with tempo
Seated resistance 7, keep the beat of the music. At 35 seconds, increase the resistance and stand. For the chorus: speed it up
Increase resistance (level 8), take it out to 3rd position and sprint the chorus. Sit (don't touch the resistance) and sprint for the chorus
5. "Animal"
Sprint
Seated, level 5 easy resistance and quick tempo. Sprint for each chorus. If you're feeling fiesty, add some resistance after each chorus
6. "DJ Got Us Fallin' In Love"
Easy run
Take this as an easy song and run standing on the bike and seated with level 5-6 resistance. Drink some water and get ready for the last 4 intense songs
7. "Airplanes"
Climb
Seated, level 7. Keep your abs tight and maintain a steady pace to the music. At 1 minute, increase resistance to level 8 and keep your tempo to the music. At 2 minutes, stand (position 2) and add 1 more turn of resistance; keep it here until the end of the song and do not decrease your resistance for the next song
8. "All I Do is Win"
Heavy climb
Have a seat with resistance still at 8. Keep it seated until the lyrics say "up"- stand and hover (no upper body movement) until the end of the chorus. Take it out to third position, crank the resistance (level 9) and when they say "up", stand and hover again
9. "Mauja hi Mauja"
Crunches on the bike
Stand and take resistance down to level 6, fast tempo. After 1 minute, take it out to 3rd position and "crunch" on the bike (use your ABS!), up and down for 30 seconds during the chorus. Bring it back up to 2nd for 1 minute and repeat crunches – go with the music and have fun with it!
10. "One"
Last sprint
Have a seat, take resistance to level 5-6 and keep a fast tempo. Every 30 seconds, pick up your pace until you're at a full out sprint—keep it until the end of the song.
11. "Glitter in the Air"
Cool down
Low resistance 4-5, pedal slowly and take deep breaths, focusing on getting your heart rate back down. Stretch on the bike and off the bike
I hope you like the spin workout! <3 Please let me know if any of ya'll try it or use it for your spin classes.
Time to head back to work. Have a lovely night!
xoxo,
Gina