Hi friends! How's the morning going? Hope you're having a lovely day so far! The weather has been gorgeous, so I'm excited to take the pups for a nice walk and enjoy a good stretch.
It's been a while since I've been in a solid stretching routine, and I'm trying to get back into it because I've noticed that I have mild upper cross syndrome (my head slightly shoots forward, and my shoulders round), which I'm working to improve. In a nutshell, my levator muscles and chest are tight and need to be stretched, and I need to work strengthening my upper back to help pull my shoulders back. (This video explains it well, if you're curious to learn more.) Years of bad posture -despite dancing forever, once I walked out of the studio my posture went out the window- has taken its toll and I'd like to work on improving it. If you see me out and about and slouching, feel free to give me a little poke bahahah.
The research is mixed on stretching; some sources indicate that it's a great way to prevent injuries and reduce soreness, while others claim stretching can be ineffective. My thoughts: if it feels good, it works for you, and you like it, DO IT. I find stretching especially helpful if I've been seated (driving or working at the computer) for a long time.
For stretching, the goal is to promote and maintain full range of motion. If you notice that you're in a stationary position for an extended amount of time, think of the muscles that you're shortening and lengthening in that position. For example, when we're seated, we're flexed at the hip, which shortens our hip flexors. To stretch them out, you'll want to extend from the hip (just think about moving in the opposite direction). Not only will it help to promote that particular range of motion, but it will feel DELICIOUS.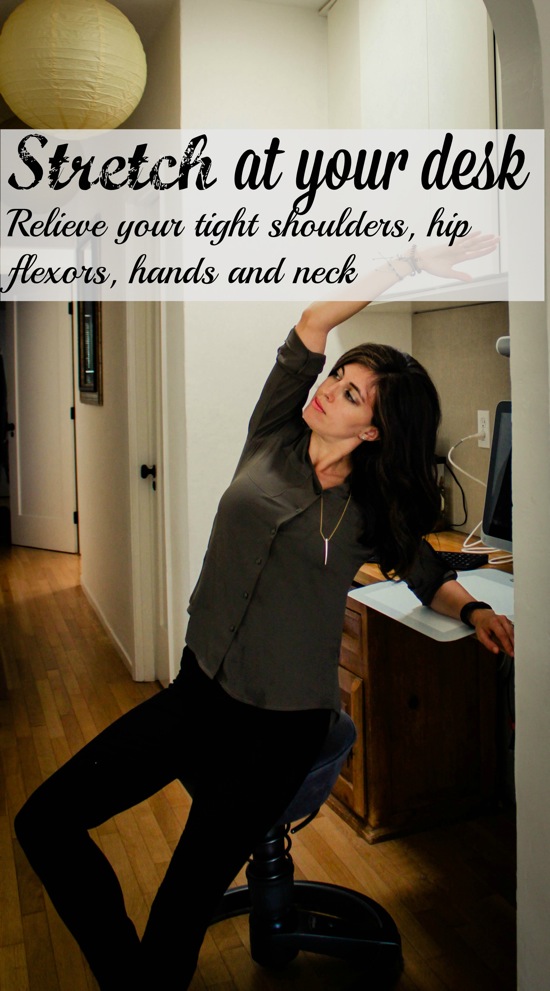 Some of my favorite stretches you can do at your desk:
(emphasizing levator stretching and chest opening, since many of us hunch a bit while at our computers. Hand, upper back, oblique, and hip flexor stretches are also included.)

It's a perfect way to energize yourself during the afternoon, or take a short break to re-center and focus for whatever project you may be working on.
Do you stretch at your desk? Any tips for posture improvement? I find that stretching, strengthening, and core/stabilizing work helps well… it's just a matter of doing it!
Happy stretching <3
xoxo
Gina
Here's another energizing stretch flow <3
Workout of the day: this humpday booty burner!