Surf, Turf + an Awesome Peach Manchego Salad
Hi! How's your day going? Hope you're having a great one so far <3 I'm blown away by your amazing support with the eBook and so thankful to all of you. I hope you love it! The price will jump from $8 to $12 next week, so grab yours now for the sale price if you're interested in checking it out.
Last night was pretty laid back.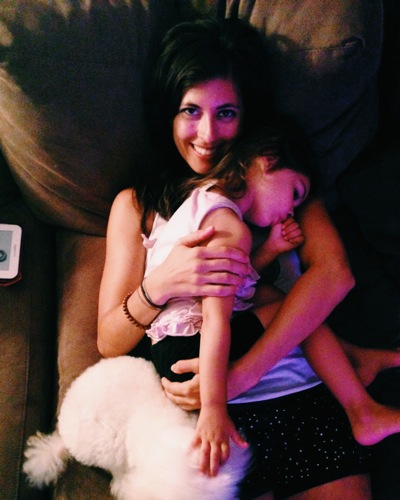 (When did this tiny baby get so big?)
We FINALLY watched The Mindy Project (where has this been all my life?!) and Caro predicted the weather.
When she quickly scurries over to one of us, trembling, one of two things is bound to happen: fireworks or rain. It was the latter, and San Diego rejoiced for the total of four minutes that it sprinkled.
Dinners have been exceptionally delicious lately.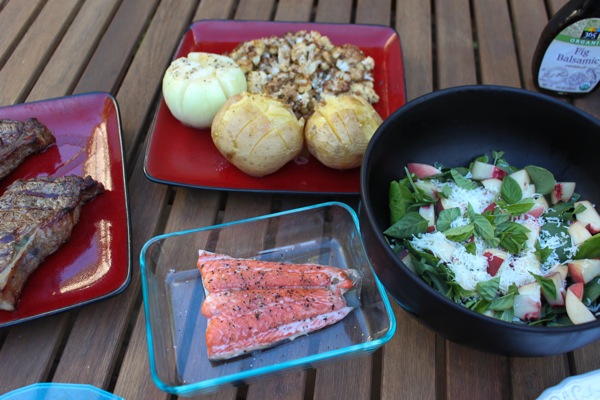 I was in a bit of a dinner rut, and we found ourselves making the same chicken meals over and over. It was time to switch it up a bit, and as usual, I felt inspired from walking around Whole Foods. In Tucson, I went at least once a week, but here I find that it's a rare treat since it's a little farther (and TJs is much less expensive). The beautiful salmon was calling to me, so I thought it would be a great night for surf and turf.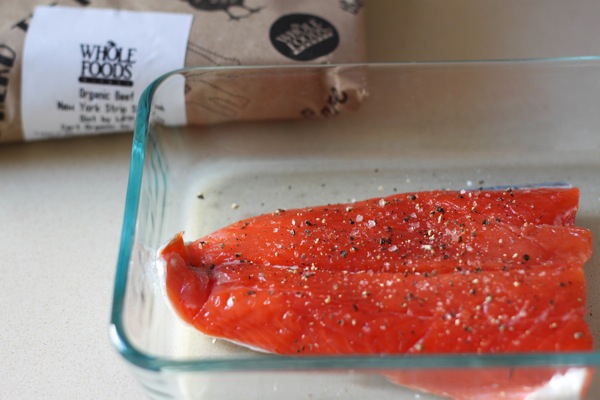 Grassfed steak for the Pilot, buttery salmon, roasted cauliflower,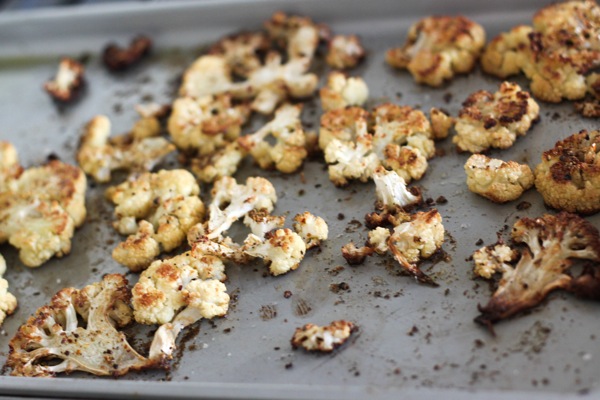 (sliced and seasoned with olive oil, salt, pepper, curry powder, garam masala, cayenne and cumin before roasting)
potatoes, a baked sweet onion (with butter, salt and pepper)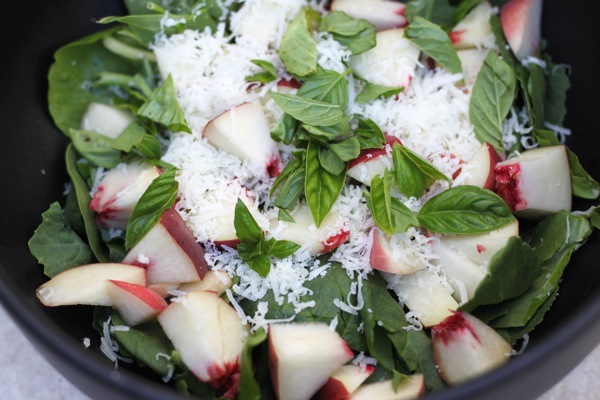 and this awesome peach and manchego salad.
Instead of the usual chopped veggie salad route, I grabbed a couple of fresh peaches, diced them up, and added them to spinach along with fresh grated manchego, chopped basil and fig vinaigrette (bottled from Whole Foods). Perfection.
Last night's dinner was cooked by this beautiful appliance. A chicken sausage marinara sauce,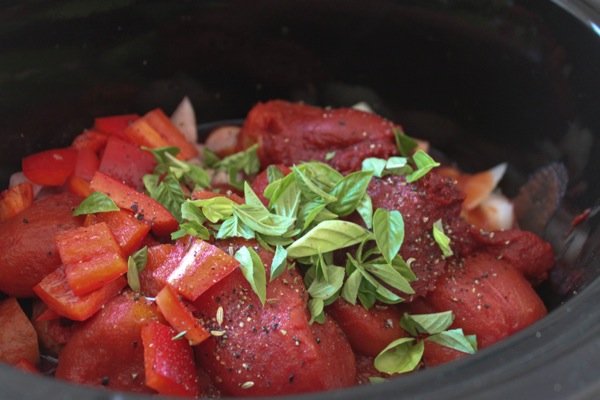 (chicken sausage; 1 sweet onion, diced; 2 cloves of minced garlic; 1/4 cup fresh basil; 1 red bell pepper chopped; 1 large can whole tomatoes; 1 can tomato paste; salt, pepper, oregano and a splash of red wine)
atop gnocchi or spaghetti squash, along with roasted broccoli.
It was a much-needed day off of teaching, but I'm back into it today with Zumba!
Current workout song obsession, from my spin playlist the other night:
Ahhh it just makes me so happy. It would be awesome for running, too 🙂
Have a wonderful day <3
xoxo
Gina
Any awesome dinners lately? What's your favorite thing to make in the slow cooker?