Hi friends! I'm so excited to see so many of you participating in this month's workout calendar! I hope you love the workouts we have planned, and as always, feel free to modify or switch things up as you need.
This month's workout is very similar to the strength training sessions I do on my own. They're a little mix of everything: traditional circuits/supersets, functional movements, and enough speed surges and changes. This makes it fly by, and my heart rate is blasting the entire time. I included some modifications for beginners, but of course, check with a doc before making any fitness changes. Honor your body– you know what it needs, mmm k?
Here are some pics of the movements for this month: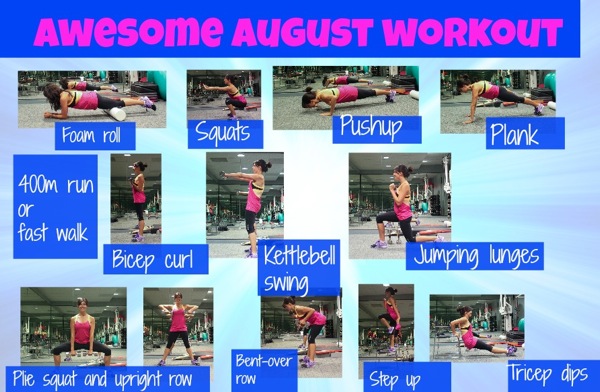 And the text + form cues:
Your Awesome August Workout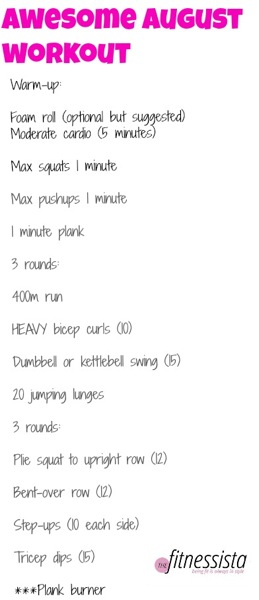 Max squats 1 minute: exactly that! If you think you'll get bored, hold some weights 😉
Max pushups 1 minute: as many as you can. This means, if you need to drop to your knees to keep going, do it!
1 minute plank: same thing. If you need to modify or drop to your knees, go for it.
3 rounds:
400m run (or power walk)
HEAVY bicep curls (10)
Dumbbell or kettlebell swing (15). Make sure to lead the movement with your booty and hips, NOT your arms. If you find yourself without enough control, it may be advantageous to hold a heavier dumbbell or kettlebell.
20 jumping lunges (or walking lunges for beginners)
3 rounds:
Plie squat to upright row (12). Keep your knees turned out and endeavor to get your thighs parallel to the floor. For the upright row, lead with your elbows, keep your core tight and back straight.
Bent-over row (12). Make sure to keep your abs engaged to help you keep a nice flat back (avoiding rounding or arching). Retract your shoulder blades and send your energy to your back as you row.
Step-ups (10 each side). Try to avoid resting at the top or bottom of the movement; step up and down as quickly as possible.
Tricep dips (15). The easiest option is to do this with bent knees, or you can try straight legs to make it more challenging. For even more of a challenge, try lifting one leg or placing a flat weight on your thighs.
***Plank burner: 30 seconds regular plank, 30 seconds side plank, 30 seconds regular plank, 30 seconds on the other side, "the saw" plank for 30 seconds, up and down plank for 30 seconds (3 minutes total)
I hope you love the workout! When you try it, be sure to send a sweaty pic my way @fitnessista #awesomeaugust
Keep up the amazing work.
Love and healthy wishes <3
xoxo
Gina
PS. Thank you to Reebok for the outfit! This top is one of my current faves — I love the back.